Morris, Lawes win Canadian mixed doubles trials
John Morris and Kaitlyn Lawes will represent Canada in mixed doubles curling at the 2018 Winter Olympics. They defeated Brad Gushue and Val Sweeting 8-6 in the final of the national trials today at Stride Place.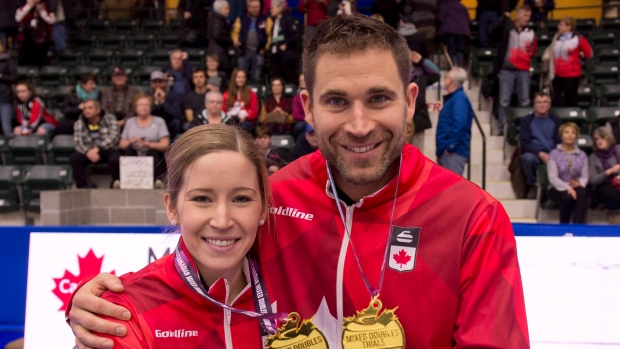 PORTAGE LA PRAIRIE, Man. — Kaitlyn Lawes was feeling elated and shocked at the thought of going to her second Olympic Games.
Lawes and John Morris earned the right to represent Canada when mixed doubles curling makes its Olympic debut at the Pyeongchang Games after an 8-6 victory over Val Sweeting and Brad Gushue in Sunday's Trials final at Stride Place.
Lawes, from Winnipeg, won Olympic gold in 2014 as the third for Jennifer Jones. Morris, a resident of Canmore, Alta., stood on the podium in 2010 as the third for Kevin Martin's gold-medal foursome.
"I feel like I'm a little more in shock this time than last time," said Lawes before turning to smile at Morris.
"We were always Olympians and now we're two-time Olympians and that's amazing, especially in the sport of curling where it's so hard to get out of Canada."
Lawes/Morris took the lead by scoring four points in the fourth end and added a steal of two in the fifth to make it 7-3. Sweeting/Gushue fought back with a pair of their own in the sixth end and made it a one-point game with a steal in the seventh.
In the eighth and final end, Sweeting chipped off and rolled out with her final throw to give Lawes/Morris a point and the victory.
"It's going to be so cool to compare the two," Morris said of attending the Vancouver Olympics and now the South Korea event. "I feel so honoured to be able to have that chance. I'm very lucky."
The four-player curling team Olympic Trials were held last month in Ottawa. Calgary's Kevin Koe won the men's competition and Ottawa's Rachel Homan took the women's title.
Homan had been Morris's regular doubles partner so he asked Lawes, 29, to take her place.
The pair practised once for 30 minutes at a Winnipeg curling rink before the Trials began, Morris said with a smile, but they've curled together at a past Continental Cup.
"I knew we'd make a great combo," Morris, 39, said "I've always felt our dynamics has been really good and we've been good friends and she's a heck of a shot-maker."
The duo had lost twice to Sweeting/Gushue earlier in the event.
"I'm proud of us out there today," said Sweeting, who skips out of Edmonton. "We easily could have got down on ourselves but we didn't. The other team played really well and, kudos, they made us pay for our mistakes. But we never stopped fighting."
Gushue has a gold medal from the 2006 Olympics, but the loss still stung.
"I think the last four or five games I played a whole lot better," the veteran skip from St. John's, N.L., said. "A little heavy on most of my shots today, which kind of surprised me. That doesn't happen to me too much.
"It sucks right now for sure. Val played so good and made a couple good shots early in the game. I kept putting her in pressure situations where she had to make good ones, and you can't make them all."
Lawes and Morris will have more time to practise at a week-long training camp in Japan before they hit the Olympic ice on Feb. 8.
"After this week, I don't want to throw another rock for at least 10 days," Morris said. "We'll take a nice rest and then gear up for that training camp in Japan."
Note to readers: This is a corrected story. A previous version misspelled Pyeongchang.