Move up to light-heavyweight working in for Smith
Life has changed for the better for UFC contender Anthony (Lionheart) Smith since moving up a weight class to light-heavyweight earlier this year.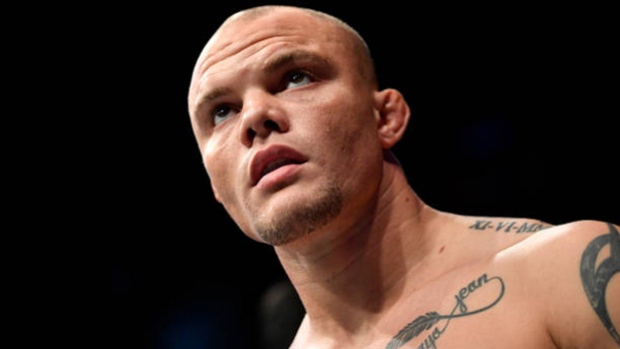 Life has changed for the better for UFC contender Anthony (Lionheart) Smith since moving up a weight class to light-heavyweight earlier this year.
Cutting weight to make 185 pounds as a middleweight proved too difficult for a fighter who used to walk around at 230. Not to mention dangerous.
Smith (30-13-0) said his hearing and vision had been affected during severe weight cuts.
"Once you start draining all that water off your brain, it doesn't necessarily want to work that well," he said in an interview. "You're confused and you're kind of lost. You're bringing your body as close to death as you can about get it and then back again in the name of trying to fight the next day."
Training has been night and day since the six-foot-four American moved up to light-heavyweight (205 pounds).
"It wasn't about getting better. It was about getting smaller," he said of past training camps. "Now I've been able to focus on my opponent and able to look forward to the fight instead of wishing that I had more time because my weight's still so heavy. And I'm just able to enjoy life. My quality of life is better, my home life is better. All around I couldn't have made a better decision."
The 30-year-old Smith, who walks around at 215 pounds these days, has stopped two former light-heavyweight champions since switching weight classes. Ranked No. 10, the father of three looks to climb the 205-pound contenders' ladder when he takes on Switzerland's Volkan Oezdemir on Saturday in the main event of a UFC Fight Night card in Moncton.
Oezdemir is ranked second among light-heavyweight contenders, behind Sweden's Alexander (The Mauler) Gustafsson, while Smith is No. 10.
"After I beat Volkan, I think that there's only three people left on that list," Smith said.
And it could be two if current light-heavyweight champion Daniel Cormier, who doubles as heavyweight title-holder, doesn't return to 205 pounds. Former title-holder Jon (Bones) Jones and Gustafsson do interest him.
"Those are the two guys that I've been chasing for a long time," Smith said. "
Oezdemir (15-2-0) has not fought since January when he was stopped in the second round by Cormier in a light-heavyweight title fight at UFC 220.
Since then, Oezdemir has twice missed out on scheduled bouts (in Santiago, Chile, in May and Hamburg in July) against former champion Mauricio (Shogun) Rua. The Chile fight did not come off due to a felony battery charge in Florida — later dropped — that required Oezdemir to surrender his passport.
The six-foot-two Swiss was pulled from the Hamburg fight in order to face Gustafsson at UFC 227 on Aug. 4, only to have to pull out through injury after breaking his nose for a second time. Smith stepped in for Oezdemir in Hamburg where he stopped Rua in the first round in July.
Smith also stopped former title-holder Rashad Evans in the first round in June. The wins over Evans and Rua took just two minutes 22 seconds in total.
Both Smith and Oezdemir finish fights early. Between them they have some 30 first-round finishes.
The 29-year-old Oezdemir, who normally trains at the Hard Knocks 365 gym in Fort Lauderdale, Fla., spent the last two weeks before the fight training at Montreal's Tristar Gym.
He looks forward to fighting again after a year filled with setbacks.
"It's all part of the game, of course," he said. "You know these things happen. Injuries definitely suck."
But he is healthy again. "I feel more than ready."
Oezdemir and Smith had a brief social media scuffle in the wake of their fight announcement.
"I don't think that he's paid enough attention to me. Mentally I don't think he's ready," said Smith. "I think that's he's a little bit higher-ranked than he needs to be. He kind of had a quick rise to the top when they needed a challenger and there he was.
"I think he's a very tough guy. I think that he's an aggressive striker. I think he's powerful. He's going to be strong, he's going to be big. Technically I really respect him. But emotionally, mentally, I don't think that he has the capability to stay at the high levels for a very long time. I don't think that he hasn't been through enough experiences dealing with adversity. I think that's going to be an issue he's going to have to work out
"Over time I think he'll get that, but I think he's going to struggle at the top trying to get that experience."
In contrast, Smith has spent almost 10 years in the school of hard knocks.
Oezdemir says he knows Smith feels confident after his last two victories — "way too much confidence."
"His wins are noting compared to what he's going to be facing (Saturday)," Oezdemir said. "I'm a different kind of breed and I'm going to be here to prove it."
Smith, a Texas native who fights out of Omaha, Neb., describes himself as a "a rowdy teenager that wanted to fight without getting in trouble." So he got into MMA and turned pro at 19.
"I literally grew up and became a man during my professional career," said Smith, who is 13-2 since 2013.
Smith believes his time is now.
Canadian fighters on the card are heavyweight Arjan Singh Bhuller (Richmond, B.C.), 11th-ranked light-heavyweight Misha Cirkunov (Toronto) and bantamweight Sara (Cheesecake) Moras (Kelowna, B.C.).
Welterweights Alex (The Dominican Nightmare) Garcia and Nordine Taleb come from the Dominican Republic and France, respectively, but both fight out of Montreal.
Follow @NeilMDavidson on Twitter