'My life is good'
After a hockey career filled with memorable highlights, heartache and controversy, Eric Lindros is a man who has found happiness as he gets ready for his formal induction into the Hockey Hall of Fame.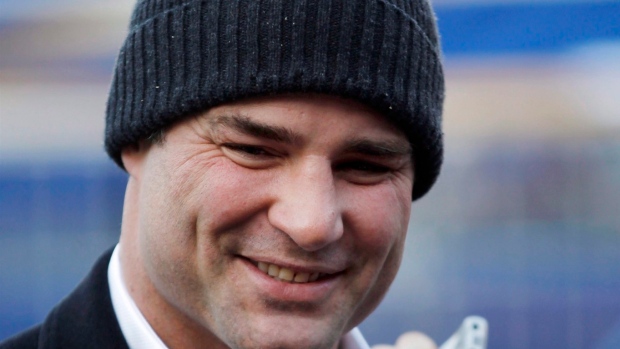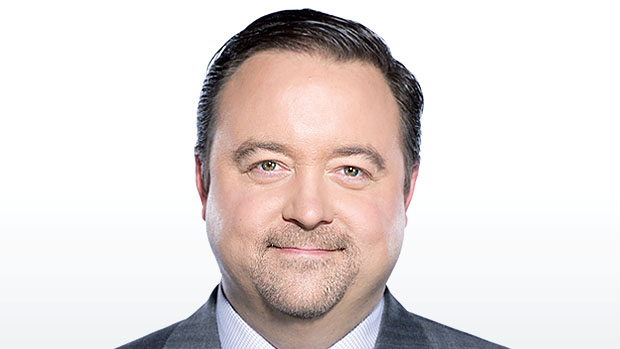 Eric Lindros is smiling a lot these days.
It's not so much because he finally got the call for the Hockey Hall of Fame, though make no mistake, he's thrilled about that.
No, this has to do with his lot in life. Happily married and with three very young children, life after hockey is suiting The Big E just fine.
Eric Lindros 2.0 knows a thing or two about changing diapers.
"Wiping butts and cleaning up spills," he said with a smile during a sit-down interview recently. "Our kids take up most of our time. We've got three under 29 months now. It's off to the park, off to libraries, swim classes, we're on the go. It's what parents do, right?"
There's contentment in his voice, perhaps something that was missing at times during a hockey career that contained electrifying moments as well as its share of controversies.
He has been able to reconnect with the sport that made him famous via his pickup games in his native Toronto.
"Hockey is a great game. Hockey is a wonderful game," Lindros said. "So many great memories about what it is. Even now, I look forward to skating with the guys on Tuesday. Thursday morning we have a really good skate too. No referees.
"It's great. It's wonderful. It's hockey."
Lindros' Hall of Fame induction has produced reflection on his NHL career and some things he hasn't thought about for a while.
"I enjoyed many, many years of hockey, and there was a point where I didn't enjoy it as much. I was extremely frustrated," he said.
"I wasn't playing the way that I had in the past," Lindros said. "I just felt extremely conscious about going through the middle of the ice and getting whacked again. It hindered things. I wasn't nearly as effective. There was a good chunk of time there where I felt frustrated. It wasn't a lot of fun."
The hit that changed Lindros forever was delivered, as most people remember, by Scott Stevens of the New Jersey Devils in the 2000 playoffs.
"I have a lot of respect for Eric as a player because my job was to shut down top players, and he was a unique player in that era," Stevens said. "He was a big power forward at the center-ice position, could score, make plays, could skate and added a physical element too. A lot of guys who have that high-level talent don't have the physical ability to hit and punish people. He could do that. He was a unique center-ice man at that time. He was very hard to defend."
What got Lindros in the Hall were the brilliant seasons that preceded the Stevens hit.
"He had six or seven, maybe eight years, of being the most dominant player in the game, and by a long ways," former Flyers GM Bob Clarke said. "He probably entered the league with the highest expectations of any player that had ever come into the league."
Former Flyers linemate John LeClair had a front-row seat.
"There's no question he absolutely dominated the game," LeClair said. "To be able to have that size and strength and then the skill level that he possessed, it was amazing. To be able to be out there with Eric was awesome. There were times you couldn't believe this guy could do things that he did on the ice. Just so talented. It made playing with him so easy because he could do so many different things so well."
Lindros, LeClair and Mikael Renberg formed the Legion of Doom, with the line's combination of skill and size unparalleled in that era.
It was what the Flyers envisioned when they so doggedly pursued Lindros' rights from Quebec. The controversial stance not to play for the Nordiques, who drafted him first overall in the 1991 draft, remains one Lindros firmly stands by to this day.
"The decision to not play for Quebec was based solely on the owner," Lindros said in reference to former Nordiques owner Marcel Aubut, who was forced to resign as Canadian Olympic Committee president last fall.
"It had nothing to do with language, culture, city," Lindros said. "Keep in mind, my wife is French [from Quebec]. I was not going to play for that individual -- period."
The trade at the '92 draft in Montreal was an absolute gong show, one that saw the Nordiques somehow agree to deals with both the Flyers and New York Rangers.
"[Former Nordiques GM] Pierre Page was basically holding an auction in his hotel room," former Rangers GM Neil Smith said. "You'd go in there, you'd present what you might offer them, they'd have all the offers there on a piece of paper, and you'd have to work your way up. There's no doubt in my mind that they wanted our deal."
On that, former Flyers GM Russ Farwell concurred.
"I think the Sniders being prepared to put in the money was absolutely vital, although I believe Aubut wanted the Rangers deal, and they weren't putting money in unless they had someone else [willing to put money in]," Farwell said. "That's why he basically agreed with both teams and then was going back to the Rangers because they had to match it, and it basically blew up on him."
The Rangers' offer, as far as Smith can recall, was Tony Amonte, Alexei Kovalev, Doug Weight and John Vanbiesbrouck, plus two first-round picks and $12 million. The Flyers' deal consisted of Steve Duchesne, Kerry Huffman, Ron Hextall, Mike Ricci, Peter Forsberg and Chris Simon, plus two first-round picks and $15 million.
"We agreed that [Saturday] morning, and we were really excited about the deal," Farwell said. "We called Eric, and he was confused. He was fine, but it was obvious that he thought he was going somewhere else. We told him we had done the deal."
When Farwell got to the draft Saturday, he was informed that Aubut had called to say he had changed his mind, and Lindros was going to the Rangers.
Pure bedlam.
"What do you do?" Lindros said with a shrug, thinking back to the mayhem.
A weeklong arbitration ensued. The Flyers won, and their team was transformed.
Missing at the end of it was a Stanley Cup, as the Flyers lost to the Detroit Red Wings in the 1997 Stanley Cup final.
"We had some deep teams, some real good teams. New Jersey was certainly our nemesis," Lindros said, pointing to Martin Brodeur's amazing ability to stifle Philly's forecheck with his puck-moving skills. "His first pass made a big difference."
Then came the concussions.
You're not human if you don't come back from that hit by Stevens as a different player. Plus, at the time, Lindros had just returned from another concussion.
"It would do that to anybody, I think," Clarke said. "We've all seen lots of players who have had these head injuries. They're never quite the same. You can't get hit like that and think it's not going to affect you. It has to."
Stevens sounded uncomfortable talking about the hit.
"I'm not uncomfortable with the way I played. I'm not comfortable with people getting hurt," said Stevens, now part of the Minnesota Wild coaching staff. "I've had many concussions myself. So I mean, I was proud to have played in that time. Times have changed. You had to be a warrior, and there were a lot of warriors in that day."
Perhaps the most important legacy fostered by Lindros is how he changed the narrative when it comes to concussions and understanding them. He deserves an important measure of credit for that.
"I was very fortunate to have my parents look out for me," Lindros said. "My dad had been through it before with my brother. My dad knew so much."
But it was during this time that the Flyers, Lindros and his parents had a falling out over his medical treatment, which eventually led to his trade to the Rangers in 2001.
"The parents and I got into a conflict, and it didn't turn out good, for either side, really," Clarke said. "It was bad for all of us."
Wounds healed enough over time for Lindros to return to the Flyers' fold for the Dec. 31, 2011, Winter Classic alumni game, and The Big E was given a standing ovation by the Philly faithful.
Today, Lindros continues to be a positive force in the search for knowledge when it comes to concussions.
More can be done. Hockey can be a clear leader on this, Lindros feels.
"Let's get moving this ahead," he said. "Things have happened in the past, yes, but let's look at tackling the future and owning the space. This is such a positive thing. We can make this a real positive -- not just for athletes but for humans in general."
And now that he has kids, he has a different perspective on the dangers of the sport. But even given all he's been through, he said he would be open to the idea of them playing hockey.
"Of course," said Lindros. "But it will be up to them."
Lindros, it should be noted, feels fine, though he joked he's sleep-deprived some days, thanks to some 5 a.m. wake-up calls with the kids.
"Do I sneak the odd nap in? Oh, yeah," he said with a chuckle.
There's that laugh again. The 43-year-old can't imagine his life without his family. He credits his wife, Kina Lamarche, for being such an amazing person.
"My life is good," he said.