Nationals leave lefty Detwiler off NLDS roster, keep Soriano
Left-hander Ross Detwiler was left off the Washington Nationals' roster for their NL Division Series against the San Francisco Giants, while former closer Rafael Soriano made the 25-man cut Friday.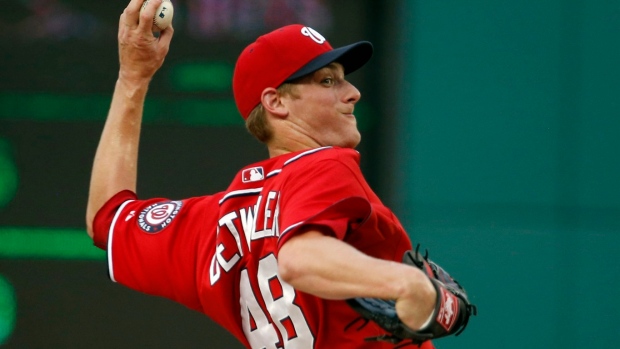 WASHINGTON - Left-hander Ross Detwiler was left off the Washington Nationals' roster for their NL division series against the San Francisco Giants, while former closer Rafael Soriano made the 25-man cut Friday.
San Francisco outfielder Michael Morse, who played for Washington from 2009-12, was not on the Giants' roster. He hit .279 with 16 homers and 61 RBIs this season, but he's had only two at-bats since Aug. 31, because of a strained oblique muscle.
"Is he 100 per cent? No," manager Bruce Bochy said, adding that Morse might be sent to the instructional league to get work in. "Taking that into play, along with he hadn't faced pitching in about a month, we just decided to go with (Gary) Brown. He would give us a few more options versus the one pinch hit appearance maybe by Morse."
Right-handers Tim Hudson and Ryan Vogelsong, who were not active for the Giants' 8-0 wild-card victory at Pittsburgh on Wednesday, returned to the roster. Hudson will start Game 2 on Saturday, while Bochy said Vogelsong or Yusmeiro Petit could start Game 4.
The teams had to submit their rosters about five hours before the Nationals hosted the Giants in Game 1. Both went with 12 pitchers and 13 position players.
The Giants also included rookie reliever Hunter Strickland, who made his major league debut in September. The 26-year-old righty didn't allow a run in seven innings and was on the Giants' roster for the wild-card game.
Detwiler is a former starter who spent the regular season in the bullpen, mostly working in long relief. He went 2-3 with a 4.00 ERA in 63 innings across 47 appearances. The last time the Nationals were in the playoffs, in the 2012 NLDS against St. Louis, Detwiler started Game 4 — which Washington needed to win to avoid elimination — and allowed one unearned run in six innings.
"It is disappointing for anybody, for sure, especially being here the whole season," manager Matt Williams said, explaining that the Nationals figured they only needed two lefty relievers and went with Matt Thornton and Jerry Blevins.
Soriano began this season as the closer and converted 22 of 24 save opportunities with a 0.97 ERA before the All-Star break. Since then, though, he blew five of 15 save chances, and Drew Storen took over the ninth-inning role in September as Washington won the NL East and finished with a league-high 96 wins.
"He is one of the reasons why we are here. Was the premier closer in the first half of the season," Williams said about Soriano. "Went through mechanical issues, and has worked diligently to resolve those. I think he is where he needs to be."
Williams indicated that Ryan Zimmerman, who returned in late September from a strained right hamstring, will mostly be used as a pinch hitter but the team "will look at" the possibility of starting Zimmerman against left-hander Madison Bumgarner in Game 3.
Other reserves for Washington include Danny Espinosa, Kevin Frandsen and Nate Schierholtz. Backup outfielder and pinch hitter Scott Hairston, a 34-year-old hoping to be in the playoffs for the first time in his 11-year major league career, did not make the NLDS roster.
Washington's Game 1 lineup was exactly as expected, with centre fielder Denard Span leading off, followed by third baseman Anthony Rendon, right fielder Jayson Werth, first baseman Adam LaRoche, shortstop Ian Desmond, left fielder Bryce Harper, catcher Wilson Ramos, second baseman Asdrubal Cabrera, and right-handed pitcher Stephen Strasburg, set to make his post-season debut.
San Francisco's starting lineup Friday: centre fielder Gregor Blanco, second baseman Joe Panik, catcher Buster Posey, third baseman Pablo Sandoval, right fielder Hunter Pence, first baseman Brandon Belt, shortstop Brandon Crawford, left fielder Travis Ishikawa, and right-hander Jake Peavy.
___
Follow Howard Fendrich on Twitter at http://twitter.com/HowardFendrich