Cavaliers and GM Griffin parting ways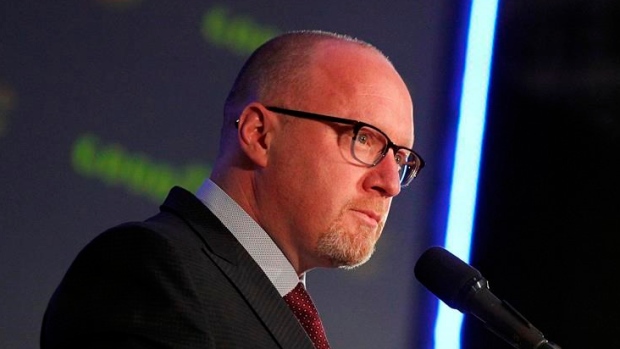 The Cleveland Cavaliers have released a statement announcing that the team and general manager David Griffin will be parting ways.
Griffin's contract was set to expire on June 30 and the two sides mutually agreed to not extend the deal, according to the team.
"On behalf of the entire organization, I would like to thank Griff for his leadership and many contributions during his time here, including most recently, his role in the franchise's first NBA Championship," the Cavaliers said in a press release.
Later in the evening, LeBron James tweeted support for the outgoing GM. "If no one appreciated you Griff I did, and hopefully all the people of Cleveland! Thanks for what u did for the team for 3yrs! We got us 1 (trophy)"
After originally being named Cavaliers' vice president of basketball operations in 2010, Griffin was named acting general manager on Feb. 6, 2014, replacing Chris Grant and then given the job full-time on May 12, 2014.
Griffin's time as general manager included many high profile moves, including the hiring and firing of head coach David Blatt; the return of James; the drafting of Andrew Wiggins with the number one overall pick in 2014 and Anthony Bennett in 2015 and then the trading of those two players to acquire forward Kevin Love from the Minnesota Timberwolves.
Along with the return of James and the acquisition of Love to team up with point guard Kyrie Irving, the Cavs made three straight Finals appearances from 2015-17 and were able to come back from down 3-1 to the Golden State Warriors to bring Cleveland their first NBA championship in 2016. However, they fell to the Warriors in the Finals this spring in five games.
The Cavs did not formally announce a replacement for Griffin, but The Vertical's Adrian Wojnarowski reports that a source says Chauncey Billups is expected to emerge as the leading candidate. Billups has a replationship with Cavaliers' owner Dan Gilbert and head coach Tyronn Lue.
Letting Griffin go comes at a tricky time with the NBA Draft only three days away, free agency on the horizon, and the Cavs linked to trades involving Indiana Pacers forward Paul George and Chicago Bulls star Jimmy Butler. However, according to Wojnarowski, the Cavs' front office had difficulty in trade talks, constantly needing to address the future of Griffin with rival executives.