Miles, Valanciunas trending in opposite directions in changing NBA
Veteran wing player's ability to shoot threes makes him a useful piece in a game that currently favours speed and efficiency over size and strength, Josh Lewenberg writes.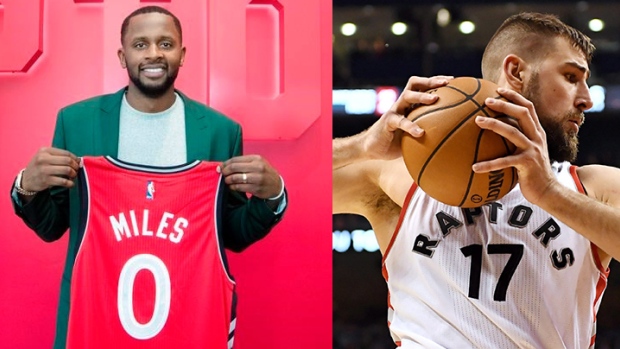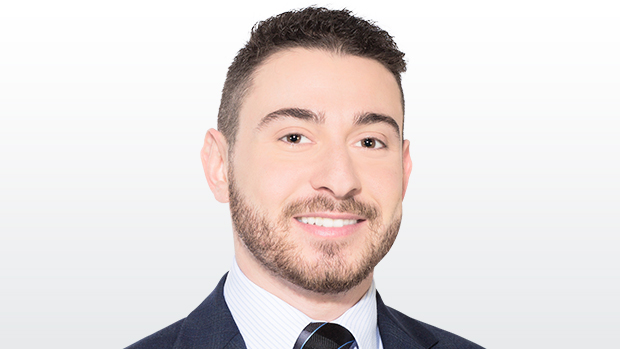 TORONTO - In the decade-plus that's elapsed since C.J. Miles went straight from high school to the pros – becoming one of the last players to do so before the NBA raised its age limit – the newest member of the Toronto Raptors has seen the league evolve.
By his own admission, few have benefited more from that change.
Once an 18-year-old point guard with the Utah Jazz, Miles is now a seasoned vet and a wing player at the height of his powers, having carved out a niche for himself after 12 NBA seasons.
Miles should be a nice fit on his new team. He'll bring some much-needed leadership, both on and off the court. He'll give them competent defence from multiple positions. He'll do his job without making waves, like any good soldier, and compliment the club's stars: Kyle Lowry, DeMar DeRozan and Serge Ibaka. However, most of his value lies in his one elite NBA skill: his ability to knock down the three-point shot – an increasingly useful trait in today's game and something he does as well as almost anybody else in the association.
"It's basically given me, I don't want to say a new life, but given me greater opportunities to be able to play this game," said the 30-year-old Miles, who's signing – made possible by Toronto's trade of Cory Joseph last week ­– was officially announced on Tuesday. His deal is worth a reported $25 million over three years, with a player option in the final year.
"It's been exciting to watch [the league change]. Obviously there are nights, some days, [you] don't want to be in the gym to see the [ugly] shooting nights [players] have, but it's been great. It allows for tempo and scoring and everything fans want to see but it's also a great weapon to have as a basketball team. You're talking about three possessions being a 10-point run."
The 'pace and space' style of play, to which Miles is referring, was popularized around the time he broke into the league. Taking inspiration from Don Nelson's Mavericks teams of the late 90s and early 2000s, Mike D'Antoni, Steve Nash and the high-scoring Phoenix Suns helped reshape the way coaches diagram their offensive attacks, placing an added emphasis on tempo, possessions and outside shooting – not just in terms of accuracy, but volume. Teams like the Warriors, Rockets and Cavaliers have perfected it and just about everyone else is trying to emulate their success.
With some encouragement from Mike Brown – formerly head coach of the Cavs who is currently an assistant in Golden State – when he played for Cleveland, Miles modelled his game after this principle and the result has made him a coveted commodity.
As a member of the Pacers last season, 64 per cent of his 647 field-goal attempts came from beyond the arc, the ninth-highest rate of anyone that shot at least five threes per game. He hit 41 per cent of them, a career-best. Only Klay Thompson (78) and Trevor Ariza (76) – not coincidently of the shot-happy Warriors and Rockets, respectively – made more corner threes than Miles (66), but only Kyle Korver (52 per cent) shot a higher percentage (51 per cent).
That the Raptors struggled from long range in the playoffs, have lost more than half their made threes from last season and aspire to craft a more free-flowing offence this season make him a welcomed addition.
"There are certain players you always pay attention to in the NBA," said team president Masai Ujiri. "With the way the league is going I think he is one of the [players] our guys just zeroed in on. You pay attention to him because of his size, his shooting ability and [the way] he spreads the floor. On paper it looks like it will be a good fit for us and, like I always say, you never know how these things work out. We have to get to the basketball court, but hopefully a shooter like him is always valuable to a team."
On the opposite end of the ever-changing NBA spectrum there's Raptors' centre Jonas Valanciunas, an endangered archetype in this smaller, quicker game. His value, and the value of players like him, has never been lower.
It's nothing personal, as they say. In fact, Valanciunas probably draws more criticism than he deserves. He's flawed, but he's a good player. He works hard, maintains a team-first approach and has great size – which was once considered a tremendous asset instead of a hindrance or limitation. However, times have changed. Through no fault of his own, he was born and ultimately drafted in the wrong decade, and probably also by the wrong team.
It's no secret that the Raptors have been shopping the 7-footer for the better part of the last six months. It's been widely reported and Ujiri made little attempt to hide it on Tuesday.
"Every player, from all the processes that we went through this summer, every player's name was in trade talks," Ujiri insisted. "That's me being black and white. The players know, the agents know."
"I'll be transparent," he continued later, "there were some scenarios where if we're trying to create [salary cap] space and do some other things in some of the other scenarios we had that maybe we made a move [with Valanciunas]. But with this team now we're very comfortable."
While offensive-minded big men have been falling out of favour league-wide, Valanciunas seems especially out of place on the Raptors. His rebounding and screening are useful but so many of his offensive strengths are wasted in a scheme that generally runs through Lowry and DeRozan.
His weaknesses, many of them on the defensive end, just so happen to be the things the Raptors need most from him, magnifying them further. Now, with Ibaka back – his ideal position in this new age NBA is at centre – and Jakob Poeltl ready for increased responsibility as a backup, Valanciunas is more expendable than ever.
On top of that, Toronto was in a cap crunch after retaining Lowry and Ibaka, facing one of the largest luxury tax bills in the history of the league. Unloading Valanciunas and the $15.5 million owed to him this coming season, and the nearly $50 million over the next three, was something they explored.
They spoke with several teams and a couple of them were willing to simply absorb the salary, according to sources, but the Raptors were reluctant to give Valanciunas away without recouping any value. They had drafted him fifth overall in 2011 and have spent five years' worth of time and resources developing him. Most importantly, while his market value has crashed, he still has value to them, even in a situational role. He's a nice luxury to have, assuming you can afford that luxury.
Now they can. Instead of losing Valanciunas for nothing, they paid the asking price to dump DeMarre Carroll's contract: a lottery-protected first-round pick and a second-rounder. Would they still like to move Valanciunas? The short answer is yes, but with the Raptors back under the tax line there is no sense in moving him unless they could get something of value in return, which seems highly unlikely given the current state of the market.
Not for a lack of trying, the 76ers have been unable to find a taker for Jahlil Okafor, who is younger and cheaper than Valanciunas. Orlando hasn't had any luck in its ongoing pursuit of trading Nikola Vucevic. Milwaukee appears to be stuck with Greg Monroe and Oklahoma City with Enes Kanter ­– all of them similar bigs. Brooklyn was finally able to deal Brook Lopez to the Lakers and got D'Angelo Russell for him, but Lopez's deal is expiring and the Nets were forced to take on one of the worst contracts in the league (hello, Timofey Mozgov).
It's not that nobody wants Valanciunas; it's that nobody wants to give up real assets for him. And it's not that the Raptors don't want Valanciunas. They would just rather turn him into a better fitting piece. Hence the stalemate.
Outside of a small move or two – maybe adding an experienced forward at the veteran minimum or, more likely, bringing in a couple guys on partially guaranteed deals – Toronto's heavy lifting is probably done for the summer. Whether Miles starts or comes off the bench – still to be determined, according to Ujiri – he'll play a ton and you can probably expect him to be out there late in games. As for Valanciunas, the question now becomes: What is the best way to use him?
Dwane Casey experimented with bringing Valanciunas off the bench in the playoffs and it's conceivable to think that could be his role when the regular season begins in mid-October. Kanter and Monroe have both found success as reserves and, like them, Valanciunas should match up well against second-string bigs. It would allow Ibaka to start and finish games at the five, where he's best suited on both ends of the floor, and give JV an opportunity to be more of an offensive focal point when DeRozan rests.
As Ujiri pointed out, we're only a year removed from Valanciunas' strong showing in the 2016 playoffs. You'll recall Lowry and DeRozan struggled to shoot the ball and it was JV who helped save their tails in the first-round series against Indiana and then again against Miami before going down with an ill-timed ankle injury. Still a young player at 25, those postseason performances reignited excitement over what he might become.
The reality is he's probably not going to turn into that player, not on a game-to-game basis, not as long as the league remains the way it is. There are things he needs to do to better adapt to the changing game. He needs to be more mobile, improve his defensive awareness and maybe extend his range out to the three-point line, which is something Casey has not-so-subtly hinted at for years.
Casting him aside now, when his value is as low as it's likely going to get, would be poor asset management, and it's not going to happen. He's a round peg in a square hole. It's on both the player and the team to make him fit.
"JV's on our team," Ujiri said. "We believe in JV's talent. I want everybody to know that, that we do believe in his talent."
"JV knows some of the things he needs to get better at. I've spoken to him numerous times this summer, including yesterday. So we're very comfortable with JV. We're not trying to give JV away."