Nelford still feels sting of Pebble Beach loss
Canadian Jim Nelford suffered one of the most heartbreaking losses in the PGA Tour's history. Some 32 years later, the wounds suffered that day still haven't completely healed, writes Bob Weeks.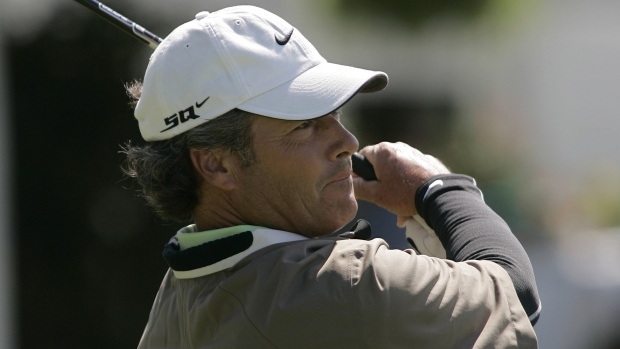 It's been 32 years since Jim Nelford suffered one of the most heartbreaking losses in the PGA Tour's history. Despite the passing of time, the wounds suffered that day still haven't completely healed.
"I'm almost over it," said Nelford over the phone from his home in Florida.
The way the words come out, you know he's mostly joking. But in his voice is a tinge that lets you know it still hurts, still stings, even if just a little bit.

And really, who could blame him? If there truly are golf gods, they meted out a lifetime worth of bad luck in a one-hour period to one of the nicest guys you'll ever meet on a golf course.
On that Sunday afternoon in 1984, Nelford was poised to win his first PGA Tour event. He had been a rising star on the circuit; a flashy, talented player who had been one of the best amateurs in the game and had jumped to the top tour in golf in 1980. There, too, his golf fit well. He made cut after cut, at one point rolling off 35 straight, and gradually began finishing in the top 10. A win seemed almost inevitable.
"At that point I knew my game was good enough," Nelford stated. "I still wasn't as confident over the putter, but I could get on these runs and I knew if I had that I could win a tournament."
It seemed his time had come at Pebble. On the final day, he posted a round of 68 and was the leader in the clubhouse. Despite being close to nabbing that maiden victory, he wasn't about to start celebrating.
"George (Knudson) always told me to be ready to play more golf," said Nelford, who worked with Knudson for many years. "I was trying to stay in the mindset that my day wasn't over."
How prescient that thought would prove to be.
First to fall was Mark O'Meara, who wasn't able to birdie the final hole. That left just one player remaining in the field who could beat him; Hale Irwin, who was trailing the Canadian by a shot. Nelford stood behind the 18th green and was being interviewed by Steve Melnyk of CBS when Irwin's tee shot headed for the Pacific Ocean only to bounce off the rocks and then back into the fairway.
It was a stunning turnaround that happened in the blink of an eye. But it wasn't the only time the golf gods would smile down on Irwin.
"I thought at the time that was a huge break, but I also realized he still had to make a birdie," said Nelford.
After hitting his second shot to within 60 yards of the green, Irwin hit a wedge shot that bounced once on the concrete-like greens, hit the top of the flagstick and then dropped down a few feet from the cup.
"The greens were really hard," Nelford recalled. "Mark O'Meara had played a similar shot just before and it bounced over the green and into the long rough behind. If Hale's shot didn't hit the flag, it may have done the same thing."
After dropping the birdie putt to tie, Irwin headed off to face Nelford in the playoff.
The two parred the 15th and moved on to 16 to try and settle things.
Again, the breaks went Irwin's way. Off the tee, he popped up his shot and watched it float towards a fairway bunker that not many thought would ever be in play for the professionals. In the centre of the bunker was a small island of grass, normally a tangle of weeds. But for some reason, that week it had been cut down and looked like a fairway. Rather than getting stuck in the cabbage, Irwin's ball bounced off that oasis and into a perfect lie in the sand.
Nelford responded by striping his tee shot into the fairway some 70 yards past Irwin and looked to have a clear advantage.
But the American then pulled off a tremendous shot.
"He pulled a two-iron out and hit this shot that landed on the green and started running towards the hole," recalled Nelford. "I stood and watched and I thought, 'This could go in.' I don't think that would have surprised me at that point."
It stopped eight feet from the cup.
Nelford hit a good shot that landed 12 feet away but wasn't able to convert his putt. Irwin did and claimed the win.
To this day, Nelford isn't as disappointed with the loss as he is of what happened after Irwin's putt when in. It was the lack of graciousness showed by his opponent after the playoff.
"At least he didn't run around and high-five the fans," Nelford joked, referring to Irwin's famous hand-slapping circuit at the U.S. Open. "There was profound disappointment on my part and there was just no acknowledgement of the tough luck I had. Nothing.
"I knew I shouldn't take it personally, but part of what we play for is the recognition from our peers, the fraternity we have and the sportsmanship. I didn't see that from Hale that day. You don't mind losing and if you play golf you realize you get bad breaks, but he was cold."
What makes that loss so hard for Nelford is that he was never able to notch a win on the Tour. A year later, while out water skiing with friends, the boat ran over him, shredding much of his body and almost severing his arm. He tried valiantly to come back from the injuries – initially being forced into a return before he was ready, which in many ways led to the Tour's medical leave policies of today – but his game was never quite the same.
Without a chance to go further, play more and add to his achievements, many casual fans remember Nelford for that loss at Pebble Beach as much as anything. The shot of Irwin's ball bouncing off the rocks is played over and over every year around this time and with each repeat, Nelford's name comes to the fore.
Those watching don't remember the win at the World Cup, being a two-time all-American at Brigham Young, the two Canadian Amateur titles, a Western Amateur crown, or the many fine performances on the PGA Tour or his fine work as a broadcaster. He was inducted into the Canadian Golf Hall of Fame in 2013.
These days, Nelford is teaching in Florida and passionate about what he believes is the key to a successful swing, that being the proper use of the lower body. He's working on releasing his theories.
And yes, he'll watch the tournament from Pebble Beach this weekend, no doubt to see if the golf gods will smile down on someone else this year.