Neufeld relishes role as third on Koe's Alberta rink
Winnipeg native B.J. Neufeld says he couldn't pass up the opportunity to join Kevin Koe's Calgary team in the off-season to play alongside the very skip that halted his chance at Olympic glory, but who is now giving the Team Alberta third the best chance of his career to win the Tankard, Ryan Horne reports from Brandon.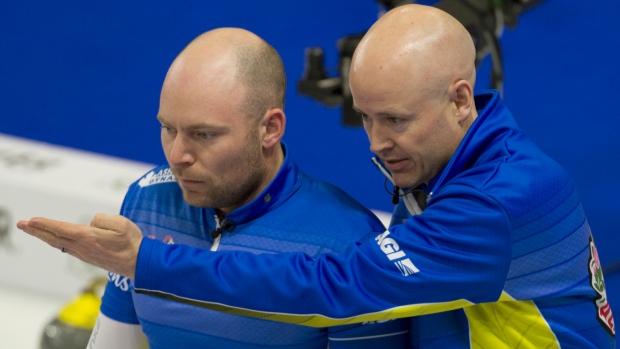 BRANDON, Man. – B.J. Neufeld and the rest of his Manitoba teammates stood separately around the centre sheet at the Canadian Tire Centre in Ottawa, awaiting the final shot of the 2017 Roar of the Rings Olympic curling trials.
All they could do was watch.
It was the evening of Dec. 10, 2017 and the Mike McEwen-led rink were one missed shot away from finally winning the big game. Over their 11 years together, the Winnipeg foursome never appeared in a Brier final, but they were now on the verge of going to the Olympics – the biggest prize in Canadian curling.
McEwen played a terrific 10th end and had two shot stones in the eight-foot. The only problem? Alberta's Kevin Koe was the shooter with the last stone.
With the help of his mighty sweepers in Ben Hebert and Brent Laing, the three-time Brier champ drew to the four-foot, sending his team out of the Glencoe Club in Calgary to PyeongChang, South Korea, while effectively ending the longtime run of Team McEwen.
Fast forward to this week in Brandon and Neufeld finds himself playing for the very skip that halted his chance at Olympic glory.
Just like after every Olympic cycle, a curling carousel of lineup changes occurred this off-season. Maybe most notably, Koe needed to find a new second and third after losing Laing and Marc Kennedy. Neufeld was the top free-agent vice on the market and it was evident the fit would be perfect.
It wasn't an instantaneous "yes" for Neufeld, a 33-year-old PGA of Canada head golf professional. He lives in his native Winnipeg and it would be a major commitment to play for a team outside of his home province.
"It was a big decision for me. I had to take a little bit more time away from my family as well," said Neufeld, who has a wife and two-year-old daughter. "I have to go out there [Alberta] a few extra times throughout the year."
After thinking long and hard about the offer, Neufeld decided it was an opportunity he couldn't pass up.
"We [Koe and Neufeld] got along before we became teammates," explained the third. "We'd get together every now and again in a social aspect, enjoy a drink together and chat. We have a lot in common. It seemed like a good fit and we went with it."
Aside from winning their provincial playdowns this season, Koe and company have one win on the World Curling Tour in 2018-19, losing in three other finals.
However, the tour is not where the 44-year-old Calgarian has dominated during his career as he has just four career victories on the Grand Slam circuit as a skip. Rather, Koe's history of success is at the Canadian men's curling championship. And that's where Neufeld has the best chance of his career to win the Tankard.
Ove six prior Brier appearances, Koe has appeared in a remarkable five finals, winning three of them.
Koe seems to be in the zone once again this week. Alberta sat at a perfect 8-0 following a 7-6 victory over Brandon Bottcher's wild-card team in the opening draw of the championship pool at the Tim Hortons Brier Thursday afternoon.
The skip made one of his patented shots to win the game in the 10th, scoring three on a rocket of a takeout.
"Whenever there's a shot that's big and we need it, he's always there to make it," Colton Flasch, who was also brought aboard this season to play second on Koe's team, said of his skip.
Flasch, a former Saskatchewan curler who now lives in Calgary as a construction worker, has been one of the best on the broom at the Brier.
"My roots are still with Saskatchewan, but playing with Kevin Koe, Ben Hebert and B.J., it's just been a lot of fun this year," said the 28-year-old.
Neufeld and Flasch are two prairie curlers looking to capture their first Canadian championship, playing for a province that they have battled against for most of their lives.
The Winnipegger admits it's a little strange playing in his home province while wearing Alberta colours, but at the end of the day it's just about finishing atop the podium​.
"It doesn't matter which province you're wearing. Nowadays it seems, the goal is to get yourself on the best team possible to give yourself a chance to win that Brier," said Neufeld. "I wear still wear the Buffalo with pride. I still consider myself a Manitoban for sure. It's a little bit strange, but it is fun playing in front of the home crowd. I'm feeling a little bit of love from the fans which has been a lot of fun."
As for the sting of losing in the trials final on that December night, Neufeld said it only makes the fire burn hotter.
"You work so hard for four years and to get to the moment, that's what you've been waiting for. And to not come [out] on top it's super difficult, but those losses have to really drive you," said Neufeld.
"The hunger is definitely for myself and my teammates as well, even though they've done pretty much everything there is to do in curling. We're still hungry to win a Brier or two and hopefully get to the Olympics."
Koe said the best is yet to come for Team Alberta at this Brier.
"We still got some room to improve, a few key shots here and there, but I think that's what we're used to – is getting better as the week goes," said Koe after Thursday's win.