New-look Whitecaps fall to Minnesota
The new-look Vancouver Whitecaps fought hard but came up just short in their 2019 MLS season opener, dropping a 3-2 decision to Minnesota United on Saturday at B.C. Place.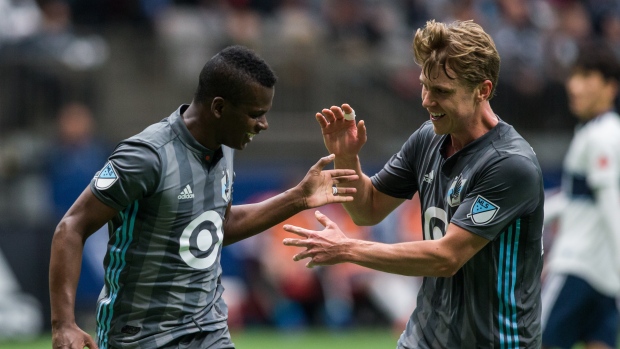 VANCOUVER — The new-look Vancouver Whitecaps fought hard but came up just short in their 2019 MLS season opener, dropping a 3-2 decision to Minnesota United on Saturday at B.C. Place Stadium.
In his first match as Vancouver's new head coach, Marc Dos Santos didn't want to dwell on the challenge he faces in building chemistry on a roster that includes 14 new off-season signings.
"We know that's a real thing," he said, "but I want to talk about the soccer part.
"We had spaces to play sometimes. Instead of connecting short passes, we elected to go sometimes over the top, especially in the first half. That disconnected our game."
Both Whitecaps goals were scored by defenders, and came off set pieces.
Erik Godoy ignited the sold-out crowd of 27,837 early, using his right foot to tip a free kick by Jordy Reyna past Minnesota keeper Vito Mannone in the sixth minute. Doneil Henry sparked an attempted comeback in the 81st minute with a header off a corner kick, after Minnesota had connected on goals from Darwin Quintero, Francisco Calvo and Romario Ibarra.
"I spoke so much about us being fragile on set plays and we scored two goals on set plays," said Dos Santos.
"We have a structure of how we want to play defensively," said Henry about his new partnership with Godoy. "Erik's a good player.
"We take real pride in defending — try not to complicate our game. We want to be the calming presence on the team when things get really hard. But today we conceded three and we're not happy about that. We want to go into this week and figure it out."
Dos Santos, from Montreal, was making his MLS head coaching debut after spending last season as an assistant with LAFC.
"It was good to start like that," said Dos Santos. "We scored but then we were never able to take a grip of the first half. Even if it was 1-0 for us, I don't feel like it was about us.
"The second half, we were able to connect more passes and possession," he added. "They scored the 2-1 (goal) in a moment where we were better in the game."
A crucial turning point came in the 37th minute. Minnesota drew even in the game on a goal from Quintero after Jake Nerwinski drew a penalty when he took down Calvo in the box.
"Jake was a monster in the first half," said Dos Santos. "He was probably one of our best players on the field in the first half. He had a lot of good defensive actions and then comes this play, over the top, and his body position kind of misread the moment.
"It's too bad because he was having a very good first half."
The Whitecaps now hit the road for two games, with matches against Real Salt Lake and the Houston Dynamo. Their next appearance at B.C. Place Stadium comes on March 30 against the Seattle Sounders.
"We just have to be a little more on the same page here and stick to our principles," said goaltender Maxime Crepeau of the new group's defensive cohesion. "There's room for improvement, that's for sure. After a week, we have to build it up. we'll definitely work on it.
"To be fair, we did a good job defending as a block as well. They put in a lot of crosses that didn't go through us a lot, so it's a good sign that we're good at coming back."
NOTES: Ring of Honour member Carl Valentine was on hand to help kick off the season-long celebration of the 40th anniversary of the Whitecaps' 1979 Soccer Bowl victory in the North American Soccer League.