Newcomer Dowd excited to make Canucks debut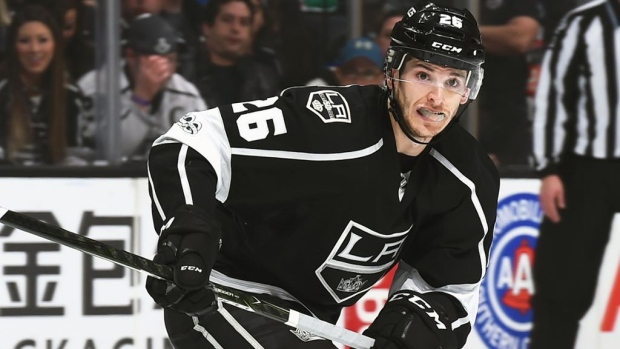 CALGARY – Forget easing into the Vancouver Canucks lineup, Nic Dowd doesn't have that luxury. With centres Bo Horvat and Brandon Sutter on the shelf with injuries, the Canucks acquired Dowd on Thursday night from Los Angeles and will plug the newcomer into their lineup Saturday against the Calgary Flames.
Dowd flew from Southern California to the Foothills City yesterday and met his new teammates for the first time at the team hotel. He then hit the ice with a few of them this morning at an optional skate at the Scotiabank Saddledome.
So there hasn't been a lot of time to process the upheaval in his life over the past 48 hours. He's just excited for the opportunity to show the Canucks what he can do.
"We had a game in Los Angeles on Thursday, but I didn't play, so I haven't played in a couple of days," Dowd said. "So I think you jump right in. There are a couple of wrinkles in the systems, but most teams tend to play pretty similarly so I'm just going to try to focus on playing hockey tonight."
While his role on the Canucks remains to be determined, Dowd will be used at centre this evening although neither he nor head coach Travis Green would reveal his linemates. He'd dressed for 16 games with the Kings this season averaging 7:57 of ice time with an assist being his sole offensive contribution. A year ago, however, he scored six times and added 16 assists in 70 games in his first full season in the National Hockey League.
The Canucks believe the 27-year-old can produce offence if placed in the proper situation. Although Saturday, he's likely going to be looked at in a bottom six role with little in the way off expectations to find the scoreboard. One area Dowd hopes to make a difference is on the draw.
"Definitely, I pride myself on being good in the face-off circle," he says. "I think it allows centremen to get into the line-up and gain more minutes and that's something I'm hoping to do and think that will be a critical part of my game."
Dowd has a few loose ties to the Canucks locker room having skated in the summer in Minnesota with Thomas Vanek and Brock Boeser. Also during four years of college hockey at St. Cloud State, he played against Troy Stecher although had never met the Canucks blueliner until yesterday.
Tonight they're all teammates for the first time and the Canucks are hoping the addition of a fresh face with something to prove can add some energy to the room.
"We are going to put him out there and it's a little bit on the fly," says Travis Green. "I'm excited to see him play. He's a big body, he's got good skill, he works extremely hard and let's see how he does. "It's a lot like when (Derrick) Pouliot came. Dowd has to find his game. He had a good year last year. Things haven't gone as well this year for him, but we're hoping he can take off from the year he had last year. Having Sutter and Horvat out, we're not just going to replace those guys, but we've got to find a way to win games."
Dowd, who will wear the number 17 he wore throughout his high school hockey days, isn't placing great expectations on his debut. He wants to come in and make a strong impression on the management group that traded for him, the coaching staff and his new teammates, but he knows he's not being looked at as any kind of savior.
He's excited about the fresh start Thursday's trade will provide and knows the best way to endear himself to his new organization is to be solid defensively and let the rest of his game develop from there.
"I'm just going to try to be responsible," he explains. "I'm going to try to play good hockey in the defensive zone and if that does happen I'm going to have a lot of chances in the o-zone and if I work hard I think my skill will take over."
While he joins the Canucks on the road in Calgary and will continue on to Winnipeg for Monday night's game against the Jets, Dowd is hoping things will settle down for him once the team gets back to Vancouver. It's been a whirlwind since he learned he's been traded for the first time in his NHL career.
In many ways, playing the games is the easy part.
"It's a lot to process," Dowd says. "I got called at 10:00 p.m. a couple of nights ago and I was on a noon flight the next day. My wife and our dog are back in LA and we still have our house, so there's a lot to think about. The important thing right now is to focus on playing hockey."
He'll get that chance Saturday when the Canucks face the Flames.