NHL announces King Clancy nominees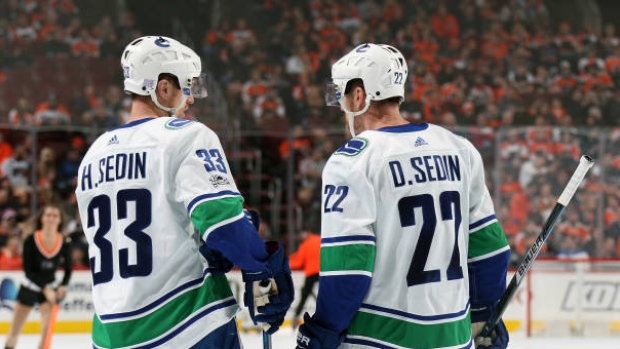 The NHL revealed the 32 nominees for the 2017-18 King Clancy Memorial Trophy on Monday.
Each team nominated one player, except for the Vancouver Canucks, who nominated both Daniel and Henrik Sedin. Henrik, who along with Daniel decided to retire at the conclusion of the season, won the award in 2016.
The nominations from the other Canadian teams are Travis Hamonic, Ryan Nugent-Hopkins, Brendan Gallagher, Mark Borowiecki, Matt Martin and Matt Hendricks.
The King Clancy Memorial Trophy is awarded "to the player who best exemplifies leadership qualities on and off the ice and has made a noteworthy humanitarian contribution in his community."
The winner, to be announced during the NHL Awards in June, will be selected by a committee of senior NHL executives based on the following criteria:
- Investment of time and resources
- Commitment to a particular cause or community
- Creativity of programming
- Use of influence; engagement of others
- Measurement of impact
The winner will receive a $40,000 donation from the NHL Foundation to benefit a charity of their choice. The two runners-up will each a $5,000 donation to the charity of their choice.
Columbus Blue Jackets captain Nick Foligno won the award in 2017.
The 2017-18 King Clancy Memorial Trophy nominees are:
Anaheim Ducks: Ryan Getzlaf
Arizona Coyotes: Oliver Ekman-Larsson
Boston Bruins: Zdeno Chara
Buffalo Sabres: Zach Bogosian
Calgary Flames: Travis Hamonic
Carolina Hurricanes: Justin Faulk
Chicago Blackhawks: Duncan Keith
Colorado Avalanche: Gabriel Landeskog
Columbus Blue Jackets: Sergei Bobrovsky
Dallas Stars: Tyler Seguin
Detroit Red Wings: Justin Abdelkader
Edmonton Oilers: Ryan Nugent-Hopkins
Florida Panthers: Mike Matheson
Los Angeles Kings: Drew Doughty
Minnesota Wild: Jason Zucker
Montreal Canadiens: Brendan Gallagher
Nashville Predators: P.K. Subban
New Jersey Devils: Cory Schneider
New York Islanders: Anders Lee
New York Rangers: Henrik Lundqvist
Ottawa Senators: Mark Borowiecki
Philadelphia Flyers: Shayne Gostisbehere
Pittsburgh Penguins: Matt Murray
San Jose Sharks: Chris Tierney
St. Louis Blues: Alex Pietrangelo
Tampa Bay Lightning: Ryan Callahan
Toronto Maple Leafs: Matt Martin
Vancouver Canucks: Daniel Sedin & Henrik Sedin
Vegas Golden Knights: Deryk Engelland
Washington Capitals: Brooks Orpik
Winnipeg Jets: Matt Hendricks