NHL Mock Draft: Button's first round picks
The first two picks appear to be a given, so the real fun starts at No. 3 when NHL clubs step to the podium for the first round of the NHL Draft on Friday night. For now, TSN's director of scouting Craig Button has stepped up to make that pick on behalf of the Coyotes and all the rest for the first round.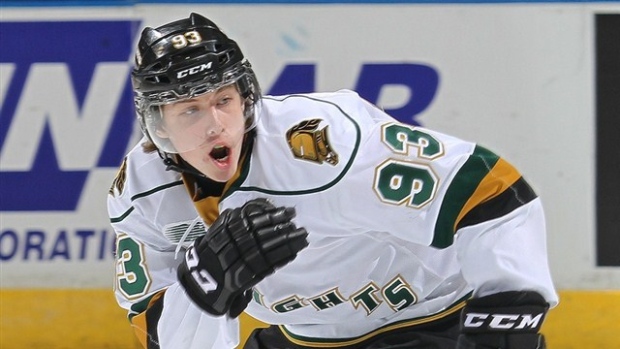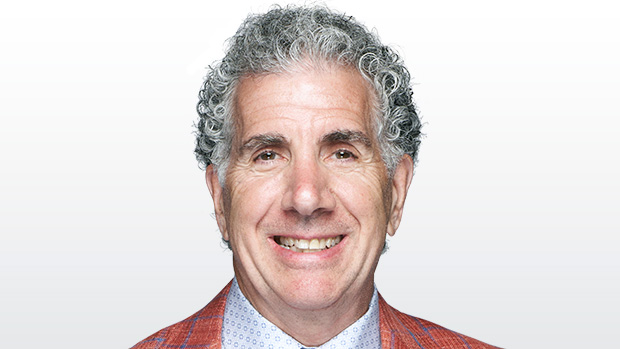 The intrigue begins with the third overall pick in TSN Hockey's Mock Draft, with the Arizona Coyotes taking Erie Otters centre Dylan Strome and the Toronto Maple Leafs taking London Knights winger Mitch Marner fourth overall.
As mentioned in our scouting report, Marner - the best winger in the draft - has exceptional creativity with poise and passing skills that allow him to create offence quickly. The Leafs also have the 24th pick in the first round and are pegged to take Gabriel Carlsson from Linkoping of the Swedish League - a big, rangy, good-skating defenceman.
Toronto would be getting best of both worlds by taking the uniquely skilled Marner at No. 4, and bolstering the defence corps with Carlsson at No. 24.
At No. 15, the Calgary Flames take Colin White of the USA Under-18 team, who has all the makings of a solid second-to-third line centre. With Connor McDavid locked in at first overall, look for the goaltender-needy Edmonton Oilers to select the first goaltender of Round 1 in Ilya Samsonov.
The run of Canadian teams continues with the Winnipeg Jets at No. 17 and No. 25, adding Cape Breton winger Evgeny Svechnikov and Kelowna forward Nick Merkley to their already deep and talented crop of prospects both skilled and highly competitive. With the 18th overall pick, the Ottawa Senators should take Saint John Sea Dogs blueliner Jakub Zboril.
The Vancouver Canucks are at No. 23, selecting Tri-City defenceman Brandon Carlo while the Montreal Canadiens select big winger Brock Boeser.
Check out the full mock draft for Round 1 below. The final edition of the TSN Hockey's Mock Draft will be posted on Friday.
Craig Button's 2015 NHL Mock Draft
| NO. | TEAM | SELECTION | POS | G | A | PTS |
| --- | --- | --- | --- | --- | --- | --- |
| 1 | EDM | Connor McDavid, Erie | C | 44 | 76 | 120 |
| 2 | BUF | Jack Eichel, Boston U | C | 26 | 45 | 71 |
| 3 | ARI | Dylan Strome, Erie | C | 45 | 84 | 129 |
| 4 | TOR | Mitch Marner, London | RW | 44 | 82 | 126 |
| 5 | CAR | Noah Hanifin, Boston C | D | 5 | 18 | 23 |
| 6 | NJ | Pavel Zacha, Sarnia | C | 16 | 18 | 34 |
| 7 | PHI | Ivan Provorov, Brandon | D | 15 | 46 | 61 |
| 8 | CBJ | Zach Werenski, Michigan | D | 9 | 16 | 25 |
| 9 | SJ | Lawson Crouse, Kingston | LW | 29 | 22 | 51 |
| 10 | COL | Mikko Rantanen, Turku TPS | RW | 9 | 19 | 28 |
| 11 | FLA | Kyle Connor, Youngstown | LW | 34 | 46 | 80 |
| 12 | DAL | Timo Meier. Halifax | RW | 44 | 46 | 90 |
| 13 | LA | Travis Konecny, Ottawa | RW | 29 | 39 | 68 |
| 14 | BOS | Matt Barzal, Seattle | C | 12 | 45 | 57 |
| 15 | CGY | Colin White, USA U-18 | C | 16 | 26 | 42 |
| 16 | EDM | Ilya Samsonov, Magnitogorsk | G | 2.66 | .918 | 2 |
| 17 | WPG | E. Svechnikov, Cape Breton | RW | 32 | 46 | 78 |
| 18 | OTT | Jakub Zboril, Saint John | D | 13 | 20 | 33 |
| 19 | DET | Joel Eriksson Ek, Farjestad | C | 4 | 2 | 6 |
| 20 | MIN | Paul Bittner, Portland | LW | 34 | 37 | 71 |
| 21 | BUF | Oliver Kylington, Farjestad | D | 2 | 3 | 5 |
| 22 | WAS | Denis Gurianov, Togliatti | RW | 15 | 10 | 25 |
| 23 | VAN | Brandon Carlo, Tri-City | D | 4 | 21 | 25 |
| 24 | TOR | Gabriel Carlsson, Linkoping | D | 0 | 7 | 7 |
| 25 | WPG | Nick Merkley, Kelowna | C/RW | 20 | 70 | 90 |
| 26 | MTL | Brock Boeser, Waterloo | RW | 35 | 33 | 68 |
| 27 | ANA | Jake DeBrusk, Swift Current | LW | 42 | 39 | 81 |
| 28 | TB | Jacob Larsson, Frolunda | D | 8 | 11 | 19 |
| 29 | PHI | M. Blackwood, Barrie | G | 3.09 | .906 | 2 |
| 30 | ARI | Thomas Chabot, Saint John | D | 12 | 29 | 41 |