Canucks' power play struggles persist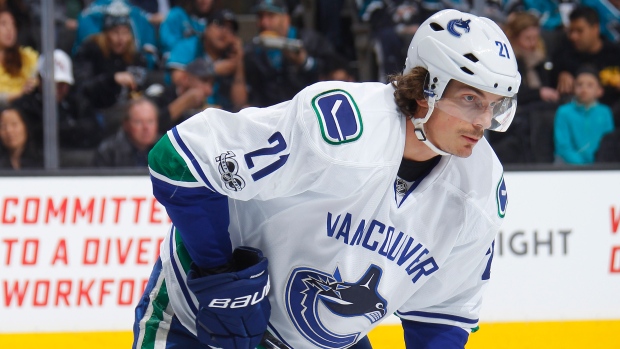 One of the areas that really plagued the Vancouver Canucks last season – and will surely be a targeted improvement area for new head coach Travis Green – was their power play.
In 2011, the last year Vancouver pushed to the Stanley Cup Final, the Canucks boasted one of the deadliest 5-on-4 units in the entire league – good enough that it was fair to compare it to other elite power-play units in Washington and San Jose. It was in large part driven by the magic of Daniel Sedin and Henrik Sedin, but the team also had a number of other specialists or supplemental types – think Ryan Kesler or Alex Burrows – who could shoulder some of the scoring burden.
But Vancouver has been on a rapid decline since then. We're talking about a unit that went from comfortably top-five to consistently in the cellar of the National Hockey League in goal production. The 2016-17 season was a particular low point as the Canucks generated just 4.45 goals per-60 minutes, which was 28th best in the league. Only the Islanders (4.41) and Avalanche (3.71) were worse. Median goal rates on the power play, as a point of reference, was about 6.6 goals per-60 minutes last year.
It's even more dire when you consider that power-play scoring is up a bit recently. Here's Vancouver's year-by-year results since 2010-11: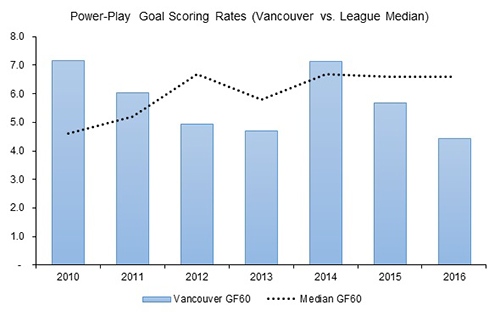 Last year was a disaster, but, outside of a brief run in 2014-15, it has been the norm in Vancouver. The Canucks have struggled to generate goals with the man advantage across hundreds of games. The 2016-17 campaign was just an exclamation point on a consistent downward trend.
The 2016-17 units were interesting. Vancouver was stretched thin on goal-scoring talent and so, after the Sedin twins, then head coach Willie Desjardins tried a lot of different things at both the forward and defence positions. Some of the names who earned extensive power-play minutes last year are particularly noteworthy.
Below, I've broken out Vancouver's regular power-play skaters from 2016-17, along with their production in those intervals (min. 50 minutes):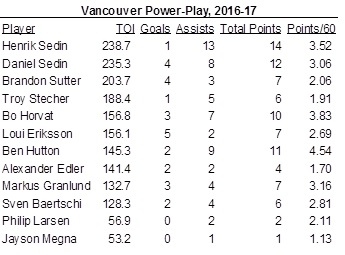 The goal-scoring numbers are obviously appalling. No individual skater on Vancouver had more than five goals on the power play. When you have goal-scoring rates this low, the usual suspect is that the team simply isn't generating a high enough volume of shots. Whether that's because they have issues with offensive zone entries, or over-passing, or poor zonal structure, or a combination of all of these is an important question to answer. But, the end result is still the same – not enough rubber on net.
The cool thing is we can prove this out. Below are the shot rates generated by Vancouver with each of these regular players on the ice, along with each individual player's rank against other league regulars on the power play. The rates, again, are pretty dire: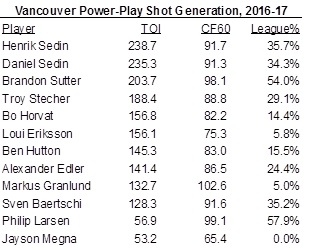 An average skater generates about 97 shots per 60 minutes on the power play, and high-end power-play types – think Wayne Simmonds, Ryan Getzlaf, Tyler Seguin, et al. – can comfortably clear 120 shots per-60 minutes. That's an important frame of reference here. Vancouver's two best playmakers in the Sedin twins only generated shots better than about 35 per cent of the players around the league. And only two guys – the defence-oriented Brandon Sutter, and the rarely used Philip Larsen – were able to break the 50-per-cent mark. Multiple Canucks players, including Loui Eriksson, Markus Granlund, and Jayson Megna, were quite literally at the bottom of the league ranks.
If that weren't scary enough, look at how the Sedins have trended over time. They are on a consistent downward trend, not dissimilar to Vancouver's aggregated goal-scoring rates. When your best players are seeing such significant degradation in production, it becomes a very real concern: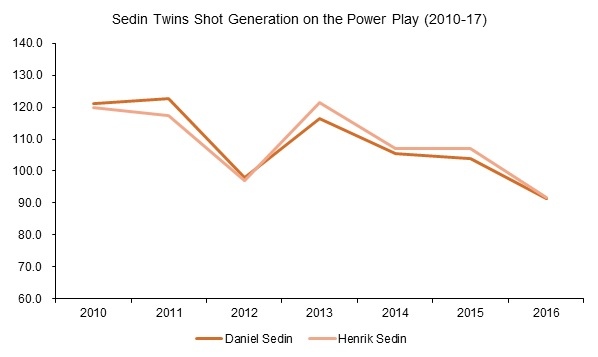 The Sedins are being hampered by the fact they don't have the quality of help they once had. Talent around them is a substantial concern. But there's also a harsh reality of Vancouver's two best distributors turning 37 years of age this September.
The 2012-13 season kind of looks like an aberration based on the lockout-shortened season. If you smooth the data over the last seven years, it then looks like a duo that's consistently generated less every single year. Maybe that's age degradation. Maybe that's the fact that Vancouver hasn't done a great job of assembling talent around them. It's quite possibly both.
Whatever the case, the Vancouver power-play story remains something to keep an eye on for Green. This is a unit that sorely needs to start scoring goals, and last year's abysmal performance was one of the bigger reasons why the Canucks finished with just 69 points.
Expect to see a lot more of the minutes distributed to some of Vancouver's younger attackers, and expect to see Green experiment with a number of different lineups and looks.