Wild erupt for seven goals on Price in rout of Canadiens
Eric Staal and Jordan Schroeder scored 39 seconds apart in the second period, Nino Niederreiter had two goals, and the Minnesota Wild overwhelmed Carey Price and the Montreal Canadiens in a 7-1 victory Thursday night.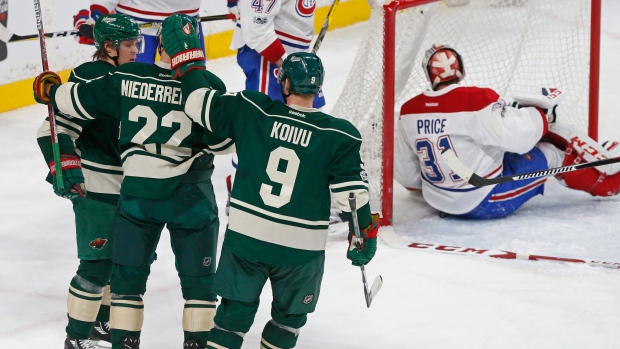 ST. PAUL, Minn. — Eric Staal broke loose toward the Montreal net and beat Carey Price with a sharp shot that scraped the top short-side corner. Jordan Schroeder scored 39 seconds later for Minnesota with a blind tip off the middle of his stick as he was being shoved to the ice .
The rout was on for the Wild early in the second period, and the weary Canadiens couldn't come close to keeping up.
Nino Niederreiter had two goals, and the Wild overwhelmed Price and the Canadiens on their way to a 7-1 victory Thursday night.
"I think once mine went in, it took some of the wind out of their sails," said Staal, who has already topped his goal total of last season with 14.
Devan Dubnyk stopped 20 shots, missing the shutout by 9 seconds on Tomas Plekanec's power-play rebound, but he beat Price for the second time in three weeks. What began as a matchup of two All-Star goalies became an all-out blitz by the surging Wild. Christian Folin, Jason Zucker and Ryan Suter also scored, Matt Dumba had a career-high three assists and Staal and Jared Spurgeon each set up a pair of goals.
After a sleepy start with a 1-0 lead at the first intermission, they took over against a banged-up team that played in Winnipeg the night before. This was the ninth time this season the Wild scored two goals a minute or less apart.
"I think that was the backbreaker," Price said. "It's tough to climb back from a three-zip game against a team like that. They played very well structurally, and you've got to tip your hat to them."
The Wild improved to 17-2-4 over their last 23 games, outscoring their opponents 86-54 with four-plus goals in 10 of those games. Staal, Mikko Koivu and Mikael Granlund are each averaging one point per game during that span.
After Columbus stopped the Wild's 12-game winning streak here Dec. 31, they've responded remarkably by picking up five points on a three-game California road trip and roaring to a 14-4 home record with this romp past the Canadiens.
"We talk about those things a lot, about getting back on the horse," Wild coach Bruce Boudreau said, adding: "They jump right back up and don't let things like that affect them."
Price, who made 17 saves, was taunted by the "Sieve!" chant after Niederreiter's second score. The Wild sounded sympathetic.
"I've seen us do that to a lot of good goalies. Especially in this building, sometimes we can be overwhelming for teams," Dubnyk said. "I would not have wanted to be at the other end."
This was a season-high score for the Wild, but the Canadiens, believe it or not, lost 10-0 to the Blue Jackets on Nov. 4. The last time Price allowed seven goals was against Pittsburgh on March 2, 2013. He fell to 9-7-3 in his last 19 starts and has allowed 26 goals over his last seven appearances.
"We're all in this together," coach Michel Therrien said. "And we're all suffering tonight as a team."
Last month in a 4-2 loss to San Jose, Therrien pulled Price in the second period after he conceded four goals on 18 shots. It was the first time Price had been pulled from a game (not due to injury) since Oct. 13, 2014. Price appeared to glare at Therrien on the bench as he walked to the dressing room that night.
Price said after Thursday's loss that he prefers to stay in net regardless of the score.
"I'd rather stick it out," Price said. "Nobody else has the opportunity to get pulled from the game so I'd rather just stick it out with everybody else."
The Canadiens beat the Jets 7-4 on Wednesday with Al Montoya backstopping the victory, so Price was in line for the rematch despite Montoya's 5-0 career record against the Wild, who won 4-2 in Montreal on Dec. 22.
Dubnyk, the league leader in goals against average and save percentage, improved to 5-1-1 in his career against the Canadiens without having to sweat.
"It seemed like we didn't play with much confidence, and I'm not sure why," Canadiens left wing Max Pacioretty said. "We put up seven last night."
NOTES: Over his last 14 games since Dec. 11, Staal has eight goals and 12 assists for the most points in the NHL during that span. ... The Wild have outscored opponents 61-31 in 18 home games. ... The Wild have won five straight games against the Canadiens. They're 10-6-3 all time. ... Staal has 21 goals and 20 assists in 44 career games against the Canadiens. ... Chris Terry played RW on the fourth line for Montreal, his first action in five games. Rookie Nikita Scherbak was scratched for the first time since he was called up last week and reassigned to the AHL after the game.
UP NEXT
Montreal: The Canadiens return home to play New York on Saturday, their first meeting with the Rangers this season.
Minnesota: The Wild have back-to-back road games at division rivals Dallas and Chicago on Saturday and Sunday.