Nielsen scores twice to lead surging Islanders past Jets
Frans Nielsen scored a pair of goals and added an assist as the New York Islanders defeated the Winnipeg Jets 5-2 on Wednesday. Ryan Strome had a goal and three assists for the Islanders (25-11-1), with Anders Lee and Josh Bailey also scoring for New York which is 6-1-1 in its last eight games. It was Strome's first career four-point game.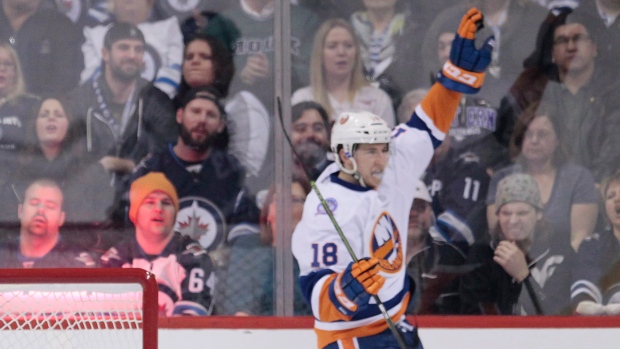 WINNIPEG - There has been no sophomore slump for Ryan Strome.
The New York Islanders' second-year forward enjoyed a career-high four-point game with a goal and three assists in the Islanders' 5-2 win over the Winnipeg Jets on Wednesday.
His linemate, centre Frans Nielsen, also shone with a pair of goals and one assist.
"I just wanted to fit in," said the 21-year-old Strome, who's played all 37 games this season, matching the number he played all last year with the Islanders.
"At the beginning, I had some trouble finding my spot in training camp. And the coaches kind of threw me a bone and I thought I played well enough to stick around and I'm just trying to take the ball and run with it."
Linemate Anders Lee also netted a goal and added an assist and Josh Bailey scored an empty-netter for New York (25-11-1), which is 6-1-1 in its last eight games.
"It's not every night you get four points," Strome said. "Obviously, I don't like to judge the game based on the points, but it's definitely good to contribute.
"Obviously, I think our line had a pretty good game and pretty solid in the (defensive) zone. It's always good to help out."
Captain Andrew Ladd scored twice for Winnipeg (19-12-7).
It was the first back-to-back loss for the Jets since late November. They lost 3-2 to Minnesota on Monday.
"You don't want to become complacent," Ladd said. "For me, it stings and you still have a tough feeling in this room, but at the same time we're in the mix of a pretty big battle here to keep going and find a way to get points.
"Come to the rink with a lower bottom lip that's hanging down isn't going to help so we've got to come back with some energy in practise and really just focus on trying to get better that day."
Islanders goalie Jaroslav Halak made 21 saves for the win. Ondrej Pavelec, who started for the first time since rookie Michael Hutchinson got the call in net for the previous three games, stopped 28 shots.
Strome scored his seventh goal of the season midway through the first period off a weird bounce in traffic around the net.
After the puck went high in the air to the right of Pavelec, Jets defenceman Adam Pardy tried to bat it away and it dropped to the ice and hit Lee and Strome before going into the net at 10:04.
"Ryan's a skill guy, but a lot of skill guys don't perform well in the NHL," Islanders head coach Jack Capuano said of the team's fifth overall pick in the 2011 NHL draft. "It takes a little bit of time because they don't want to play without the puck.
"Everyone can play with the puck. His game away from the puck has picked up. He had to get to the interior. He had to get to those tough, greasy areas if he wanted to perform, because a lot of his points in the American (Hockey) League (with Bridgeport) were outside."
Nielsen made it 2-0 with a goal scored 16 seconds into a 30-second, two-man advantage late in the period.
As Johnny Boychuk fired a one-timer toward the net, his stick broke and the puck went across to Nielsen at the right side of the net, whose high shot went in at 18:16.
Ladd scored one second after a New York penalty expired off a Blake Wheeler pass from behind the net at 4:41. Wheeler extended his points streak to four games with two goals and three assists.
Nielsen did the bulk of the work for his second goal of the game and eighth of the season following a Winnipeg turnover.
After skating down the boards with the puck, Nielsen made a drop pass to Strome and then went across to the faceoff circle. Strome sent him the puck and he fired it by Pavelec at 15:27 for a 3-1 lead.
"It's a line that we put together recently," Capuano said. "The last couple of games it's been good for us."
Ladd used a third-period man advantage to score his 14th goal of the season 47 seconds into the period off a pass from Mathieu Perreault to the slot.
Bryan Little assisted on the goal to extend his points streak to five games with two goals and four assists.
But it was Lee's ninth goal of the season that made it 4-2 at 11:35 of the third that was a bit of a back-breaker, Perreault said.
"The 4-2 goal was hard on us. It was one of those plays, it's kind of bang, bang around the players and then hit a skate or something, went up and goes into the net," he said.
"Tough bounces, it probably turned the game around right there."
Bailey scored into the empty net at 19:28.
The Jets continue their four-game homestand Saturday against Toronto.
It was the first game of a seven-game road trip for the Islanders, who play in Calgary on Saturday.