No, the answer is not less Kyle Lowry
There's no question that Kyle Lowry has been less than his usual self. But TSN Raptors reporter Josh Lewenberg explains why the team must stay with their all-star point guard until the end.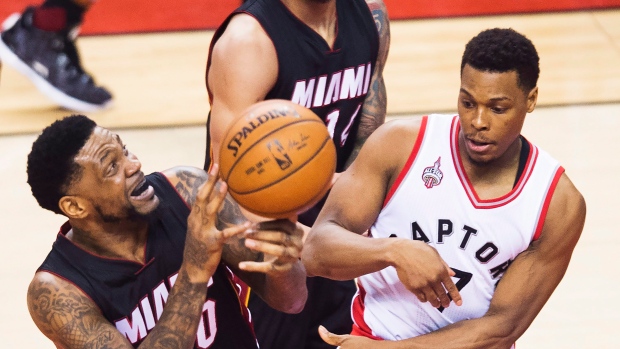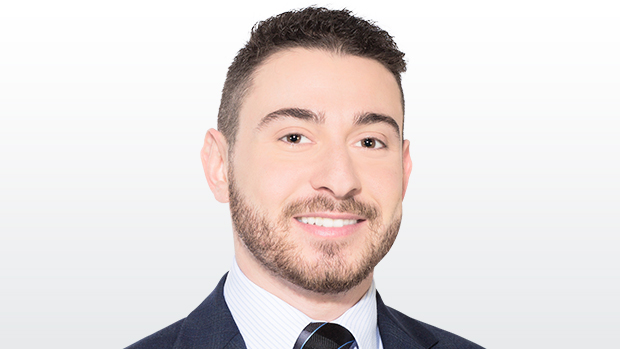 TORONTO - Following Miami's Game 1 victory over the Raptors, TNT's illustrious Inside the NBA panel weighed in on Kyle Lowry's ongoing shooting slump, suggesting that the answer, at least for head coach Dwane Casey, may be to sit his best player.
"I've got to give him a short leash because my obligation is to my team," said Charles Barkley, asked what he would do if he were Casey. "I can't let him... he's had basically eight bad games in a row. My obligation is to my team. You're the head coach, that's what your obligation is. I think he played 40 minutes tonight (he played 43). I can't put him out there for 40 minutes if he's not playing well or he doesn't have confidence."
Of course, this was a reaction - perhaps an overreaction, but a reaction - to what he had just watched, what we all watched on Tuesday evening. With the exception of a wild half-court heave to force overtime, Lowry was uncharacteristically ineffective. He didn't record his first assist until late in the opening half, finishing with six. He had more fouls (five) than buckets (three), didn't get to the free throw line and turned the ball over three times. Then there's the shooting. He hit just three of his 13 attempts, including one of seven from beyond the arc - the prayer he threw up from 40 feet at the end of regulation.
To his own admission, he did not have a good night. All things considered, it was one of the worst games he's played during his four-year Raptors tenure, post-season or otherwise.
However, teams don't bench their best player in the second round of the playoffs on account of one bad game because, well, why would they?
Granted, his shooting woes are not a new development. In Toronto's seven-game series with Indiana Lowry shot 32 per cent overall and went 7-for-43 from three-point range, where he was a career-best 39 per cent shooting during the regular season. But don't confuse shooting poorly with playing poorly. They may have been one and the same on Tuesday, but that wasn't the case in the first round. What you won't learn from the stat sheet: he was one of the team's best players and a big reason why they were able to advance.
People forget, Lowry wasn't always a shooter, in fact it was seen as the weakest part of his game when he broke into the league with Memphis 10 years ago and first got to Houston. He was, and still is, a tough, hard-nosed point guard with a flair for bullying his way into the lane, making plays for his teammates and mixing it up on the defensive end. That's the Lowry we saw against Indiana, for the most part. He was a facilitator first, he got to the free throw line, won the battle for just about every 50-50 ball and, most importantly, played his tail off on defence.
He's a plus-10 in the playoffs - the second-best mark on the team, behind Norman Powell - and the only Raptors player that's logged regular rotation minutes in each game to have a positive plus-minus. With Lowry on the floor, the Raptors are scoring 101.1 points per 100 possessions and allowing 100.5. When he's on the bench, they score an abysmal 84.8 points while surrendering 109.0.
Back-up point guard Cory Joseph has played well and leads the team, shooting 58 per cent. Barkley also suggested increasing his workload, and while that's not a bad idea given his utility on both ends, it shouldn't come at the expense of Lowry's minutes, even if the latter can't find his stroke. Most of the damage Joseph's done has come against second-unit guards - Ty Lawson and, on Tuesday, rookie Josh Richardson - and he didn't exactly look like the same player when he filled in for a resting Lowry here and there towards the end of the season. Perhaps he'll be a starter one day, but for now he's at his best in the reserve role.
There shouldn't even be a question. The Raptors are better with their best player in the lineup and the idea that they could compete in this series without Lowry is wishful thinking, to put in generously.
Obviously, their chances of bouncing back from the Game 1 defeat and making a run at the Heat increase significantly if Lowry breaks out of his funk. He says his elbow is fine and there's nothing wrong with his mechanics but also joked, "I'm always truthful with y'all, for the most part, except for when I'm injured", so who knows. Whether the problem is a physical one or not, clearly there's a mental side to it that Lowry is desperately trying to figure out.
"It's crazy," said the two-time all-star following Wednesday's practice. "It's mind boggling to me. Dude, how are you not making these shots? For me, I go into the games like I'm about to go [off] and we are going to win. Then I miss a shot and it's like, 'Ok'. Then I miss another shot and that's when it's like, 'Alright, I got to try and do something different'.
"Maybe my first shot needs to be a free throw or a layup. I have to figure out ways to just build the confidence. Get a layup, just see the ball go through the hole at some point. Just a fluke shot or a free throw, something to get it going."
Lowry was on the main court of the Air Canada Centre taking shots by himself until 1:15 AM Wednesday morning, over two hours after Tuesday's game came to an end. He wrapped up once he started to get tired. Lowry's a smart guy, almost too smart for his own good sometimes and, in this case, he may be spending too much time in his head. Through years of hard work, Lowry's turned himself into a shooter but that's far from all he is. He's a lot of things, which is what makes him so valuable to the Raptors and while almost all of his teammates are sugarcoating it - telling him to hang in there, assuring him it will just come around - give the candid DeMarre Carroll credit for reminding him of who he is, who he needs to be.
"Sometimes you just have to look yourself in the mirror, you have to man up," said Carroll, who played with Lowry in Houston five years ago. "You have to be like, 'I'm the Kyle Lowry that played the 82 games, All-Star.' You can say a lot to encourage him, but I feel like Kyle as the individual and a competitor, who he is, he has to look in the mirror and say 'I'm Kyle Lowry.'
"If he can do that he can help us tremendously because the Kyle Lowry I knew back in Memphis and Houston was the nitty gritty, blue-collar type of guy like I am. We never focus on offence. Blue-collar guys never focus on offence, we focus on the defensive end, then we allow our offence to open up. I feel like if he can get back to having fun playing defence and playing hard on the defensive end his offence will come easily."
Benching Lowry is not an option, scaling back his minutes is not an option, and they shouldn't be. As Casey says, the Raptors will "ride or die" with their star guards. Perhaps that doesn't inspire much confidence at the moment, but it's better than the alternative: die or die quicker without them.