Nylander scores in OT, Andersen posts SO as Leafs win 5th straight
Frederik Andersen made a game-saving stop after William Nylander, who scored with 2.2 seconds to play in overtime, gave the puck away in his own zone seconds earlier. As Kristen Shilton reports, Andersen made 42 saves as the red-hot Leafs won their fifth in a row, 1-0 over the Devils.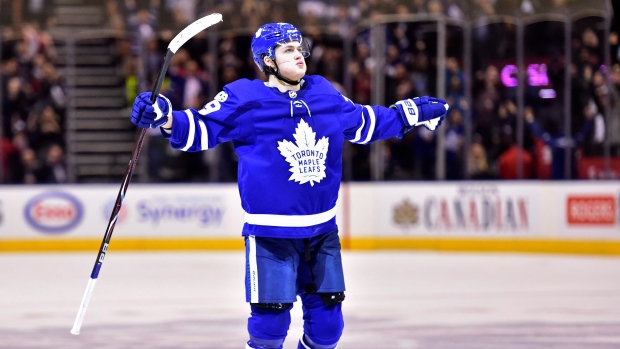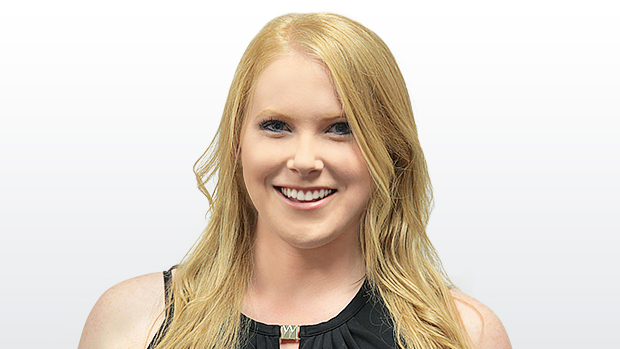 TORONTO – William Nylander's goal in overtime was the difference on the scoresheet, but the play of Frederik Andersen was the only reason the Maple Leafs forward even had a chance to score when he did Thursday night.
Andersen, who earned his second shutout of the season, went save-for-save all night long with Cory Schneider of the New Jersey Devils, and both goaltenders were terrific against several quality chances in the Leafs' 1-0 victory at the Air Canada Centre.
But in overtime, after Andersen had already turned aside five shots on the penalty kill, Nylander lost track of his man and left his netminder to make a game-saving stop. It was on the ensuing rush that Nylander potted his fourth of the season, ending an 11-game scoring drought.
"I told [Nylander] to go find Freddie or else he'd never have scored a goal," said Leafs head coach Mike Babcock. "I thought Freddie was really good, especially in overtime. It was a tight-checking game, not a lot of room for anybody. Probably boring for the fans, but it was kind of what I expected and I'm glad we embraced it, stuck with it and found a way to get a win."
It was in the midst of a nearly minute-long shift in overtime that Nylander couldn't bear to go back down the ice again. His team had battled the Devils to a 0-0 deadlock after regulation, and then spent the majority of the extra frame killing a penalty and chasing the visitors from one net to the other.
"I was pretty tired. We'd gone back and forth a few times. I couldn't go back the other way after that," Nylander said.
So when an exhausted Nylander finally carried the puck over the Devils' blueline, and promptly sent a cross-ice pass to no one, Toronto (13-7-0) looked primed for another footrace. But he recovered the disc himself and, with 2.2 seconds to play in overtime, he ripped it past Schneider to lift the Leafs to their fifth win in a row.
"I just came in the slot and went to shoot it. Got it to the net. I had a couple chances throughout the game, too. It was a little rattling when it wasn't going in, but it was nice to get it done in OT."
Nylander became just the second player in Leafs' history to score the game's only goal in a regular-season game in overtime (the first was Miroslav Frycer on Oct. 11, 1984 against Philadelphia).
"Rattling" only scratches the surface of what it had been like going goal-less for Nylander, who hadn't been able to find the back of the net since a 6-3 loss to the Ottawa Senators on Oct. 21, before his game-winning marker Thursday.
While Nylander had consistently generated scoring opportunities throughout, the longer the drought went on, the more he was overthinking when he did have the puck on his stick. Admitting to feeling frustrated at times by his lack of points, Nylander was determined to get back on the board. He paced all his Leafs teammates with four shots on the New Jersey net.
"One hundred per cent, for sure [he was frustrated]," said Babcock. "They want to score; they want to score every night. If you're a point-getter, you want to do that every night and you're not used to [not scoring]. Obviously, now Willy can loosen up and get playing, too. When you haven't scored in a while as a young guy, you get thinking too much instead of just playing and working."
In recording his shutout, Andersen stopped a season-high 42 shots. He had long preached the importance of the Leafs being able to win low-scoring games like Thursday's tilt. The last time these teams met (Oct. 11 at the ACC), New Jersey (11-4-3) beat up the Leafs in a 6-3 win that showcased all of Toronto's defensive flaws. While hardly a perfect performance in that regard, Andersen was pleased with the progress he saw in front of him during what was an old-fashioned goaltending duel.
"Probably a lot of people think that's a boring game but…we did a good job keeping them away from chances. We did a good job [overall]," he said. "It's fun. I think for a goalie, it doesn't really change anything, the score of the game. [That feeling at the end] is pretty nice."
Toronto has been near the top of the league in goals-for throughout these first 20 games (they're currently third, averaging 3.60 per game), and, like most teams, the Leafs would rather score goals than be stifled at every turn like they were on Thursday.
Babcock's goal is to make his team appreciate where a tight defensive game can take them.
"Tonight was a game there was absolutely no room. But if you look at our guys, they wouldn't tell you it was fun to play in," he said. "Once it's fun to play in, then we'll have made some steps [defensively]."
TAKEAWAYS
No Matthews, no problem
Auston Matthews has missed the Leafs' last four games and Toronto hasn't missed a beat. They have a pristine 4-0-0 record without their top-line centreman, which almost no one would have projected when the 20-year-old went down nine days ago with an upper-body injury. Matthews has a team-leading 10 goals and 19 points on the season, but without him Toronto has outscored their opponents 12-5. The Leafs have repeatedly said that in Matthews' absence, each individual player has tried to better embrace and elevate his own role. Outside of individual improvements, that's led to crisper breakouts and fewer egregious turnovers as a team. There is still no timetable for Matthews' return, although he has resumed practicing regularly.
Killer penalty kill
The Leafs hadn't been happy with their penalty kill of late, giving up six goals in their previous seven games. But just like they did in Boston last Saturday, Toronto's kill stepped up when they needed it most against the Devils. They shut down both New Jersey power plays in regulation, and when Jake Gardiner got called for interference in overtime, the kill stood their ground once again. Ron Hainsey and Nikita Zaitsev led the way in short-handed minutes with more than five each; so determined was Hainsey to finish the job on Thursday he even appeared to waive off a shift change in overtime despite already pacing all Leafs' skaters in ice time (24:17). The Leafs' penalty kill now sits 12th in the league (81.4 per cent) and has gone two straight contests without giving up a goal (7-for-7).
Third-line hustle
It was Nylander who stole the spotlight in the end, but Toronto's third line of Tyler Bozak, James van Riemsdyk and Mitch Marner were the Leafs' best trio through the game's first 60 minutes. They combined for four shots on goal and were Toronto's second-best possession line at 49 per cent. In a game where establishing zone time was difficult and getting through the neutral zone was even harder, the Leafs' third line still found a way to be dangerous while being thwarted at every turn by Schneider. He made a great save from in close on van Riemsdyk in the first and had to make two point-blank saves on van Riemsdyk and Bozak in the second, then was sprawled out in the crease when Marner took a subsequent shot that deflected away from the net. The rejuvenation of that line in the last four games has been a major difference-maker for the Leafs, and seeing them generating chances even in a smothering defensive game was a good sign.
Next game
The Leafs hit the road to visit the Montreal Canadiens on Saturday. ​