Nylander shifts to the middle, gets more options on offence
With Maple Leafs star Auston Matthews out of the lineup with a shoulder injury, smooth-skating Swede William Nylander will move to the centre spot for Saturday's home game against the Boston Bruins, Mark Masters writes.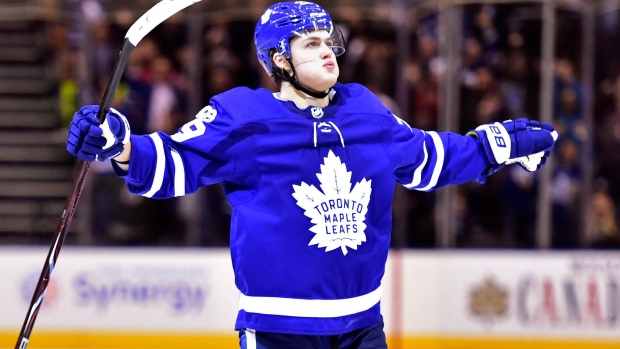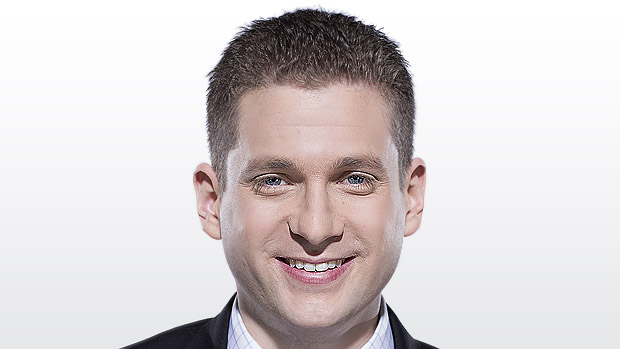 TSN Toronto reporter Mark Masters checks in daily with news and notes from Maple Leafs practices and game-day skates. The Leafs practised at the MasterCard Centre on Friday.
With Leafs star centre Auston Matthews out with a shoulder injury and listed as day-to-day, which usually translates into missing at least seven to 10 days, William Nylander will shift to the centre spot.
Nylander skated between Zach Hyman and Connor Brown at Friday's practice.
"We played together once or twice earlier in the year and the chemistry's there," said Nylander. "We played together on the Marlies too, so we want to build off that."
The smooth-skating Swede was asked what he likes about playing centre.
"I like getting the puck in the middle," Nylander said. "You can go right, go left, so you got a few more options offensively."
The Leafs, who have won 12 of 14 games to creep within one point of Boston in the Atlantic Division although the Bruins have played five fewer games, host the Bruins Saturday without Matthews in the lineup. This is the third time this season Matthews has been forced to miss games due to injury. In November, a back issue kept him out for four games and in December a concussion sidelined him for six.
"It's hockey," Leafs head coach Mike Babcock said. "You're going to get bumped into and those things happen and some years you're luckier than the others."
Toronto's depth up front has been an asset all season and the team has a winning record (6-4-0) with Matthews out.
"We got guys that can step in and play bigger roles and play more minutes," said defenceman Morgan Rielly. "Depth is a big part of this team and that will be put to the test."
Babcock said veteran Patrick Marleau, who has also shifted to centre at times this season, remains an option to fill in down the middle moving forward, but Nylander will get the first chance. He has started three games at centre this season, most recently on Dec. 20 in Columbus.
"Wingers ... you can be average and still be fine," said Babcock when asked about the challenge facing the 21-year-old. "Centres got to be good every night. They got to play 200 feet and they got to compete."
"I got to play the same way," said Nylander, who has 14 points in the last 15 games. "I mean, a little different position, but mentally try to play the same way and battle and stuff, so not much changes in the game."
Kapanen earns top-nine promotion, teases mentor Bozak
Kasperi Kapanen was promoted into the top-nine group at practice, joining Tyler Bozak and James van Riemsdyk.
"Obviously, it's a huge opportunity," the Finnish rookie said. "Two elite guys and I get to play with them, so I'm going to try to bring some speed to that line and shoot the puck as much as I can."
Kapanen started the season in the minors, but has now played in 14 straight games with the Leafs and earlier this week Babcock made it clear the 21-year-old had outgrown the AHL.
"It's better for sure," said Kapanen when asked whether his confidence level has risen. "I feel more comfortable after every game and I think I've been playing well so just got to keep it going."
Kapanen is excited to get some more ice time (his season average is 11:47 per game), but also to play with Bozak, who has become a bit of a mentor to him.
"He's always on me every day," said Kapanen with a smile. "He's the guy who lets me know I'm still a rookie and still the new guy here. Obviously, he's been in the league a long time, he has a lot of experience and has been helping me out."
And Kapanen is able to give as good as he gets.
"Obviously, he's good in the shootout. I think he watched his goal like 10 times after the game yesterday, because he's proud of himself," Kapanen said to laughs.
Bozak​ had the deciding goal in Thursday's shootout win against the New York Islanders.
Leivo hoping it's finally his karma time
Babcock wasn't sure if Matt Martin or Josh Leivo would draw in on Saturday. Leivo took the first reps with Dominic Moore and Leo Komarov at Friday's workout and also filled in for Matthews on the second power-play unit.
Leivo has only suited up in 12 games this season and recently asked the Leafs to either move him or, preferably, get him in the lineup. The 24-year-old hopes his patience will be rewarded.
"I think there'll be some good karma my way," he said with a smile. "Hopefully, I can get a couple good bounces early and get the legs under me."
Considering he hasn't played since Dec. 31 in Las Vegas, Leivo was asked how he'll deal with the rust factor.
"The speed's completely different (from practice)," he admitted. "I'm sure it'll take a couple shifts just to get the legs under me and maybe I'll throw a couple hits just to feel the speed and the weight of the guys. This is a big, physical team so I'll have to be ready right away."
Leafs face 'crucial' pair of games
If Toronto hopes to track down Boston and the first-place Tampa Bay Lightning, these next two games (Bruins on Saturday, Lightning on the road Monday) are vital. The Leafs have a soft schedule down the stretch, but both of their division rivals have games in hand.
"We have an opportunity here to make up some ground," said Rielly. "It's very important that we put our best foot forward and it starts (Saturday) night. We had a good meeting today, good practice, we're ready to go. There's no excuse not to be ready."
The Leafs lost to the Bruins 4-1 on Feb. 3 in Boston. What sort of lessons did they take from that setback?
"There were lots," Rielly said. "After that game we watched a lot of video. We understand the importance of these games coming down the stretch. We want to win just as bad as anybody else and these guys are playing well and making a push and we have to match that. Tomorrow (Saturday) night is very important and it's crucial we come forward with a good effort and play better than we did last time with these guys."
Lines at Friday's practice:
Forwards
Marleau-Kadri-Marner
Hyman-Nylander-Brown
van Riemsdyk-Bozak-Kapanen
Komarov-Moore-Leivo
Martin
Defencemen
Rielly-Hainsey
Gardiner-Zaitsev
Dermott-Polak
Carrick
Power-play units at Friday's practice: ​
Rielly
Bozak-Kadri-Marner
van Riemsdyk
Gardiner
Leivo-Marleau-Leivo
Brown