Off-Season Watch: Lamoriello casting a net?
Each day through the NHL Draft on June 22 and up until free agency on July 1, TSN.ca breaks down the latest news and rumours around the NHL. On Sunday, could Lou Lamoriello be looking to land a goaltender?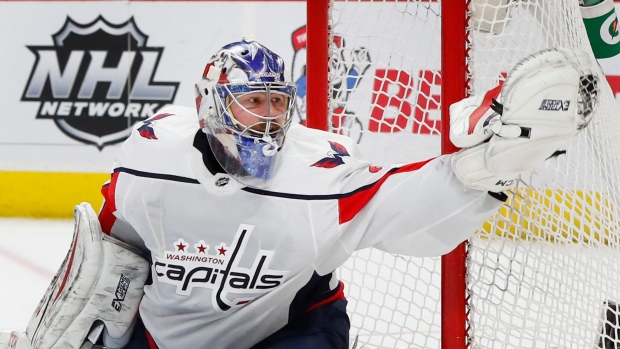 Each day through the NHL Draft on June 22 and up until free agency on July 1, TSN.ca breaks down the latest news and rumours around the NHL.
---
Lamoriello seeking a net gain?
Lou Lamoriello has stuck to a pattern in recent years and could look to make that continue as one of his first big moves at the helm of the New York Islanders, Postmedia's Steve Simmons writes.
In one of his last major moves with the New Jersey Devils, Lamoriello saw a backlog in the Vancouver Canucks' crease and traded for Cory Schneider at the 2013 NHL Entry Draft.
Three years later as the general manager of the Toronto Maple Leafs, Lamoriello took advantage of the emergence of John Gibson in Orange County and acquired Frederik Andersen from the Anaheim Ducks in 2016.
Newly installed as the GM of the Isles, Lamoriello could be ready to pounce again to add a goalie and might have his eyes focused on the Stanley Cup champions.
Simmons believes that Braden Holtby's backup with the Washington Capitals, Philipp Grubauer, might be the target this time around.
A native of Rosenheim, Germany, Grubauer appeared in a career-high 35 games this season for the Caps, posting a 15-10-3 mark with a goals against average of 2.35 and a .923 save percentage.
Grubauer just completed his sixth season in the NHL and is set to be a restricted free agent on July 1. He is No. 6 on the first TSN Trade Bait board of the summer.
The Islanders' incumbent option in goal is Thomas Greiss, who has two years remaining on a three-year deal that has an annual-average value of $3.33 million per season. Jaroslav Halak is an unrestricted free agent.
---
Buyout on the blue line?
With the NHL's buyout period set to begin on Friday, the San Jose Sharks appear to be one of the teams that could avail themselves to the opportunity of using it.
Kevin Kurz of The Athletic indicates there is a "strong possibility" that the club could look to buy out the remaining year on defenceman Paul Martin's contract.
Now 37, Martin has one year and $4.25 million remaining on a four-deal signed before the 2015-16 season. A native of Minneapolis, Martin appeared in only 14 games for the Sharks this season, having been assigned to their American Hockey League-affiliate San Jose Barracuda at one point in January.
Buying out Martin would create $2.8 million in cap room for the Sharks who, as of right now, are projected to have roughly $7.5 million in cap space.
Martin has appeared in 870 career NHL games over 14 NHL seasons with the New Jersey Devils, Pittsburgh Penguins and Sharks.