Off-Season Watch: Skinner on the block?
Each day through the entry draft on June 22 and up until free agency on July 1, TSN.ca breaks down the latest news and rumours around the NHL. Wednesday's roundup includes whether Jeff Skinner could be moved this summer, the new direction of the Minnesota Wild and Darnell Nurse's value as a restricted free agent.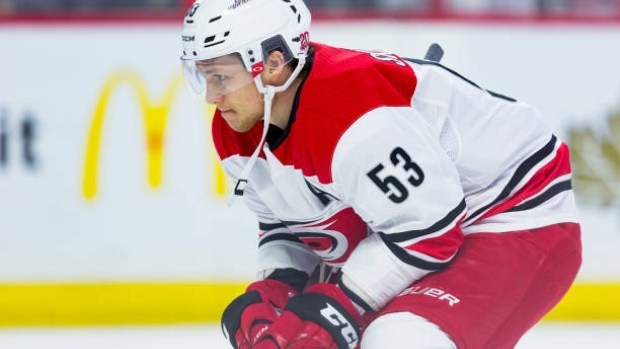 Each day through the entry draft on June 22 and up until free agency on July 1, TSN.ca breaks down the latest news and rumours around the NHL.
On the Block?
The Carolina Hurricanes have already overhauled their front office this off-season and it appears the team's roster could be next.
As Chip Alexander of the Raleigh News & Observer writes, winger Jeff Skinner appears to be a player who could be on the way out as he enters the final year of his contract.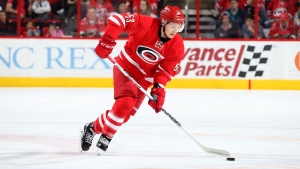 Skinner is no stranger to trade speculation and ranked as high as 15th on the TSN Trade Bait Board before February's deadline. New Hurricanes general manager Don Waddell did little to quiet the rumours on Tuesday, leaving the door open for Skinner to be moved.
"We have him for another year and that's the way it remains," Waddell said. "Jeff's been a great player for our franchise. Certainly if there's another fit someplace that makes sense for all of us we might explore it, but if not we know he'll be a part of this group going forward."
Skinner, 26, scored 24 goals and posted 49 points in 82 games this past season. He's topped the 30-goal mark twice in his career, including scoring 37 goals a year ago.
The Toronto native is set to carry a $6 million cap hit next season and has a full no-move clause. He recently switched agents to Don Meehan of Newport Sports Management and is eligible to sign a contract extension on July 1.
"I've known Don for a long time and I'll get some indication from Don as to the direction of the club, in terms of what their direction is going to be concerning Jeff," Meehan told the News & Observer. "We have another year remaining on his contract. We're going to fulfill that obviously, but it depends really on what the club is going to convey to me in terms of their intentions."
The Hurricanes are projected to have $27.4 million in cap space this off-season, according to CapFriendly.

---

Ready to Make Moves?
At his introductory news conference Tuesday, Minnesota Wild general manager Paul Fenton said he plans to tweak the team's roster this off-season, but left the door open to bigger moves.
"I want to make hockey trades," Fenton said, per the Athletic. "I don't want to make cap trades. I want to make trades that we see a guy fitting with us and maybe be able to do it quickly. But you never know. You just have to let the process play out."
Fenton didn't comment any players specifically, but Brian Murphy of the Pioneer Press believes he will have no emotional attachment to Nino Niederreiter, Charlie Coyle, Jason Zucker or Jared Spurgeon, who would all draw heavy interest on the trade market.
The former Nashville Predators assistant general manager said he plans to speak with Wild head coach Bruce Boudreau to try to get a better feel for what changes he needs to make.
"I want to talk to our coaches and get their feel for our team and what are we missing," Fenton said. "It's funny, but sometimes coaches and managers think differently. But there's got to be a happy medium there someplace that we're all going to be able to find what the solution is and give us a chance to win."
The Wild have reached the playoffs in six consecutive seasons, but have failed to advance past the second round. The team has been eliminated in the first round of the postseason in each of the previous three years. The Wild posted a 45-26-11 record this season, but were eliminated in five games by the Winnipeg Jets.

---
Darnell's Dollars
The Edmonton Oilers have a decision to make with former first-round pick Darnell Nurse this off-season - sign the restricted free agent to a long-term deal, or give him a bridge contract.
David Staples of the Edmonton Journal writes that the jury remains out on Nurse's true value and whether he's a top-four defenceman or a top pairing player in the NHL.
Staples believes a long-term contract for Nurse would pay him in the range of fellow Oilers defencemen Adam Larsson and Oscar Klefbom, both of whom carry $4.17 million cap hits through 2020-21. He argues that Nurse has yet to prove he deserves more than Larsson and Klefbom and may have to settle for a bridge deal worth less than $4 million if he believes he's looking for a bigger payday.
According to CapFriendly, the Oilers have $10.1 million in cap space this off-season with six restricted free-agents and two players set to hit the open market in Mike Cammalleri and Yohann Auvitu. Two of the team's restricted free agents, Anton Slepyshev and Iiro Pakarinen, however are reportedly headed to the KHL.

---

Boosting the Odds?
The New York Islanders announced Tuesday Lou Lamoriello will have "full authority over all hockey matters with the organization" as president and TSN Hockey Insider Darren Dreger believes that move may have improved their chances of keeping John Tavares.
"I think Lou Lamoriello landing with the Islanders is going to help the Islanders keep John Tavares, but this is just a ballpark educated guess," Dreger explained on TSN Radio 690 Montreal Tuesday. "I think that Lamoriello overseeing hockey operations maybe, you know, moves or bumps the percentage of Tavares staying to at best 50/50".
The future of Islanders general manager Garth Snow remains unclear, but Dreger believes hiring Lamoriello was a necessary move for the Islanders.
"If the Islanders had done nothing, and just maintained status quo, then I think there was a far better percentage that Tavares would go to free agency," Dreger said.
---

Staying Put?
The San Jose Sharks are closing in on a seven-year extension with deadline pickup Evander Kane, TSN Hockey Insider Pierre LeBrun reports.