Off-Season Watch: Where will the UFA goalies land?
Each day up until free agency on July 1, TSN.ca breaks down the latest news and rumours around the NHL. In Thursday's roundup, the latest trade reports surrounding Ryan O'Reilly in Buffalo and Artemi Panarin in Columbus.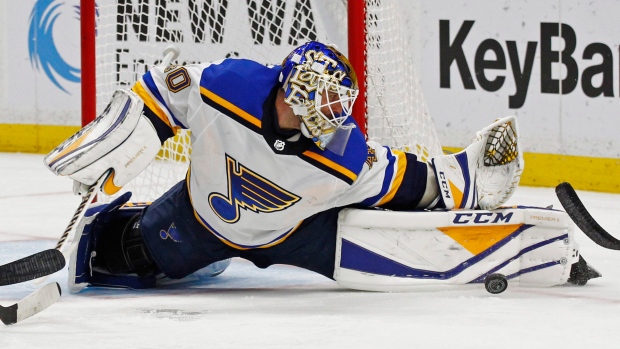 Each day up until free agency on July 1, TSN.ca breaks down the latest news and rumours around the NHL.
Crease Watch
TSN Hockey Insider Pierre LeBrun notes that plenty can change between today and Sunday, but it appears the top free agent goaltenders have chosen their landing spots.
LeBrun reports Carter Hutton, the top UFA goalie available, is the leading option to join the Buffalo Sabres, while Jonathan Bernier is likely headed to the Detroit Red Wings. LeBrun said Wednesday veteran Cam Ward appears to be headed to the Chicago Blackhawks and said that still appears likely at this time.
Hutton, 32, posted a 17-7-3 record this past season with the St. Louis Blues and had a .931 save percentage and a 2.09 goals-against average - both career-highs. He's listed at No. 10 on the TSN Top UFA list and first among goalies.
Bernier, 29, is listed on at No. 15 on the Top UFA list and posted a 19-13-3 record this past season with the Colorado Avalanche. He finished the year with a .913 save percentage and a 2.85 GAA.
Finally, the 34-year-old Ward appears set to move on after spending his entire career with the Carolina Hurricanes. He's listed at No. 67 on the Top UFA list after registering a 23-14-4 record with a .906 save percentage and 2.73 GAA this season.
---
Price to Rise?
A rumour emerged out of the NHL Entry Draft that the Buffalo Sabres were ready to trade Ryan O'Reilly for the 11th and 12th overall picks, which the Montreal Canadiens would have acquired from the New York Islanders.
TSN Hockey Insider Darren Dreger said Wednesday he couldn't confirm that rumour, but noted the Canadiens remain interested in the Sabres centre.
"I don't believe that to be entirely correct," Dreger told WGR 550 Buffalo of the draft rumour. "But what I know is that there was and probably still is and will be ongoing dialogue between the Montreal Canadiens and Buffalo Sabres for Ryan O'Reilly.
"I mean, it's pretty obvious what the needs are in Montreal and it starts with a centre ice man. Montreal might be among the few teams that isn't going to balk at paying that $7.5 million on July 1 - that's problematic for some clubs.
"The sense that I get is that Jason Botterill is looking for a first-round pick, a top prospect, and a second-round pick as part of the return, or the return, for Ryan O'Reilly. I think that package changes a little bit if the deal happens after July 1. If Buffalo is on the hook for the $7.5 million bonus, then I think that there'll be an expectation they're going to need more to pry Ryan O'Reilly out of a Sabres uniform. So I think there's a lot of back and forth."
As to how much that price would increase, Dreger said he couldn't be sure but the draft pick ask could increase to two first-rounders, or the prospect may need to be upgraded to a young NHLer.
TSN Hockey Insider Pierre LeBrun said on Insider Trading the Canadiens are not alone in chasing O'Reilly, but their deep pockets could give them an edge.
"I think the St. Louis Blues remain very interested in Ryan O'Reilly as well," LeBrun said Wednesday. "Now, there are some teams I think that would like to make a Ryan O'Reilly trade after his $7.5 million signing bonus is paid for on July 1. In other words, make a July 2 trade. And I think this is where the Habs have a bit of an edge. They don't care about that option, if they want the player, the question is would they pay that price and right now the price I'm told is a first-round pick, a second-round pick and a very good prospect. Is that too rich for Marc Bergevin to pay, or for the St. Louis Blues or for anyone else?
"But I will tell you this - I think the Buffalo Sabres, no matter what anyone is saying, would much rather trade him before that bonus is signed."

---

Staying Put?
Columbus Blue Jackets general manager Jarmo Kekalainen appears to be ready to hold on to Artemi Panarin for next season, despite the winger's reluctance to negotiate a long-term extension with the club at this time.
Panarin sits at No. 9 on the TSN Trade Bait board and the Blue Jackets have reportedly fielded trade offers for their leading scorer. But Aaron Portzline of The Athletic reports Kekalainen is not ready to part with his top pickup from last summer.
According to Portzline, Kekalainen plans to meet with Panarin this summer in Europe to map out a plan to limit distractions as he plays on an expiring contract.
Portzline notes that the Blue Jackets could still move Panarin if they receive a trade offer that includes current NHL players, as opposed to the future-driven offers they've received to date.
---

Eyeing Centre Help
Ben Kuzma of the Vancouver Province reports the Canucks have reached out to free agents Tyler Bozak and Riley Nash this week as they look to bring in a centre on July 1.
Kuzma notes that the Canucks could also be interested in Derek Ryan and Jay Beagle, but thinks all four centres are likely to be overpaid in a free agent class that has more demand than supply down the middle.
Kuzma believes the Canucks would have to offer Bozak a three-year, $15 million contract to have a chance at landing him and notes he could still turn them down to play for a contender. As for Nash, Kuzma notes his agent Kurt Overhardt is known for landing big deals for his client and wonders if Nash's breakout campaign this year is just a one-off.

Top UFA Centres in TSN's Top 75 UFAs
| Centre Rank | Overall Rank | Player | Team | Age | GP | G | PTS | 17-18 |
| --- | --- | --- | --- | --- | --- | --- | --- | --- |
| 1 | 1 | John Tavares | NYI | 27 | 82 | 37 | 84 | $5.5M |
| 2 | 3 | Paul Stastny | WPG | 32 | 82 | 16 | 53 | $7M |
| 3 | 6 | Tyler Bozak | TOR | 32 | 81 | 11 | 43 | $4.2M |
| 4 | 16 | Riley Nash | BOS | 29 | 76 | 15 | 41 | $900K |
| 5 | 17 | Derek Ryan | CAR | 31 | 80 | 15 | 38 | $1.43M |
| 6 | 25 | Tomas Plekanec | TOR | 35 | 77 | 6 | 26 | $6M |
| 7 | 27 | Jay Beagle | WSH | 32 | 79 | 7 | 22 | $1.75M |
| 8 | 29 | Kyle Brodziak | STL | 34 | 81 | 10 | 33 | $950K |
| 9 | 30 | Valtteri Filppula | PHI | 34 | 80 | 11 | 33 | $5M |
| 10 | 38 | Mark Letestu | CBJ | 33 | 80 | 9 | 23 | $1.8M |
---
How to Squeeze Him In
The Boston Bruins met with John Tavares this week, but squeezing the star centre under the cap may prove difficult if they win the sweepstakes.
Kevin Paul Dupont of The Boston Globe believes Bruins general manager Don Sweeney could look to move David Krejci and/or David Backes to clear cap space, but both own full no-trade clauses.
With Tavares likely to command more than $10 milllion a season, the Bruins have just $12 million in cap space with RFA Sean Kuraly and a backup goalie to sign.
Since moving Krejci or Backes could prove difficult, Dupont points to defenceman Adam McQuaid ($2.75 million cap hit) and Torey Krug ($5.25 million) as the most likely trade options.