Off-Season Watch: The suitors for Kovalchuk
Track the latest news and rumours around the NHL with TSN.ca's Off-Season Watch. Thursday's roundup includes landing spots for Ilya Kovalchuk in his return to the NHL, a possible reunion in Pittsburgh and the Detroit Red Wings' draft plans.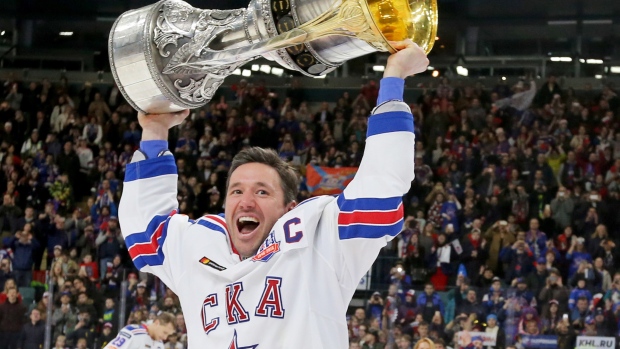 Each day through the NHL Draft on June 22 and up until free agency on July 1, TSN.ca breaks down the latest news and rumours around the NHL.

Kovalchuk Watch
As TSN Hockey Insider Darren Dreger reported earlier this week, Ilya Kovalchuk's new agent JP Barry has opened discussions with teams for his client's return to the NHL.
Matt Larkin of The Hockey News lists the New York Islanders, Los Angeles Kings, Dallas Stars, Florida Panthers and Boston Bruins as the top five candidates to land Kovalchuk this off-season.
Larkin doesn't believe Kovalchuk's age will scare off teams and notes the competitiveness of the KHL means teams won't have to worry that the sniper has "lost it."
He also ties the Islanders' potential interest as another way to perhaps convince John Tavares to stay with the team. He notes Tavares already has a left winger on his line in Anders Lee, though, and adds goaltender and defence are bigger needs for New York. Larkin argues that both the Kings and Stars are in need of scoring wingers and could both afford to bring Kovalchuk in on a two-year deal.
As for the Panthers and Bruins, Larkin believes they're both one piece away, albeit from separate goals. The Panthers fell just shy of the postseason this year, missing the dance by just one point and Kovalchuk could be enough to vault them into contention. In Boston, Larkin writes adding Kovalchuk would make the Bruins a Stanley Cup frontrunner next season.
The Carolina Hurricanes, New York Rangers and Vegas Golden Knights should be viewed as dark horse candidates to land Kovalchuk, Larkin writes.
Kovalchuk, who topped the 30-goal mark nine times in the NHL, scored 31 goals and posted 63 points in 53 contests this past season in the KHL.

---
Back in Black (and Yellow)?
Jason Mackey of The Pittsburgh Post-Gazette writes that Penguins general manager Jim Rutherford has identified depth production as an area of need this off-season after the team received little from their fourth line in the playoffs.
Mackey believes the team will bring back restricted free agent Riley Sheahan as the fourth-line centre and Bryan Rust and Zack Aston-Reese could find full-time roles on the bottom line. He notes, however, that the Penguins could look to add a cheap veteran to boost the line, pointing to former Penguins Chris Kunitz.
Kunitz spent nine seasons with the Penguins before signing with the Tampa Bay Lightning this summer and will be an unrestricted free agent again this summer. He scored 13 goals and posted 29 points with the Lightning this season.
The Penguins have $70.2 million in salary committed to next season with Carter Rowney scheduled for unrestricted free agency and five players hitting restricted free agency, with arbitration rights.
"I think we will probably look at getting a little more balance throughout the whole lineup," Rutherford told The Pittsburgh Post-Gazette last week of his plans for the off-season. "We want to make sure we have the four lines that can produce. We may be able to do that from within, depending on how it gets structured."
---

Dropping Back?
The Detroit Red Wings own the sixth-overall pick in next month's draft, but general manager Ken Holland said the team may consider trading the selection.
Holland told Craig Custance of The Athletic that while the team has little appetite to move up in the draft, he is open to moving down to acquire more assets.
"I've started to talk to some teams about a lot," Holland told The Athletic. "As you work your way towards (host) Dallas at the draft, draft movement possibilities - I think at this stage in the game, everybody is kicking tires as to what might be out there...
"I'm open to possibly move."
Custance reports that the Red Wings preference is to select a defenceman or a centre with their top pick and have no plans to move out of the Top 10.
"We're also comfortable (doing nothing)," Holland said. "We're going to get a good player at six."
While the Red Wings are open to dropping back early, the could opt to move forward a short time later. The Red Wings own the Vegas Golden Knights' first-round pick (No. 30 or 31 overall) and the Ottawa Senators second-round pick (No. 33) in addition to their own (No. 36). Holland may package some combination of those picks, or use his extra second-round pick next season (from the Islanders) to move up.
"If somebody on your list starts to slide, then you start to work the phone," Holland said. "We like a lot of players in that range, in that 30-35 range. We think there's some pretty good players. Do you package two of those picks and try to move up? Possibly. If somebody high on our lists starts to slide and starts to fall."
TSN Director of Scouting Craig Button projected the Red Wings to select London Knights defenceman Evan Bouchard at No. 6 in his post-draft lottery mock draft.
---