Off-Season Watch: Who's on the way out of Carolina?
Track the latest news and rumours around the NHL with TSN.ca's Off-Season Watch. Tuesday's roundup includes three names on the Hurricanes trade block, the Los Angeles Kings off-season plans to add and the likely outcomes for the Flyers' three UFAs.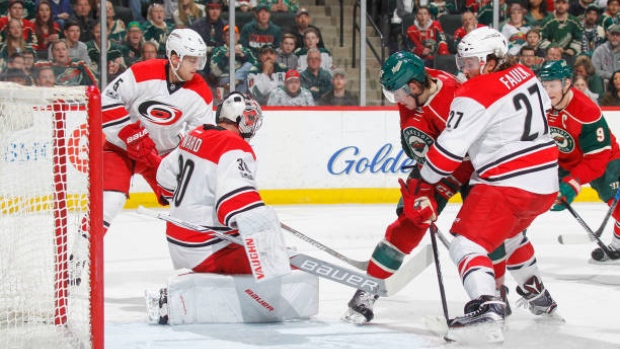 Each day through the NHL Draft on June 22 and up until free agency on July 1, TSN.ca breaks down the latest news and rumours around the NHL.
Blown Out?
New Carolina Hurricanes owner Tom Dundon promised changes this off-season after his team missed the playoffs this spring for the ninth straight year.
TSN Hockey Insider Bob McKenzie believes that the team will part with either defenceman Justin Faulk or blueliner Noah Hanifin this month, though not both. He lists the Vancouver Canucks as an interested party in Hanifin, but adds the Canucks are keeping an eye on several players ahead of the NHL's busy season for trades.
McKenzie also sees three-time 30-goal scorer Jeff Skinner as a player on the way out of Carolina, though he notes the team is in no rush to make their moves.
"I don't think there's huge urgency," McKenzie told Vancouver's TSN Radio 1040 on Monday. "I mean, as a league there's no sense of urgency for trades right now. It's still just very early June and as we get closer to the draft things ramp up, and they tend to peak around the draft. So Hanifin or Faulk, one of those two guys is probably going to be traded. Jeff Skinner is likely to be traded.
"We know that Vancouver has expressed interest in Hanifin. I wouldn't be surprised if Vancouver has at least expressed some interest in veteran centre Ryan O'Reilly out of Buffalo. So I'm sure the Canucks are doing their due diligence on a lot of different players and they're probably looking at enough veteran players in free agency, or close to it, that will get the market all in a tizzy because people will say, 'I thought we were rebuilding!'
"But it's pretty clear they still are not necessarily opposed to getting some guys with veteran presence in their lineup."
Hanifin, 21, is a restricted free agent this off-season while Faulk is signed through 2019-20 at a cap hit of $4.83 million.
"I would think one of those two guys is likely be traded at some point, but we'll see," McKenzie said. "Things are very unpredictable with the Carolina Hurricanes."
---
King Me?
Bob McKenzie believes the Los Angeles Kings are a team that could make a major splash on the trade market this summer as they look to add scoring to their roster.
McKenzie listed the Kings as "one of a number of teams" believed to be interested in Pittsburgh Penguins sniper Phil Kessel, but he won't be their lone target.
"And that was another thing I was going to bring up in terms of some of the gossip," McKenzie said in bi-weekly Bobcast on Monday. "The L.A. Kings are looking for scoring wingers. Jeff Skinner in Carolina is somebody they have some interest in, Max Pacioretty in Montreal would be someone. I don't know that they're necessarily looking ahead to free agency at a guy like James van Riemsdyk, as much as they are trying to find guys that have at least a year left on their deal at a fixed cost and somebody they could actually trade for right now.
"So keep an eye on the Kings as it relates to scoring wingers. Keep an eye on guys like Kessel, Skinner in Carolina is quite likely to be dealt."
The Kings have $70.7 million committed in salary to 20 players for next season with just one restricted free agent to sign in Tobias Rieder.
---

Flight Path
John Boruk of NBC Sports of Philadelphia believes the Flyers are unlikely to re-sign pending free agent Valtteri Filppula before July 1.
Boruk expects Filppula to look for a long-term contract this off-season, which would likely carry him to retirement. He argues the Flyers would be best off allowing the 34-year-old to test the market before bringing him back on a one-year contract in the range of $1.25 million-$2.5 million.
Filppula just completed the final season of a five-year, $25 million deal signed with the Tampa Bay Lightning in 2013. He scored 11 goals posted 33 points in 81 games with the Flyers this season.
Two other unrestricted free agents for the Flyers this summer are Brandon Manning and Matt Read and Boruk expects both to find new homes.
According to Boruk, Manning would like to move closer to Western Canada to be near his family and could fit as a third-pairing defenceman with the Edmonton Oilers or Vancouver Canucks. He expects Manning to sign a two-year deal worth between $3 million and $4 million.
As for Read, Boruk reports Flyers general manager Ron Hextall has already informed the forward he will not be re-signed and expects him to settle for a two-way deal elsewhere.