Oilers could have two shots at McDavid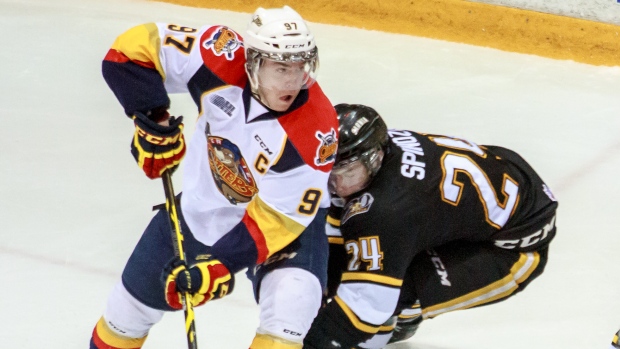 The Edmonton Oilers could potentially end up with the first overall pick and a Top 3 to Top 5 selection in this June's draft if the Pittsburgh Penguins miss out on a Stanley Cup playoff berth this week.
As confirmed by TSN's Ryan Rishaug on Monday, the 2015 first-round pick the Penguins sent to Edmonton earlier this season for winger David Perron is not lottery-protected, meaning it unconditionally belongs to the Oilers even if Pittsburgh misses the postseason.
Entering Monday's games, the Penguins hold the first wild card playoff spot in the Eastern Conference and are tied with the Boston Bruins and Detroit Red Wings at 95 points each. The Ottawa Senators are just two points back of the pack and each of the four teams have three games remaining.
Should Ottawa qualify and the Penguins miss out on the postseason, the Oilers would have two chances at winning the first-overall pick to take OHL phenom Connor McDavid. The Oilers own the third-worst record in the NHL and have an 11.5 percent chance with their own regular season finish. Having the Penguins in the lottery would give them another one or two per cent chance. Should the Oilers win the lottery with Pittsburgh's miniscule odds, their own pick would be knocked back one spot to third, fourth or fifth depending where they finish after Saturday.
The Penguins traded the pick and forward Rob Klinkhammer to the Edmonton Oilers on Jan. 2 for Perron, who led the Oilers with 28 goals last season. Perron has 12 goals and 22 points in 40 games with the Penguins.