Oilers fire McLellan, hire Hitchcock as new head coach
Todd McLellan's tenure with the Edmonton Oilers has come to an end. The Oilers confirmed Tuesday that Ken Hitchcock is coming out of retirement to replace McLellan as the team's head coach after a 9-10-1 start to the season.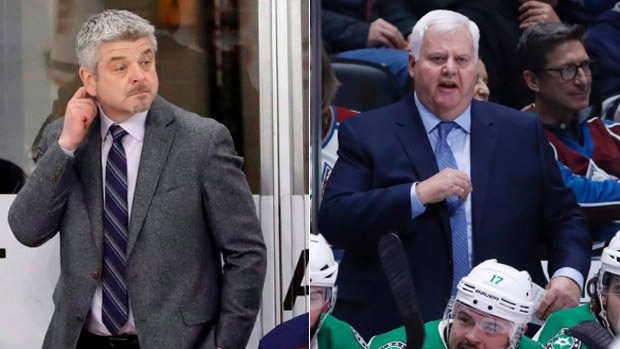 EDMONTON — The Edmonton Oilers have fired head coach Todd McLellan and replaced him with Ken Hitchcock.
Edmonton was languishing in sixth place in the Pacific Division with a 9-10-1 record entering its game Tuesday night in San Jose against the Sharks.
McLellan was in his fourth season behind the Oilers' bench. The team missed the playoffs in two of his previous three campaigns despite having superstar captain Connor McDavid on the roster.
"With all the parity in the league, I think the timing was right," Edmonton general manager Peter Chiarelli told reporters in San Jose. "These are difficult decisions.
"There's still a lot of runway left in this year and we felt that a new voice would be helpful."
Hitchcock announced his retirement in April after a 22-year coaching career in the NHL, which included a Stanley Cup with the Dallas Stars in 1999. TSN Hockey Insider Darren Dreger notes that Hitchcock's position with the team will be reevaluated at the end of the season.
Chiarelli and Hitchcock worked together as part of Canada's men's Olympic team at the 2014 Games in Sochi, Russia.
"I got to know him fairly well," said Chiarelli, who added Hitchcock's status with the Oilers will be re-evaluated after the season. "His track record is impeccable. He's a very good tactician.
"What I saw was a real high level of input in a short period of time."
The Oilers are coming off consecutive weekend defeats to Calgary (4-2) and Vegas (6-3), and have lost six of their last seven games in regulation.
"This isn't scientific," Chiarelli said of the timing of the coaching change. "There's a sense and a feel and you talk to people.
"I saw levels of flatness, levels of non-response. When that happens the radar goes up, and so we decided to act."
TSN Hockey Insider Pierre LeBrun notes McLellan was signed through next season at a salary of $3 million per year. McLellan is the fourth NHL coach to be fired this year, following John Stevens in Los Angeles, Joel Quenneville in Chicago and Mike Yeo in St. Louis.
There were no in-season coaching changes in 2017-18, the first time that had happened since 1966-67.
While the axe fell on McLellan in Edmonton, there's plenty of blame to go around for the Oilers' plight, including a series of trades and signings by Chiarelli that have failed to complement a top-heavy roster led by McDavid and fellow centre Leon Draisaitl.
Among Chiarelli's missteps were the trade of winger Taylor Hall to New Jersey for defenceman Adam Larsson in June 2016, and the free-agent signing of bruising forward Milan Lucic to a massive seven-year, US$42-million contract a few days later.
Hall won the Hart Trophy as league MVP last season, while Lucic has two goals in his last 66 games.
"I'm certainly not absolving myself of any responsibility on the player personnel (side)," Chiarelli said. "This isn't just an indictment of Todd or the players. This is a collective thing and it's our job to get to the playoffs.
"We owe it to our fans, and I felt this was the right move for it."
Chiarelli added later on a conference call he doesn't feel any more pressure after making the move to fire McLellan, who he hired in 2015.
"Hot seat or whatever word you want to use, I feel I've been under scrutiny — and justifiably so — prior to this." the GM said. "If this makes me under scrutiny more, then I understand."
McLellan was the sixth man to coach the Oilers since the team fired Craig McTavish at the end of the 2008-09 season, following Pat Quinn, Tom Renney, Ralph Krueger, Dallas Eakins and Todd Nelson.
Hitchcock, 66, served as Dallas head coach twice (1995-2002, 2017-18) to go along with stops in Philadelphia (2002-2006), Columbus (2006-2010) and St. Louis (2011-2017).
The Edmonton native sits third in career coaching wins with 823 behind only Scotty Bowman (1,244) and Quenneville (890).
Hitchcock led Dallas to back-to-back Presidents' Trophies (1997-98, 1998-99) and captured the Jack Adams Award as the NHL's top coach in 2011-12 with St. Louis.
"He knows how to inject system structure, execution in a short period of time," Chiarelli said. "He's got a lot to his portfolio.
"I thought he was the right person for the job."