Oladipo, Magic rally past Pelicans
Victor Oladipo had 22 points, Nik Vucevic had 18 points and 13 rebounds, and the Orlando Magic rallied to beat the New Orleans Pelicans 95-84 on Friday night. Evan Fournier added 16 points. It marks the first time the Magic have posted back-to-back wins since Jan. 14.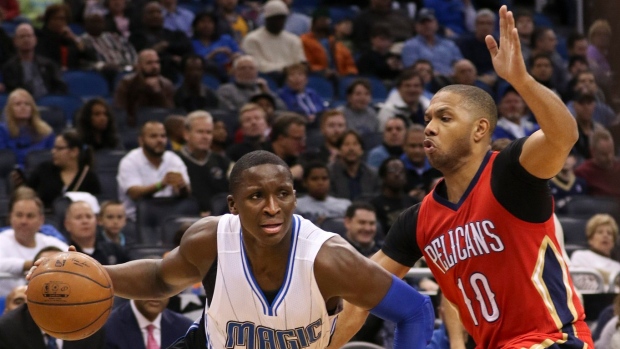 ORLANDO, Fla. - In the games leading up to former coach Jacque Vaughn's firing earlier this month, the Orlando Magic looked lost on the defensive end of the floor.
So far, interim coach James Borrego is keeping true to his promise to make the rest of the season all about defence.
The Magic held the New Orleans Pelicans to 13 points in the fourth quarter and 37 points in the second half on their way to a 95-84 victory on Friday night.
Victor Oladipo had 22 points. Nik Vucevic had 18 points and 13 rebounds, and Evan Fournier scored 16.
"Protecting our paint is the biggest thing, contesting every shot and helping each other," Oladipo said. "We're just buying into it right now."
It was the fifth straight opponent the Magic have held to under 100 points. Orlando had surrendered 100 or more points in 14 consecutive games prior to this improved streak.
It also marks the first time the Magic have posted back-to-back wins since Jan. 14.
Orlando trailed by four at the half, but used a 9-0 run early in the fourth quarter to take control. The Magic are now 3-2 under Borrego.
"In the second half we got back to what we do. Guys were helping each other and we did a good job on the boards and the big guys are protecting the paint," said Magic guard Elfrid Payton.
Tyreke Evans led New Orleans with 14 points and 10 assists. Anthony Davis added 13 points and 11 rebounds in his return from a right shoulder injury.
The rust showed at times for both Davis and for Ryan Anderson, who missed two games with a right elbow strain. Anderson had 13 points in 27 minutes.
Davis in particular had a sluggish start, committing all four of his turnovers in the first half, and showing moments of timidity on both ends of the floor.
The Magic took advantage, outscoring the Pelicans 64-36 in the paint.
Orlando also tried to give Davis several different defensive looks, going six players deep into their bench.
After Anderson started the fourth quarter with a jumper to tie the game at 73, the Magic scored nine straight — including seven by Willie Green — to take a 82-73 lead. It would grow as high as 89-75 with 5:19 remaining on a dunk by Oladipo.
The Pelicans didn't get closer than nine the rest of the game.
TIP-INS
Pelicans: Dropped to 10-17 on the road this season.
Magic: Vucevic has 33 double-doubles on the season. ... F Tobias Harris sat out for the third straight game with a sore right knee.
THE NEW GUY
Borrego said he won't rush breaking in new assistant Igor Kokoskov following his addition to the coaching staff on Feb. 17. "It's just gonna take some time. We threw him in the fire, in the mix the last two days. He's gonna fit right in," Borrego said. Borrego coached his first two games following Vaughn's Feb. 5 dismissal with just two assistants, after former assistants Brett Gunning and Wes Unseld Jr. were also let go.
HOLIDAY UPDATE
Pelicans coach Monty Williams said he isn't concerned how the team will deal with the ongoing absence of G Jrue Holiday. The team announced this week that Holiday aggravated the stress reaction in his lower right leg, and won't be evaluated again for three weeks. He has been out since Jan. 12. "Minus the last three games when we were really depleted — we've played a lot without Jrue and won some big games," Williams said. "We know we can do it."
UP NEXT
Pelicans: At Miami on Saturday.
Magic: Host 76ers on Sunday.
___
Follow Kyle Hightower on Twitter at http://www.twitter.com/khightower .