One year later, Holm questions how Rousey handled comeback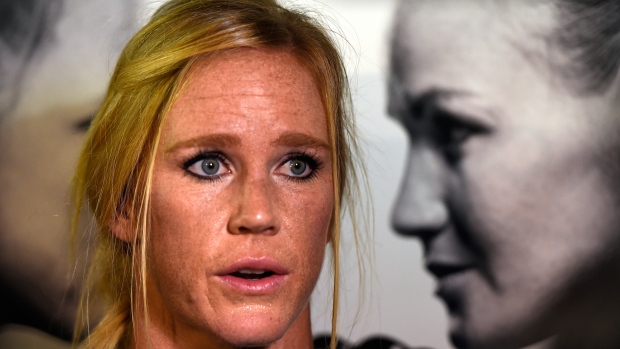 Nearly a year has passed since Ronda Rousey's failed attempt to reclaim the UFC women's bantamweight title at UFC 207, when she lost to Amanda Nunes in less than one minute.
While Nunes still reigns supreme over the division, it was Holly Holm who initially cracked the Rousey code, defeating the seemingly unstoppable force known as "Rowdy", who was coming off four straight first round wins with a combined cage time of just over two minutes.
Holm defeated Rousey in lopsided and embarrassing fashion at UFC 193 in front of over 56,000 fans at Etihad Stadium in Melbourne, Australia and reportedly an audience of over one million pay-per-view consumers. Holm held the women's bantamweight title for under four months before dropping it to Miesha Tate at UFC 196, her first of three straight losses.
Following the loss, Rousey refused to discuss it publicly and agreed to return to the UFC more than a year later at UFC 207 on the condition that she did not need to fulfill any media obligations in the lead up to the fight.
While Holm does not fault Rousey for her decision to avoid doing media, she does not agree with it.
"Do we really know what's going on in people's minds and in their hearts behind closed doors? I hope Ronda's doing well. I've never had any ill will towards her at all, but I know there's some things that I know for me that I would have done differently," Holm told TSN during a media scrum in late November. "Going into when she came back, she didn't do any media and if that was me, I'd think, as much as I don't like to do it, before a fight, that's what you do though, if I didn't do it, I'd feel like, is it not real? Am I not really facing what's coming? Am I not really ready? Am I not really being honest with myself?"
Despite losing three straight, Holm broke that streak earlier this year when she defeated Bethe Correia in Singapore this past June. During the losing streak, Holm did not shy away from doing media.
"Doing media, they're going to ask you questions that make you feel uncomfortable like 'you lost this fight and you're coming back, how do you feel?' They're going to ask you things that are going to cut you deep to the core. But if you're not ready to answer those questions, you're probably not ready to compete because the fight is a very lonely place, you're in that cage all by yourself and you need to be able to be firm and you need to be able to be confident," said Holm.
"You're totally exposed, it's all you, it's you and you're in this fight in front of millions of people and they all are going to have their own comments about it, their own ideas about it and they can sit there and talk. Do we get to go to everybody else's life and have it be put in front of everybody and get to depict and pick apart everything about it, no, but you know what, we choose to do this and that's what makes a loss devastating and that's what makes a win that rewarding because there's that much on the line, you've just got to face it."
With the losing streak behind her, Holm now has a chance to beat another fighter who is considered to be unstoppable in women's featherweight champion Cris "Cyborg" Justino, who at 18-1-1 has not lost a fight aside from her MMA debut in May of 2005 and is considered the most feared women's mixed martial artist of all-time.
"I want to win this fight and I want to beat the best in the world because in order to be the best you need to beat the best, whether that's at 135 or 145," said Holm. "There's all this talk that everybody's dodging her from the 135 pound division and in reality, nobody's dodging her from the 135 pound division, she's dodging the entire 135 pound division because she doesn't want to go to that weight. I know that I'm at 135, but I know that the challenge in front of me is this fight at 145 and I truly want to be the best and in order to do that I have to fight the best and that's why I'm taking this fight. Because I truly feel that I can beat her."
For years, Cyborg had been considered the dream opponent for Rousey and the one who could have potentially been the first to defeat her, if not for Holm spoiling the party.
The stakes are high because with a win, Holm could be considered the greatest female combat sports athlete of all-time as she'd become the UFC's first female two-division champion to add to her impressive boxing resume as a former multiple-time world champion, notching 18 title defenses in three different weight classes.
Holm faces Cyborg with the women's featherweight title on the line in the main event of UFC 219 on Saturday, December 30 at T-Mobile Arena in Las Vegas, Nevada.