Ontario wins gold in women's curling at Canada Winter Games
Ontario beat Nova Scotia 6-5 in an extra end Saturday to win gold in women's curling at the Canada Winter Games. Megan Smith's rink from Sudbury, Ont., clinched the victory when Nova Scotia skip Mary Fay clipped a guard with her last rock.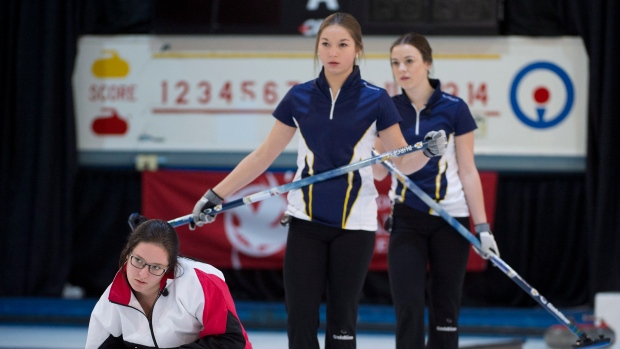 PRINCE GEORGE, B.C. - With the women's curling final at the Canada Winter Games tied in an extra end, Megan Smith could feel the tension mounting with every shot.
"It was pretty stressful," said the 17-year-old Ontario skip. "I think I might have some grey hairs."
Smith's Sudbury rink finally won a tight seesaw battle 6-5 in the 11th end Saturday when Nova Scotia's Mary Fay clipped a guard with her last rock.
"It was back and forth, that's for sure," said Smith, who had the hammer in the extra end. "A lot of 1s on the board. It was a great game played by both teams."
Fay tied the game 5-5 in the 10th when she drew her final stone to score one at a packed Prince George Golf and Curling Club.
"It was so close. I don't think we could have been any closer," Fay said as she fought back tears. "I'm so proud of my teammates and it's really disappointing, but we did everything we could have.
"At the end of the day they just played really well. They deserve it."
Earlier Saturday, Saskatchewan beat New Brunswick 9-8 in an extra end to win bronze at the under-18 event.
Smith, third Kira Brunton, second Mikaela Cheslock and lead Emma Johnson finished a perfect 8-0, while Fay's rink from Chester, N.S., that includes third Jennifer Smith, second Karlee Burgess and lead Janique LeBlanc wound up 6-1 overall.
"It's really special. We've been working towards this goal for three years," said the Ontario skip. "To go undefeated is not what we had in mind, but it's a really great accomplishment."
Smith's rink grabbed a 2-1 lead through three ends, and after the teams blanked the fourth, Nova Scotia settled for just one point in the fifth with the hammer after Fay was heavy on her final throw.
Ontario then scored one in the sixth before Nova Scotia responded with a single in the seventh to make it 3-3.
Fay stole one in the eighth to go up 4-3, but Smith scored two in the ninth for a 5-4 lead that set up the late drama.
"We fought really hard. We'll look back and we'll be proud," said Fay. "You have to lose before you can win sometimes. We'll just make the best of it and try to learn from it."
Smith said she hopes that Saturday's result and the week in Prince George will help her team's growth moving forward.
"The goal was junior nationals this year and we missed out by one rock," she said. "I believe this is a stepping stone and hopefully we can have more success in years to come."
Note: Manitoba beat Ontario last week to win the men's title.