Senators name Smith head coach
Senators hire Smith as new head coach
The Ottawa Senators named D.J. Smith their new head coach on Thursday.
The team announced a three-year agreement with Smith, who spent the past four seasons as an assistant on Mike Babcock's staff with the Toronto Maple Leafs.
"D.J. Smith is a winner. We believe he is the best person to drive the development and success of the Ottawa Senators," Senators general manager Pierre Dorion said in a team release. "D.J is a great communicator and an exceptional strategist. His passionate approach, coupled with his ability to teach the game, is exactly what we were looking for throughout the process. We're thrilled to welcome D.J. and his family to Ottawa."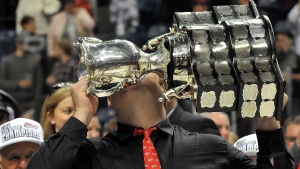 Prior to joining the Maple Leafs, Smith served as head coach of the OHL's Oshawa Generals and won the Memorial Cup with the team in 2015. In three seasons with the Generals, Smith compiled a 135-53-3-13 record and was named OHL Coach of the Year in 2013-14. He won two Memorial Cup titles as a assistant coach in six seasons with the Windsor Spitfires before joining the Generals.
"I'm so happy for DJ," Maple Leafs head coach Mike Babcock told TSN Hockey Insider Pierre LeBrun on Thursday. "One thing I believe is the idea that if you come and work with me, you share your info, I share mine, and you get to go on your way. I'm pumped for him. We had four years together. Now he's set up good. He feels good. He's a good coach, he's a good man, he's going to do a good job. They're lucky to have him.''
The 42-year-old appeared in 45 NHL games as a defenceman during his playing career from 1996-2003 with the Maple Leafs and Colorado Avalanche.
LeBrun reported earlier this week that the Senators interviewed seven coaches for the vacant head coaching role, including Hockey Hall of Famer and former Colorado Avalanche head coach Patrick Roy.
According to TSN Hockey Insider Bob McKenzie, the six other coaching candidates were told Thursday morning that they were out of the running while Smith and Dorion finalized a contract Wednesday night.
Smith is expected to hire his own staff in Ottawa but goaltending coach Pierre Groulx will be returning in that capacity, McKenzie adds.
Ottawa fired third-year coach Guy Boucher this season after he posted a 22-37-5 record through the first 64 games. Marc Crawford, who took over on an interim basis, also interviewed for the job.
Smith is the 14th head coach in Senators franchise history.