Panthers take advantage of Canucks in lopsided trade
Florida's emphasis on a more analytics-minded approach came shining through in deal with Vancouver, Travis Yost writes.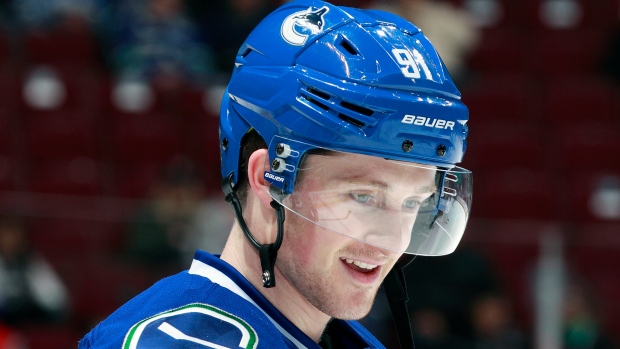 If there is one thing we have learned over the last couple of months, it's that the Florida Panthers are going to remain active.
A lot has been written about the team's big internal changes this spring, with good reason. It's not often that a 103-point, division-winning organization overhauls large portions of its front office, but the franchise continues to do so while pushing in the direction of an analytics-minded approach.
The organization feels that these moves have already paid dividends – most notably with the acquisition of Reilly Smith from the Boston Bruins last July. Consider Wednesday night's multi-piece swap with the Vancouver Canucks as more evidence of where the franchise is headed.
To recap: the Panthers acquired 2014 first-round pick Jared McCann and two 2016 draft picks (a second and fourth-rounder) in exchange for Erik Gudbranson and a 2016 fifth-round pick.
There are a bunch of interesting takeaways from this deal, but I think the most notable is that Florida was willing to move on from Gudbranson, a 2010 first-round pick and a player they had just extended on a one-year deal.
Digging under the surface a bit, it's easy to see why the team was both averse to signing Gudbranson long-term and willing to move him in a potential trade.
Gudbranson is billed as a stay-at-home defender, but I've always argued that such a definition really has two sub-categories. There are your actual stay-at-home defenders – Chicago's Niklas Hjalmarsson and Nashville's Barret Jackman are two great examples. They are exceptional at deterring shots and scoring chances, particularly from the dangerous scoring areas of the ice. They are not scored upon frequently and provide quality minutes on the penalty kill. Despite their offensive limitations, they add real value to their organization.
Then there are the guys considered stay-at-home defenders because they meet other criteria, like being big and blocking shots. This is the category where most teams continue to move away from, mostly because the defenders who comprise this category historically bleed shots and goals against. Their defensive reputations tend to be more theoretical than actual.
We can measure Gudbranson against his peers to get a sense of what potential value he brings to his new team, and perhaps gain some insight in to why Florida didn't seem bothered by parting ways with the big blueliner. We'll use z-scores (an indication of how far a player's stat deviates from the league average) for nine key performance metrics. Players who run big negatives are consistently below league average; players who run big positives are consistently above league average.
Where does Gudbranson fit?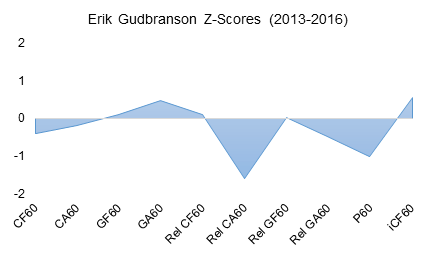 If you think about a 0 z-score as being directly comparable to the league average defender, Gudbranson doesn't fare particularly well here. His two positives are very slight in nature, with his raw goals against per-60 and raw shots generated per-60 just being a cut above league norm.
More concerning are the number of other metrics that are well below league average. Take, for example, his relative shots against per-60 minutes. His z-score for this is -1.57, meaning about 94 per cent of defenders in the league are better at suppressing shots. This is strikingly problematic for a guy who is being billed as a shutdown defender, and not indicative of a player who is genuinely tough to manoeuvre around.
The other half of his game – just as important in this day and age – remains substandard. Offensively, Gudbranson is challenged, with shot-generation rates (both raw and team-relative) and scoring well below league averages.
You might place more value in one or two of these stats over others, but the overarching theme here is that Gudbranson has never been able to separate himself from what we would consider a 'league average' defender. In some cases he has been significantly worse.
And that's just one piece of the trade. Let's not forget that Florida added a 19-year-old centre and upgraded their fifth-round pick to a second-round pick and fourth-round pick. The incremental value in that pick swap is big on its own. Add in a productive young player who has already exhibited himself as a competent bottom-six talent and is locked in on a team-friendly $894,000 deal through 2017-18, and you have a great transaction.
Truthfully, it's difficult to see what Vancouver sees in this deal. If the prize is Gudbranson, well, the prize is something like a third-pairing defender. And the premium they paid – a legitimate prospect and multiple picks – is, in a word, inexplicable.
Call it like it is: Florida took advantage of a team who egregiously misvalued a defenceman to once again win a trade in striking fashion.