Parade Day Blog: Toronto delirious in celebration of Raptors
There was a little bit of everything on Parade Day as north of two million people flooded the streets of Toronto to get a look at the new NBA champs. See how it all went down right here.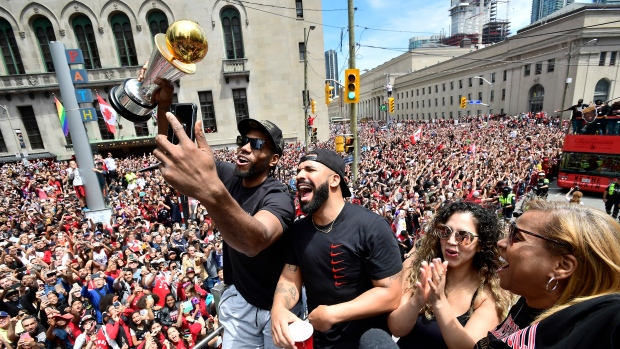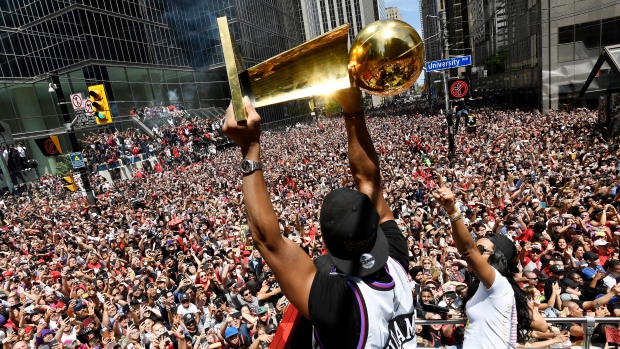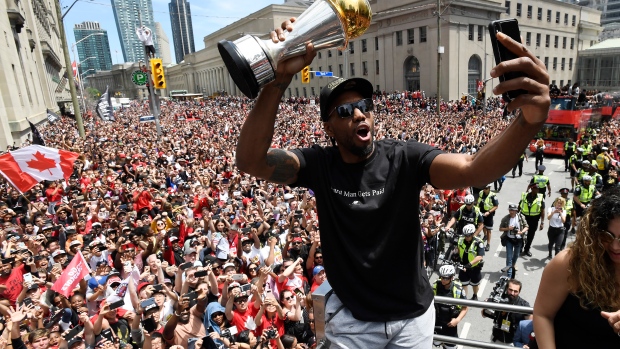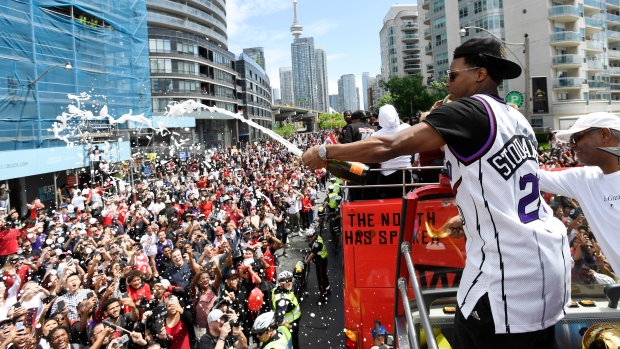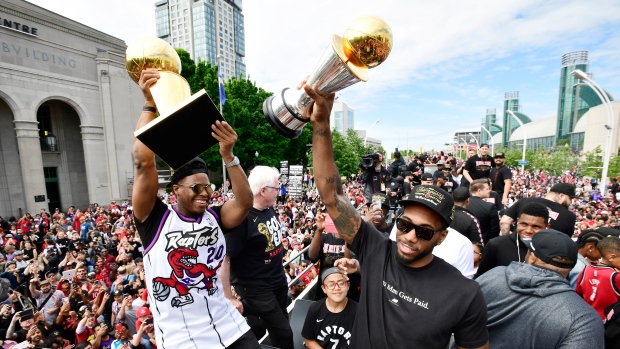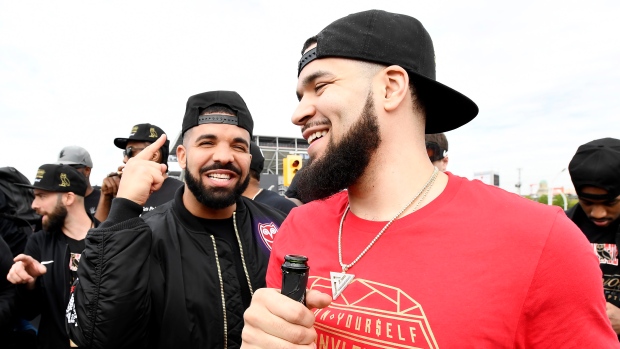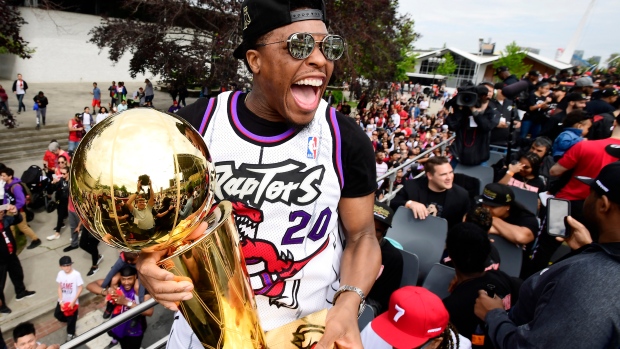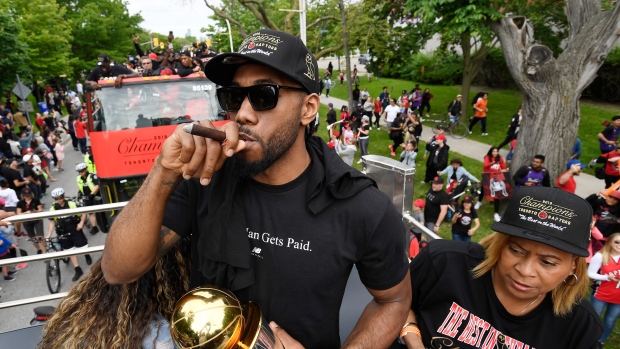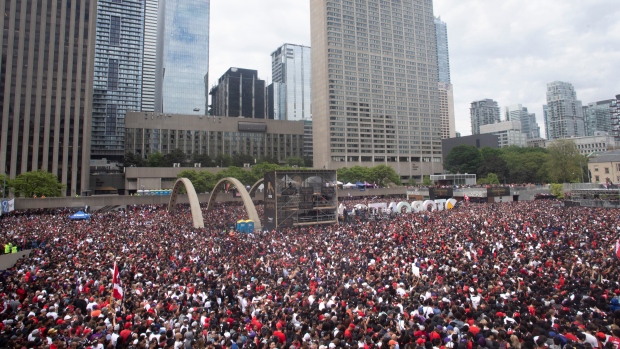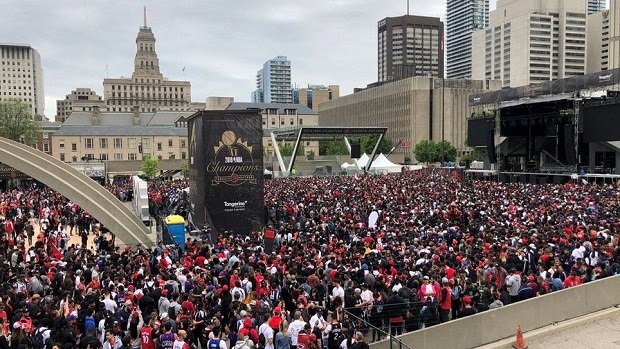 There was a little bit of everything on Parade Day as north of two million people flooded the streets of Toronto to get a look at the new NBA champs. See how it all went down right here.
4:27
Well, it looks like that's a wrap for Parade Day. It had just about everything from confetti to mayor John Tory to Drake to Kawhi mimicking his laugh from the start of the season.
Thanks for following! One more time for everyone who hasn't seen it yet.
4:23
"Give somebody a hug today," the Toronto rapper said repeatedly in celebration of the city's first NBA Championship. "You deserve this."
4:18
Drake is up. Stay tuned.
4:15
Kawhi steals the show by emulating his trademark laugh from his introductory press conference. No, really.
It happened.
4:12pm
Trudeau credits Raptors for "pulling everyone together."
3:45pm
We The Champs
3:43pm
And of course, Kyle Lowry and NBA Finals MVP Kawhi Leonard get the biggest roars.
3:40pm
3:38pm
The players are finally arriving on stage and the fans love Freddy and Serge!
3:08pm
Marc Gasol just won't stop!
3pm
Prime Minister Justin Trudeau is at the stage waiting for the Raptors' arrival.
2:58pm
They've been on the bus since 10am ET. It's officially a marathon.
2:53pm
2:29pm
The city says at least two million are in attendance for the parade. Remarkable.
2:25pm
Nathan Phillips Square belts out O Canada as Snowbird planes fly over. We're just minutes away from players arriving now.
2:22pm
Plant guy made his delivery.
2:20pm
They continue to climb in Toronto.
2:18pm
Sooooooo many people!
2:01pm
What a day in Toronto. It's just unbelievable.
1:58pm
Will Kawhi Leonard make the cover of NBA2K?
1:55pm
This probably won't be the only mic drop from Drake this afternoon.
1:54pm
Even if you're at work today, you're watching the parade.
1:48pm
1:38pm
Crowd chants "one more year!" to Kawhi, but Kyle wants five.
1:28pm
Yonge and Dundas is now open for business to watch the parade.
1:20pm
Due to the thousands upon thousands of people, the Raptors parade is taking far longer than expected.
1:06pm
Norman Powell might be having the best time. And Cabbie is soaked.
12:59pm
Another interesting fact about Raptors fans...they love to climb.
12:54pm
Danny Green impresses with his Canadian population knowledge.
12:52pm
Does he stay?
12:49pm
Lowry is having the time of his life.
12:44pm
We believe in Masai!
12:43pm
The sweet taste of victory! How does it feel Cabbie?
12:41pm
They're getting closer...
12:37pm
George Cope, Larry Tanenbaum, and Edward Rogers talk about how this is a dream come true for the MLSE ownership group and discuss how the Raptors bring Canada together.
12:34pm
"Could not imagine a better ending to it."
12:25pm
"This is why we wanted to win a championship. This is unbelievable." - Kyle Lowry
12:23pm
"Thank you Toronto, thank you Canada for the support. We did it." - Kawhi Leonard
12:19pm
Pascal Siakam having a time.
12:17pm
He's a fun guy.
12:11pm
Plant Guy vs. Plant Guy drama.
12:07pm
People are getting out of their cars on the Gardiner Expressway to watch the parade.
11:58am
Raise the belt, Danny!
11:51am
What a picture.
11:32am
The arches at Nathan Phillips Square are in play now.
11:28am
It pays to be a construction worker on this day!
11:22am
Yikes.
11:19am
The man who has never missed a Raptors home game since their inception in 1995 talks to TSN's Matthew Scianitti.
11:11am
It took a while to get things going, but the buses are finally on route to Nathan Phillips Square. What a party!
11:10am
Be safe, Toronto. Be safe.
11:04am
A championship belt for the champs, courtesy of wrestling superstar Triple H.
10:53am
Kayla Grey talks to the lone Canadian on the Raptors, Chris Boucher.
10:44pm
It's Plant Guy! "I took it from home...I live in the woods."
10:42am
Nathan Phillips Square is full everybody. Find a TV and turn on TSN for this historic moment.
10:31am
10:18am
10:16am
Larry O'Brien and Drake are on the same bus, folks.
10:08am
Fans of all ages are out in full force at the parade.
9:45am
It's just getting started, friends.
9:42am
9:40am
School might not be out for the summer quite yet, but you better believe it's out for Raptors' parade day.
9:37am
Lowry is going old school for his attire today. Mighty Mouse would be proud.
9:34am
It's appears Danny Green has a fresh haircut for the celebration.
9:33am
9:30am
Two to the Raptors' biggest fans will be major contributors in Monday's parade. Super fan, Nav Bhatia, will lead the parade as the Honorary Parade Marshall while Toronto-based rapper Drake will have his own float, according to Laura Armstrong of the Toronto Star.
9:23am
The party is well underway in Toronto and it hasn't even officially started yet..
9:19am
The buses are ready to go at Exhibition Place.
9:05am
Who knows if Leonard will stay or sign somewhere else this summer, but at least fans are putting forth their best effort to convince him to stay. Plant Guy went viral Thursday night thanks to his housewarming gift for Kawhi and now there's Plant Guy No. 2.
9:01am
Packed.
8:42am
Saying the crowd is getting pumped up would be an understatement.
8:39am
Five buses will carry the players throughout the city. Which group of players are you most excited to see?
Bus 1 - Serge Ibaka, Jodie Meeks, Malcolm Miller
Bus 2 - Danny Green, Norman Powell, Chris Boucher
Bus 3 - Kyle Lowry, Fred VanVleet, Kawhi Leonard
Bus 4 - Pascal Siakam, OG Anunoby, Patrick McCaw
Bus 5 - Marc Gasol, Eric Moreland, Jeremy Lin, Jordan Loyd
8:33am
"Kawhi Leonard bringing a 'chip to the city. I want my 'chips with the dip. That's all I know. I don't want my 'chips plain. I want my 'chips with the dips. So bring them dips!" - Drake and this fan.
8:25am
It's safe to safe longtime Raptor Kyle Lowry is excited for Monday's festivities. Expect the point guard to get one of the loudest ovations at the parade.
8am
By early morning, Nathan Phillips Square was nearly filled to capacity.
2:20am
Fans were set up at Nathan Phillips Square as early as Sunday morning in order to get a good spot for the historic moment. By 2:20am on Monday, there was reportedly over 1,000 fans camping out with spontaneous "Let's Go Raptors" chants.