Patrick has decided edge in TSN Hockey Mid-season Draft Ranking
Eight of 10 scouts surveyed by TSN Hockey Insider Bob McKenzie have the Brandon Wheat Kings centre at No. 1 for this year's NHL draft, but don't rule out a push from Halifax Mooseheads centre Nico Hischier.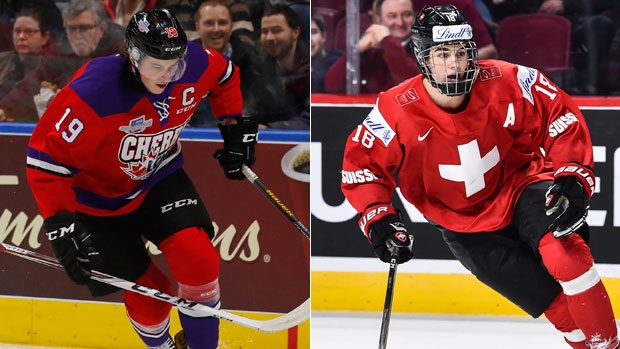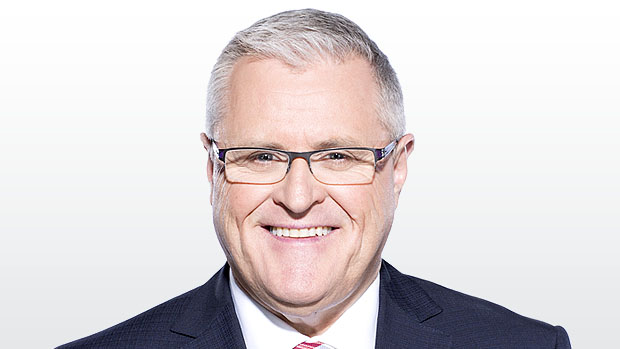 In the one, and likely only, head-to-head, on-ice meeting this season between Nolan Patrick and Nico Hischier, give a slight edge to Hischier.
The Halifax Mooseheads' Swiss centre scored a nifty breakaway goal – started off a Patrick turnover – and added a deft primary assist and a late-game secondary assist in Team Cherry's 7-5 win over Hischier's Team Orr in the CHL's Prospects Game Monday night in Quebec City. Mind you, Patrick also had a pair of assists and turned in a solid winning effort in a game that often featured the two captains playing opposite each other. Hischier was named Team Orr's player of the game.
As for TSN's Mid-Season 2017 NHL Draft Rankings, give the decided but not unanimous edge to Patrick –for now, anyway.
Eight of 10 scouts surveyed by TSN have the 6-foot-2, 198-pound centre from Winnipeg at No. 1 for this year's draft, which will be held June 23-24 in Chicago.
This despite the fact that injuries have limited Patrick to a mere 11 games this season, though he has an impressive eight goals and 17 points in those games.
"The reality is [in spite of the limited viewings because of a groin injury] Patrick is a known quantity because of what he did last year," an NHL scout said of Patrick's 41 goals and 102 points in 72 games for a powerhouse WHL champion Wheat Kings team, adding league playoff MVP honours to his resume.
Patrick is a late 1998 birthdate. He missed being eligible for last year's draft by only four days, so even though he wasn't eligible, he was often being viewed and measured against the top players in the 2016 draft class. This year's 2017 class, from top to bottom, is not viewed as star-studded or deep as either of the last two drafts, which featured Connor McDavid and Jack Eichel in 2015 and Auston Matthews and Patrik Laine in 2016.
The consensus amongst scouts seems to be that were Patrick eligible last year, he would have been ranked/chosen in the No. 5 to 8 region, quite likely behind Matthews, Laine, Pierre-Luc Dubois and Jesse Puljujarvi.
All it really means is the scouts are familiar with Patrick's game. While he isn't necessarily dynamic, he's a big, pro-style centre who can score and make plays and has the numbers and pressure-treated playoff experience to prove it.
Patrick had off-season sports hernia surgery. An issue with his other groin, the one that wasn't operated on, caused him to miss most of October and all of November and December before returning to play in early January. His play of late would suggest those problems appear to be behind him.
While Patrick's 8-2 edge amongst scouts in TSN's voting seems lopsided, many of those who chose Patrick over Hischier acknowledged the potential for a legitimate battle the rest of this season for No. 1 draft status in June.
"You can't rule it out," one scout said. "Hischier has been so dynamic in Halifax this season. He's very quick. The numbers he's putting up with a team no one expected to be very good this season are eye- opening and his play at the world junior championship wasn't just good, it was great."
Hischier wasn't just the best draft-eligible prospect at the world juniors; he was one of the top players in the tournament, scoring four goals and seven points in five games for Switzerland.
The fact Hischier is even raising the spectre of a competition is really quite remarkable.
In September's TSN Pre-Season NHL Draft Rankings, Hischier wasn't ranked in the Top 15. Had there been a No. 16 published, it would have been Hischier. Certainly in recent memory, there hasn't been a prospect outside of the Top 10 or Top 15 in September who moved up to the top two to create a race for No. 1 at mid-season. Patrick, by the way, was 10 for 10 in No. 1 votes in preseason balloting.
How did this happen?
It's not as if scouts didn't know who Hischier was. He first rose to some level of prominence at the 2015 Ivan Hlinka U-18 tourney. He scored three goals and six points in four games as an underage player at that event. He played reasonably well in Switzerland in the 2015-16 season but gave no indication he was possibly elite. He was slight of build that season and playing big-ice hockey against weaker level of competition. There wasn't a strong feeling he was something special.
At the 2016 Hlinka last summer, Hischier took a step back. He didn't play particularly well, with one goal and two points in three games for a weak Swiss team.
After a bit of a slow start in Halifax (0-3-3 in his first five games), he caught fire and has rocketed up the charts. He has 33 goals and 68 points in 40 QMJHL games.
"He wasn't the biggest kid before and he most certainly has grown and filled out," a scout said. "He's much stronger than he was. He's extremely difficult to take off the puck."
Hischier is now listed at 6-foot-1, 176 pounds.
One of the two scouts who put Hischier ahead of Patrick in TSN's mid-season balloting did so for a variety of reasons.
"No one's smarter [in this draft]," the scout said. "His hockey sense is really good, his overall compete level and two-way game, I think, is better. He's more dynamic [than Patrick]. It's not a case of not liking Patrick; he's a good player and he's going to be a good NHL player. I just like Hischier better."
The other scout who took Hischier over Patrick noted the Swiss player's ability to get inside and to the net to make plays.
It remains to be seen whether Hischier can chip away at that gap between now and the end of the season. Some of those who voted Patrick No. 1 are intrigued by Hischier, but big, point-producing centres are tough to knock off, too.
What's indisputable, though, is Patrick and Hischier are a clear level above the rest of their draft class.
Outside of the top two prospects, this year's draft is highly unpredictable, even in the Top 10.
Getting consensus on the Top 5, or for that matter the Top 10, isn't usually that difficult, but it was a tremendous challenge this year.
Swedish defenceman Timothy Liljegren is No. 3 on TSN's mid-season list – despite the fact he missed much of the first half of the season with mononucleosis – but the range of opinion on the mobile, puck-moving blueliner is really quite extraordinary.
Liljegren was as high as No. 3 on four scouts' rankings but was as low as the second round on another.
While not every Top 5 or Top 10 prospect had as a wide range of opinion as Liljegren, there were some pretty significant variances.
Windsor Spitfire forward Gabe Vilardi is No. 4 on TSN's list and his rankings ranged from as high as No. 3 and as low as No. 14. Vilardi isn't the swiftest skater but he gets there and his hockey sense and ability to make plays are both above average.
Minnesota high schooler Casey Mittelstadt of Eden Prairie – the highest-ranked American started the season with Green Bay of the USHL and will return there once the high-school season is over – is No. 5. The offensive centre's range on balloting was No. 4 at the high end and No. 13 at the low end.
We don't keep track of such things, but it's quite likely this is the first time this has ever happened: Every prospect ranked from No. 3 to No. 13 on the TSN Mid-Season Draft Rankings list got one or more votes in the top five and one or more votes at No. 12 or lower.
"I think what you're going to see is there could be a big difference between the mid-season rankings and the final rankings," one NHL scout said. "This is a year where there's not a lot separating the top 10 or 15 so if a player shows really well or really poorly it could make a bigger [than usual] difference."
Here's that next grouping, or layer, of prospects from No. 6 to 13, with their range of voting included:
6. Mississauga Steelhead hard-shooting winger Owen Tippett, who also happens to be the cousin of Tampa prospect and London Knight Mitchell Stephens. Tippett's range of votes was from three to 13.
7. Big 6-foot-6 (technically, listed at 6-foot-5 and 3/4) Tri City centre Michael Rasmussen, whose range was from four to 12. Rasmussen moves well for a big man and plays the game with an edge but can make plays, too.
8. Czech forward Martin Necas, who played at the recently completed world junior championship, was as high as third in the eyes of one scout and as low as 29 in the eyes of another. He's a skilled playmaking forward.
9. Finnish goal-scoring winger Eeli Tolvanen, the sharp-shooting Finn who plays for Sioux City in the USHL, is committed to Boston College next season, although his OHL rights are owned by the Oshawa Generals. Tolvanen's range was from five to 19. In addition to putting the puck in the net, Tolvanen plays with great energy and intensity.
10. Big 6-foot-3 Russian forward Klim Kostin of Moscow Dynamo had his season come to an abrupt end with a Jan. 18 shoulder surgery. Not playing the rest of the season certainly won't help his stock and he's a candidate to slide. Still, he was as high as three for one scout and had five Top 10 votes but was as low as 23, too. Kostin has the tools to play a strong, power game.
11. Skilled Swedish forward Elias Pettersson, who has performed well both in Sweden's top league and at the world juniors, had a range of four on the high end and 29 on the low end. Pettersson hasn't filled out yet but is versatile and can play all three forward positions.
12. Cale Makar of the Alberta Junior League's Brooks Bandits has become something of a sensation since his flashy performance at the World Junior A Challenge in December. The dynamic offensive defenceman is a threat to Liljegren as the top defenceman in the draft and could yet be a Top 10 consideration. His range was from four to 29.
13. Finnish blueliner Miro Heiskanen of IFK is also in the mix for top defenceman in this draft and the last of the prospects who got some consideration for being in the top five of the entire draft. Four scouts had him in their Top 10, including one vote as high as third overall. He's a solid skating and puck-moving blueliner.
If there's a decided lack of consensus on both Top 5 and Top 10 picks, the same holds true for the Top 20. Every prospect ranked from No. 14 to No. 21 on the TSN list got at least one vote in the Top 10.
Portland Winterhawks offensive centre Cody Glass checks in at No. 14 and industrious two-way centre Lias Andersson, who plays for HV71 in Sweden, rounded out the Top 15.
This year's draft is not nearly as exciting as recent years. Scouts aren't prepared to classify it as a "bad" draft per se, but, relative to recent years, it's lacking some sizzle – as was discussed in the Patrick-Hischier discussion. It's also been a victim of some bad luck on the injury and illness front.
Kostin's season-ending shoulder surgery is one example. Liljegren missing an extended period of time with mono also contributed to the sense of malaise, to say nothing of Patrick's missed months because of his groin problems.
It's not a particularly strong draft for defencemen.
Liljegren is the only blueliner in TSN's mid-season top 10, although Makar has a legitimate shot to be there, too.
It appears to be a noteworthy year for goaltenders. There are 10 netminders ranked in TSN's Top 80. Some scouts would argue it's more about quantity than necessarily quality, but Boston University freshman Jake Oettinger is the consensus No. 1, slotting at No. 25 on the TSN list.
Oettinger's No. 1 status isn't unanimous by any means. Three other goalies – Finland's Ukko-Pekka Luukkonen at No. 34; Keith Petruzzelli of Muskegon in the USHL at No. 41; and Windsor's Michael DiPietro at No. 49 – got at least one vote as the top netminder in the draft. Prince Albert's Ian Scott at No. 40 and Cayden Primeau (son of former NHLer Keith Primeau) at No. 47 didn't get a vote as the top goalie but did receive widespread support as amongst the upper echelon stoppers in the draft.
Russian Daniil Tarasov at No. 52, Lethbridge's Stuart Skinner at No. 57 and Maksim Zhukov of USHL Green Bay at No. 62 round out the goalie rankings.
Outside of Finland – which has five prospects ranked in the Top 31, including four in the Top 20 and with two more threatening (defenceman Henri Jokiharju of Portland at No. 32 and goalie Luukkonen at 34) to be first rounders – and perhaps Sweden – with three prospects (Liljegren, Pettersson and Andersson) in the Top 15 – it's not a great draft for pretty much any other country. Mind you, if Hischier goes no lower than No. 2, it will be a banner year for hockey in Switzerland.
Canada has only three prospects in the Top 10 – Patrick, Vilardi and Tippett – and only four more between 11 and 20 – Makar, Glass, Foote and No. 20-ranked Shane Bowers of Waterloo in the USHL. While Foote intends to represent Canada internationally, he played his formative minor hockey years in Colorado and is a dual citizen.
It's a down year for Americans, especially the USA Under-18 program out of Plymouth, Mich. There are no USA U-18 prospects ranked in TSN's Top 31. In fact, the highest-ranked is Grant Mismash at No. 38. The Americans do, however, have some notable prospects, including Mittelstadt at No. 5, St. Cloud State freshman forward Ryan Poehling at No. 17 and Spokane Chief forward Kailer Yamamoto at No. 23.
It's a poor year for the Quebec League – Halifax's Hischier at No. 2 and Victoriaville's Maxime Comtois at No. 22 are the only QMJHL players in TSN's mid-season first round. Pierre-Olivier Joseph of Charlottetown at No. 36 is the only Q player ranked in the second round.
Comtois started the season as a potential Top 5 candidate – he was fourth on TSN's preseason rankings – but he hasn't had a strong season and will need a better second half to move up the rankings. He could be the only Québécois taken in the first round.
"We've been spoiled the last few years, with McDavid, Eichel, Matthews and Laine," one scout said. "This draft doesn't have as many stars; it doesn't have as many guys with the potential to be first liners or top pairing guys in the NHL. But there will still be a lot of guys in this draft who play in the NHL, so it's our jobs to figure out which ones."
The Top 80
| RK, Player | Team | POS | HT | WT | GP | G | P |
| --- | --- | --- | --- | --- | --- | --- | --- |
| 1. Nolan Patrick | Brandon (WHL) | C | 6'2 ¾ | 198 | 11 | 8 | 17 |
| 2. Nico Hischier | Halifax (QMJHL) | C | 6'0 ¾ | 176 | 40 | 33 | 68 |
| 3. Timothy Liljegren | Rogle (SHL) | D | 6'0 | 191 | 16 | 1 | 5 |
| 4. Gabe Vilardi | Windsor (OHL) | C | 6'3 | 201 | 30 | 17 | 36 |
| 5. Casey Mittelstadt | Eden Prairie (USHS) | C | 6'0 ¼ | 194 | 18 | 13 | 38 |
| 6. Owen Tippett | Mississuaga (OHL) | RW | 6'1½ | 202 | 45 | 36 | 61 |
| 7. Michael Rasmussen | Tri-City (WHL) | C/LW | 6'5 ¾ | 215 | 49 | 32 | 55 |
| 8. Martin Necas | Brno (Czech) | C | 6'0 ½ | 167 | 35 | 6 | 13 |
| 9. Eeli Tolvanen | Sioux City (USHL) | RW | 5'10 ¼ | 170 | 30 | 17 | 31 |
| 10. Klim Kostin | Moscow (KHL) | RW | 6'3 | 196 | 9 | 1 | 1 |
| 11. Elias Pettersson | Timrå (SWE-Als) | LW | 6'1 ¼ | 156 | 31 | 13 | 31 |
| 12. Cale Makar | Brooks (AJHL) | D | 5'10 ¼ | 171 | 40 | 15 | 52 |
| 13. Miro Heiskanen | HIFK (SM Liiga) | D | 6'0 | 170 | 28 | 4 | 8 |
| 14. Cody Glass | Portland (WHL) | C/RW | 6'1 ¾ | 180 | 47 | 23 | 65 |
| 15. Lias Andersson | HV71 (SHL) | LW/RW/C | 5'11 ¼ | 198 | 29 | 5 | 9 |
| 16. Jusso Välimäki | Tri-City (WHL) | D | 6'1 ½ | 204 | 34 | 12 | 36 |
| 17. Ryan Poehling | St. Cloud St. (NCAA) | C | 6'2 ½ | 202 | 25 | 5 | 8 |
| 18. Cal Foote | Kelowna (WHL) | D | 6'3 ½ | 213 | 49 | 5 | 38 |
| 19. Kristian Vesalainen | Frolunda (SHL) | LW | 6'3 ¼ | 207 | 20 | 1 | 6 |
| 20. Shane Bowers | Waterloo (USHL) | C | 6'1 ¼ | 178 | 38 | 14 | 30 |
| 21. Nicholas Hague | Mississuaga (OHL) | D | 6'5 ½ | 206 | 45 | 14 | 34 |
| 22. Maxime Comtois | Victoriaville (QMJHL) | LW | 6'2 ¼ | 199 | 44 | 14 | 32 |
| 23. Kailer Yamamoto | Spokane (WHL) | RW | 5'7 ½ | 153 | 43 | 30 | 63 |
| 24. Urho Vaakanainen | Jyvaskala (SM Liiga) | D | 6'0 ½ | 185 | 29 | 2 | 3 |
| 25. Jake Oettinger | Boston U (NCAA) | G | 6'4 | 203 | 22 | 1.82 | .935 |
| 26. Nikita Popugaev | Prince George (WHL) | LW | 6'5 ½ | 204 | 52 | 24 | 59 |
| 27. Nick Suzuki | Owen Sound (OHL) | RW | 5'10 ¾ | 187 | 45 | 23 | 57 |
| 28. Isaac Ratcliffe | Guelph (OHL) | LW | 6'5 ½ | 196 | 47 | 22 | 40 |
| 29. Matthew Strome | Hamilton (OHL) | LW | 6'3 ½ | 206 | 45 | 26 | 42 |
| 30. Robert Thomas | London (OHL) | C | 5'11 ½ | 185 | 45 | 14 | 42 |
| 31. Conor Timmins | S.S. Marie (OHL) | D | 6'1 ¼ | 185 | 47 | 6 | 39 |
| 32. Henri Jokiharju | Portland (WHL) | D | 5'11 ¾ | 176 | 48 | 6 | 32 |
| 33. Kole Lind | Kelowna (WHL) | RW | 6'1 | 176 | 48 | 22 | 58 |
| 34. U-P Luukkonen | HPK U20 (SM Jr. Liiga) | G | 6'0 ¼ | 170 | 27 | | .917 |
| 35. Morgan Frost | S.S. Marie (OHL) | C | 5'10 ¾ | 170 | 47 | 14 | 40 |
| 36. P-Olivier Joseph | Charlottetown (QMJHL) | D | 6'2 | 160 | 45 | 6 | 34 |
| 37. Marcus Davidsson | Djurgårdens (SHL) | C | 6'0 | 191 | 34 | 5 | 8 |
| 38. Grant Mismash | USA NTDP (USHL) | LW/C | 6'0 ¼ | 186 | 41 | 18 | 32 |
| 39. Alex Formenton | London (OHL) | LW | 6'1 | 162 | 45 | 12 | 28 |
| 40. Ian Scott | Prince Albert (WHL) | G | 6'3 ¼ | 174 | 37 | 4.15 | .886 |
| 41. Keith Petruzzelli | Muskegon (USHL) | G | 6'5 | 180 | 22 | 2.56 | .910 |
| 42. Jake Leschyshyn | Regina (WHL) | C/LW | 5'10 ¾ | 184 | 45 | 17 | 40 |
| 43. Ostap Safin | Sparta (CZE-Jr.) | RW | 6'4 ½ | 191 | 20 | 4 | 12 |
| 44. Ivan Lodnia | Erie (OHL) | LW/C | 5'10 | 182 | 45 | 20 | 44 |
| 45. Erik Brannstrom | HV71 (SHL) | D | 5'10 | 179 | 25 | 1 | 4 |
| 46. Alexei Lipanov | Balashikha (MHL) | C | 6'0 | 165 | 17 | 3 | 7 |
| 47. Cayden Primeau | Lincoln (USHL) | G | 6'2 ¾ | 177 | 21 | 3.29 | .890 |
| 48. Jason Robertson | Kingston (OHL) | LW | 6'1 ¾ | 192 | 47 | 25 | 50 |
| 49. Michael Dipietro | Windsor (OHL) | G | 6'0 | 196 | 35 | 2.15 | .925 |
| 50. Scott Reedy | USA NTDP (USHL) | C/RW | 6'1 ½ | 204 | 39 | 13 | 28 |
| 51. Lukas Elvenes | Rogle J20 (SuperElit) | RW | 6'0 | 170 | 32 | 12 | 32 |
| 52. Daniil Tarasov | Ufa 2 (Rus-Jr) | G | 6'3 | 154 | N/A | N/A | N/A |
| 53. Mackenzie Entwistle | Hamilton (OHL) | C/RW | 6'2 ¾ | 180 | 45 | 11 | 24 |
| 54. J. Anderson-Dolan | Spokane (WHL) | C | 5'10 ¾ | 180 | 50 | 24 | 49 |
| 55. Nate Schnarr | Guelph (OHL) | C | 6'2 ¾ | 180 | 34 | 12 | 24 |
| 56. Stelio Mattheos | Brandon (WHL) | C | 6'0 ¾ | 190 | 46 | 17 | 38 |
| 57. Stuart Skinner | Lethbridge (WHL) | G | 6'3 ½ | 209 | 44 | 3.33 | .903 |
| 58. Sasha Chmelevski | Ottawa (OHL) | C | 5'11 ¼ | 191 | 39 | 17 | 31 |
| 59. Luke Martin | Michigan (NCAA) | D | 6'3 ¾ | 216 | 22 | 1 | 5 |
| 60. Joshua Norris | USA NTDP (USHL) | C | 6'1 ¼ | 192 | 38 | 13 | 31 |
| 61. Ian Mitchell | Spruce Grove (AJHL) | D | 5'11 | 171 | 43 | 6 | 28 |
| 62. Maxim Zhukov | Green Bay (USHL) | G | 6'2 ½ | 188 | 21 | 2.37 | .907 |
| 63. Nick Henry | Regina (WHL) | RW | 5'10 ¾ | 191 | 38 | 20 | 42 |
| 64. Eemeli Rasanen | Kingston (OHL) | D | 6'6 ¼ | 216 | 46 | 4 | 23 |
| 65. Dylan Samberg | Hermantown (USHSW) | D | 6'3 | 190 | 17 | 9 | 21 |
| 66. Artyom Minulin | Swift Current (WHL) | D | 6'2 ¼ | 202 | 48 | 7 | 34 |
| 67. Adam Ruzicka | Sarnia (OHL) | C | 6'3 ½ | 202 | 42 | 14 | 29 |
| 68. Jesper Boqvist | Timrå (SWE-Als) | C | 6'0 | 179 | 19 | 3 | 12 |
| 69. Jarrett Tyszka | Seattle (WHL) | D | 6'2 ¼ | 190 | 44 | 5 | 21 |
| 70. Aleksei Heponiemi | Swift Current (WHL) | C | 5'9 ¾ | 147 | 50 | 19 | 62 |
| 71. Filip Chytil | Zlin (Cze) | LW | 6'0 ½ | 178 | 30 | 2 | 6 |
| 72. Cameron Crotty | Brockville (CCHL) | D | 6'1 | 172 | 29 | 4 | 11 |
| 73. Josh Brook | Moose Jaw (WHL) | D | 6'2 | 185 | 50 | 5 | 28 |
| 74. Joni Ikonen | Frolunda (SWE J20) | C | 5'10 | 169 | 30 | 19 | 33 |
| 75. Antoine Morand | A-Bathurst (QMJHL) | C | 5'10 | 178 | 47 | 17 | 48 |
| 76. David Farrance | USA NTDP (USHL) | D | 5'10 ¾ | 189 | 40 | 5 | 23 |
| 77. Tobias Geisser | EVZ Academy (NLB) | D | 6'4 | 201 | 28 | 1 | 7 |
| 78. Pavel Koltygin | Drummondville (QMJHL) | LW | 5'11 ½ | 195 | 48 | 19 | 38 |
| 79. Tyler Inamoto | USA NTDP (USHL) | D | 6'1 ½ | 194 | 34 | 2 | 10 |
| 80. Cale Fleury | Kootenay (WHL) | D | 6'1 ¼ | 212 | 49 | 8 | 30 |
Honourable Mentions
| Player | Team | POS | HT | WT | GP | G | P |
| --- | --- | --- | --- | --- | --- | --- | --- |
| Michael Anderson | Waterloo (USHL) | D | 5'11 ½ | 196 | 33 | 2 | 20 |
| Olle Eriksson Ek | Farjestad (SuperElit) | G | 6'2 | 187 | 23 | 2.20 | .922 |
| Zach Gallant | Peterborough (OHL) | C | 6'2 | 188 | 47 | 14 | 35 |
| Noel Hoefenmayer | Ottawa (OHL) | D | 6'0 ¼ | 191 | 43 | 9 | 28 |
| Brady Lyle | North Bay (OHL) | D | 6'1 | 196 | 40 | 3 | 16 |
| Greg Meireles | Kitchener (OHL) | C/RW | 5'10 | 169 | 46 | 12 | 32 |
| Kalle Miketinac | Frolunda (SWE J20) | C | 5'11 | 187 | 20 | 8 | 16 |
| Benjamin Mirageas | Bloomington (USHL) | D | 6'1 | 174 | 37 | 0 | 9 |
| Jonas Rondbjerg | Växjö (SWE J20) | RW | 6'0 | 176 | 33 | 7 | 25 |
| Radim Salda | H. Kralove (CZE U20) | D | 6'0 | 163 | 34 | 7 | 15 |
| Reilly Walsh | Chicago (USHL) | D | 6'0 | 176 | 17 | 2 | 6 |
| Paul Washe | Fargo (USHL) | C | 6'1 | 191 | 32 | 8 | 17 |