Patrick Wiercioch: analytics vs. eyeball test
The Ottawa Senators have eight defencemen signed to one-way contracts, and six of them have been healthy scratches this season. Perhaps the most confounding, says Travis Yost, is Patrick Wiercioch, who continually puts up great numbers.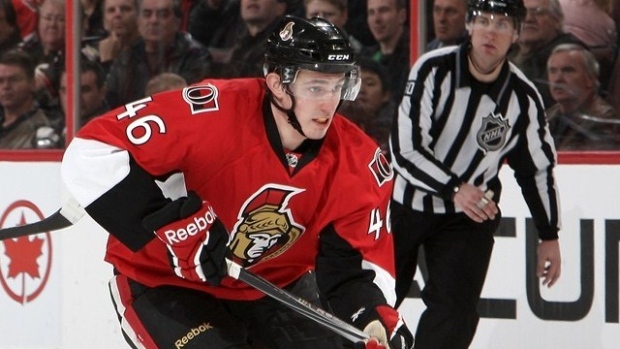 If you have paid any attention to the Ottawa Senators this season, you know that the blueline has been something of a puzzle. The team has eight defencemen currently signed to one-way contracts, but six of those defencemen – including Cody Ceci, Patrick Wiercioch, Jared Cowen, Eric Gryba, Mark Borowiecki, and the veteran Chris Phillips – have been healthy scratches.
A large source of discontent with the blueline pertains to Patrick Wiercioch, a puck-moving offensive defenceman that Ottawa bet on in the 2013 offseason. Wiercioch, despite posting sterling counting and 5-on-5 numbers for much of his career, has made frequent appearances to the press box. Not surprisingly, Wiercioch has become the newest cut of an analytical debate – one that tries to reconcile differences between underlying numbers and usage.
This week, TSN Radio's Ian Mendes got a hold of Bryan Murray, and asked the general manager to try and explain the differences between Wiercioch's great underlying numbers and, evidently, an 'eye test' that did not portray him in the same light. Murray responded as follows:
"Well, that's a good question and I've thrown this in Patrick's court twice or three times in the past couple of weeks. If he would just pay attention to working on his feet and being a little quicker getting back to get the puck, a little quicker to retrieve it and make a play – turn it up ice and make a play – that he could be a very, very good player. He's a good player now because he's got great hockey sense. He passes the puck and sees the ice really well. He just has to be more forceful in his game. So the old eyes see that and it's very obvious. Analytically, I'm not sure. I look at the numbers too. I think they have him as our best defenceman on the team almost. I think Erik Karlsson – eyeballing it only – Erik Karlsson is probably our best defenceman. There's a story to be told with both areas of looking, but being that I'm an eyeball kind of guy and been around the business a little bit, when I see a player play real hard or well, I really like him. When he doesn't play real hard and real well, I don't like him. That's the version I have and Patrick has a chance to be a very important player here. He just has to get better as all young players have to get better."
(Emphasis added.)
It's a fascinating quote by Bryan Murray, one that could be dissected the whole way through. To Murray's credit, the questions about his quickness and agility seem more than fair – Wiercioch has never been a fleet-of-foot skater, and that sort of skill can really submarine a defenceman's ability.
But, there's an overarching question that doesn't seem to be answered – one Bryan Murray tried to address in the bolded part of the quote. If the limitations in Wiercioch's game are patently obvious, why do they not manifest in the player's actual performance?
The numbers Bryan Murray made reference to (presumably ScoringChance% and Corsi%) radically favour Patrick Wiercioch, especially when compared to his teammates. But, it's important to remember that we care about ScoringChance% and Corsi% because they, long-term, lead to favourable goal ratios. Since scoring chances (or shots) lead to goals and goals lead to wins, it seems reasonable to play the guys who generate shots and chances like maniacs, and to purge the guys who don't.
I've graphed all three for each of Ottawa's defensemen over the last three years. The numbers are mesmerizing.
This is the question that Bryan Murray and the rest of the Ottawa Senators have never really answered. If Patrick Wiercioch is truly hampered by an assortment of limitations, why do the Ottawa Senators always generate favorable shot differentials with him on the ice? Or, scoring chances? Or, goals? It seems to me that either his impairments as a player are overstated, or his true ability is radically understated.
The numbers are doubly astounding when you consider that Patrick Wiercioch rarely plays with Erik Karlsson – something that cannot be said for other struggling defenders on the team, like Chris Phillips and Jared Cowen.
It's a debate like this that makes hockey so intriguing from an analytical standpoint. No one has seen more of Patrick Wiercioch than Bryan Murray, Paul MacLean, and Dave Cameron. Though Wiercioch has played a bit more under Cameron, it seems that all three hockey minds are in agreement that the numbers overstate his actual ability. That matters a great bit.
But, after 1700 (and counting) excellent even-strength minutes, it begs the question: are the numbers lying to us, or is the 'eye test' lying to the decision makers in Ottawa?
The 1700 even-strength minutes is an important note in all of this. We aren't talking about an infrequently-used defenceman who has made the most of controlling play in small samples. He's dominated each level of 5-on-5 in 132-games. With each passing day, it becomes less likely that he's something of an albatross or statistical outlier.
To illustrate this point, here is how Patrick Wiercioch compares to other regular defenders around the league. We can set a baseline criteria for every defender from 2012-2015 to only collect the following: Players who have logged (a) 53% or more of scoring chances; (b) 53% or more of possession (Corsi%); and 53% or more of goals. We also want a way to capture individual production, so I'll also only include defensemen who have managed to carry Point/60 rates better than the league average, which sits around 0.7.
How many defensemen make the cut?
Defenders Driving Play
| Name | Corsi% | ScoringChance% | Goal% | Point/60 |
| --- | --- | --- | --- | --- |
| Duncan Keith | 55.8 | 56.2 | 58.4 | 1.2 |
| Kris Letang | 53.3 | 53.5 | 55.3 | 1.2 |
| Torey Krug | 54.8 | 54.6 | 57.8 | 1.1 |
| Dougie Hamilton | 56.1 | 56.3 | 56.9 | 1.1 |
| Nick Leddy | 56.4 | 56.0 | 58.7 | 1 |
| Kevin Shattenkirk | 54.8 | 54.3 | 58.1 | 1 |
| Michal Rozsival | 56.9 | 56.3 | 59.0 | 0.9 |
| Alec Martinez | 55.3 | 53.2 | 58.7 | 0.9 |
| Jake Muzzin | 60.3 | 58.7 | 57.7 | 0.9 |
| Patrick Wiercioch | 54.9 | 53.2 | 57.6 | 0.9 |
| Brent Seabrook | 54.2 | 54.3 | 53.8 | 0.9 |
| Slava Voynov | 54.1 | 53.2 | 53.7 | 0.9 |
| Jakub Kindl | 54.1 | 53.5 | 59.3 | 0.8 |
| Johnny Boychuk | 54.9 | 55.1 | 58.6 | 0.8 |
| Zdeno Chara | 55.3 | 55.9 | 57.5 | 0.8 |
| Anton Stralman | 56.7 | 58 | 56.9 | 0.8 |
| Niklas Hjalmarsson | 53.2 | 53.6 | 54.9 | 0.8 |
| Drew Doughty | 57.7 | 55.7 | 54.6 | 0.8 |
Just run through the eighteen names on the list. The defenders are either (a) respectable players on elite teams; (b) elite players on elite teams; or (c) elite players on good teams. And Patrick Wiercioch.
I think it's fair to say that there will be unanimous agreement that nearly every non-Patrick Wiercioch defender in this table is a top-four talent, with a handful of Norris Trophy winners in the mix. Though the 'eye test' has rendered him a healthy scratch, a quick table of comparables suggests that he's, at the very least, an everyday defenceman.
I see what Ottawa sees as Patrick Wiercioch's limitations – he's not as cut and dried a player as people on both ends of the argument seem to believe. But more and more often, I'm left trying to answer the question: if his specific limitation(s) are so crippling, why do they not have an effect on his game?
It seems to me that Wiercioch is a case where the 'eye test' has lied in some capacity. Perhaps it's honed in too much on the things that are obvious deficits. Perhaps, by extension of that, it's masked the things he does exceedingly well. Whatever the case, the addition and subtraction of all of his individual skills and all of his individual deficits have only left him in a rather exclusive group of highly-performing defencemen.
That matters a great bit, too.