Pens' Rutherford: I don't foresee Kessel trade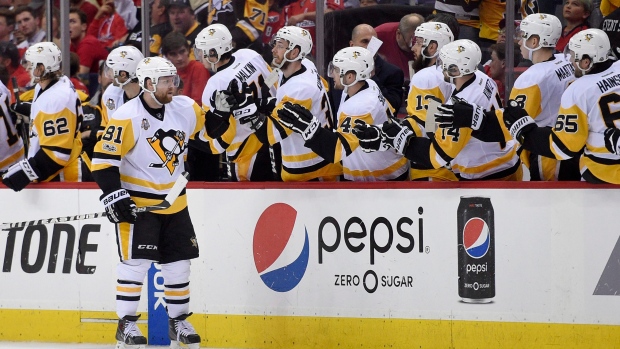 With Rick Tocchet being hired off the Penguins bench by the Arizona Coyotes, rumours surfaced Phil Kessel could be on his way out of Pittsburgh.
Kessel had praised Tocchet's work during his time in Pittsburgh and reports indicated Kessel may no longer be a fit for the Penguins.
However, Penguins general manager Jim Rutherford quieted those rumours on Thursday in an interview with 93.7 The Fan in Pittsburgh.
"Phil Kessel's an important part of the Penguins," Rutherford said, per the Pittsburgh Tribune-Review. "He gets a lot of points. He scores big goals. He sets up big goals. The more impact players that you have, like we have, the better chance you have of winning.
"It may not be on a regular basis, but it may come at a certain time in a series or whatnot, just like it did against Ottawa. Kessel came up with the big goal in that 1-0 game (in Game 2 of the Eastern Conference final).
"He's an important part. I don't want to sit here and say that a certain player's not going to get traded at some point in his career. I mean, Phil already did. But that's not something that I foresee happening right now."
Kessel, 29, scored 23 goals and added 47 assists in 82 games with the Penguins during the regular season and added eight goals and 23 points in 25 games in the playoffs as the Penguins repeated as Stanley Cup champions.
In two seasons with the team since being traded from the Toronto Maple Leafs, Kessel owns 49 goals and 129 points and has not missed a game. He is signed at a cap hit of $6.8 million for the next five seasons.