Petry, Sekera should generate interest as deadline approaches
Travis Yost examines a pair of top-four defencemen, with expiring contracts, who should be available as NHL teams prepare for the stretch run.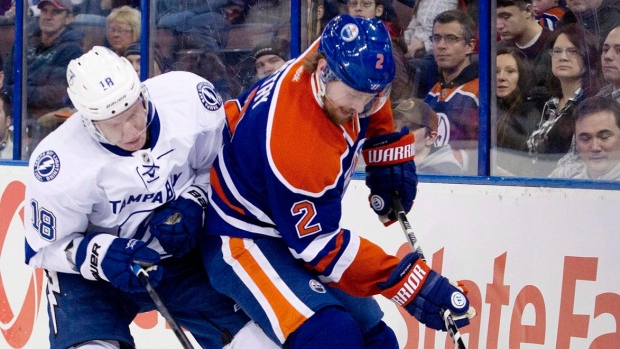 If you polled thirty NHL general managers on what his respective team's biggest need was going forward, I would estimate that about half would respond with 'developing or acquiring a top-four defenceman'. It's a fair request with the way the sport has progressed in recent years – the days of true defensive defencemen look to be in the past, with a premium placed on skating and high-end puck-moving ability to beat aggressive forechecking and attack through the neutral zone with control of the puck.
Goaltending withstanding, I think disparities in blue-liner ability from team to team may be the most noticeable aspect of the sport today. The Chicago Blackhawks have made a living off of a highly-mobile defense that can flip the ice and complement the attack of their talented forward group.
The Philadelphia Flyers and New Jersey Devils have their share of competent and talented forwards in the top-six, but simply don't have the blue-line capabilities to consistently threaten as a five-man unit. Ultimately, it's one of the big reasons why they struggle so mightily to score goals at even-strength. They spend too much time in the defensive zone, and they are impossibly slow relative to the rest of the league at getting up ice with pace and control.
The increase in demand for this particular defenceman has created for a fascinating trade market, one that's going to heat up over the next six weeks. More than half of the league reaches the playoffs already, and there are another handful of hopefuls who will still approach the trade deadline as buyers despite unfavorable odds. Consequently, if you are a seller holding one of these plus-skating, plus-puck moving defenders, you're in a decent position.
Two players in particular who should command decent returns as trade rentals are Jeff Petry of the Edmonton Oilers, and Andrej Sekera of the Carolina Hurricanes. Now, there's a reasonable argument to be made that their respective teams should be seriously considering extensions – top-four guys don't grow on trees, and these teams need all of the talent they can get. But, if you think the Petry/Sekera ships have sailed (and believe that the tank race is on), then you may consider shipping them out to the highest bidder.
Let's look at this from a buyer's perspective. Why does Jeff Petry ($3-million expiring contract) and Andrej Sekera ($1.75-million expiring contract) make sense for the contenders in need of a defenceman? For one, it's clear that they are both top-four defencemen. By grabbing the last four years of data and providing appropriate filters (3000+ minutes of 5-on-5 ice-time, and a RelativeCorsi% of at least +1.0), only 53-players make the cut.
You'll notice that our ice-time and RelativeCorsi% filters basically created a situation in which only first-pairing defenders and highly-productive second-pairing defenders qualified. You can fact check this by looking up your favorite NHL defenceman, and finding him on this graph. (Or, finding your least favorite defenceman, and noticing his omission.) It's a nice way to stomp out potential biases and create comparables going forward.
Here, Jeff Petry – who has toiled in Edmonton for years – sits right next to players like Johnny Boychuk and Ryan Suter. He hasn't been as productive a scorer as many of the other defenders, but the Oilers have been more than two percentage points better in Corsi% with Petry on the ice.
And, look at Andrej Sekera's company! He's bordered by talent in every direction, his production – at least on this graph – indiscernible from the likes of James Wisniewski, Nick Leddy, Keith Yandle, and Duncan Keith.
RelativeCorsi% is clear on both Petry and Sekera – their teams control play favourably when they're operating on the blue-line, less so when they change out for other defencemen. Those skeptical of the merits Corsi% may be interested in seeing how Edmonton and Buffalo/Carolina did with and without the player, but through the lens of another metric. Like, scoring chances.
We know scoring chances pretty closely mirror Corsi%, but it's an avenue worth traversing once more, if only to strengthen our theory. What I've done below is pulled out scoring chance with/without numbers for each player over the same timeframe courtesy War on Ice. We know Petry and Sekera's teams were better territorially with them on the ice. But, were they better from a scoring chance aspect?
First, Petry:
The lockout season wasn't kind to Jeff Petry – it was the only season we can see where Edmonton may have been better without him from a scoring chance perspective.
Beyond that, this graph is convincing – especially over the last hundred games. Based on the consistent reports about his availability via trade, I worry that Edmonton doesn't know what kind of player they have. Or, that they don't know how bad things get when other defencemen are taking regular shifts.
Now, Sekera:
Sekera's relative numbers were great in Buffalo, but have since skirted towards the team averages in Carolina. Still, for a guy carrying just a $1.75MM cap hit – one that would be paid out on a pro-rated basis if acquired at the trade deadline – the data's pretty encouraging. We know Sekera's one of fifty or so regular defenders who have carried positive possession numbers for a long period of time. The scoring chance data may have looked better in Buffalo than it did in Carolina, but that doesn't mean he's underwater.
The Oilers and Hurricanes are in a tricky spot here. They need to retain as much NHL-talent as possible, but there's always the possibility that Petry and Sekera just want to play out their contracts and sign with better teams in the off-season. You can't risk losing quality players for nothing. To that extent, Craig MacTavish and Ron Francis are in a simple position: sell these players to the highest bidders over the next six weeks.