Pettersson expected back as Canucks host Red Wings
The Vancouver Canucks are expected to get a boost this afternoon as scoring leader Elias Pettersson is likely to return to the line-up against the Detroit Red Wings in Vancouver.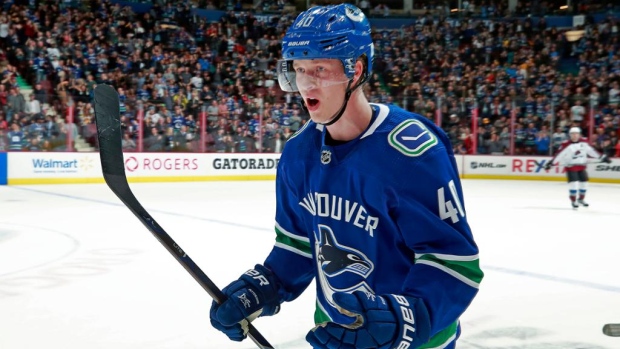 VANCOUVER – The Vancouver Canucks (22-21-6) are expected to get a boost this afternoon as scoring leader Elias Pettersson is likely to return to the line-up against the Detroit Red Wings (18-24-7) at Rogers Arena.
The 20-year-old has missed five games with a knee sprain suffered early in the second period of a game against the Montreal Canadiens January 3. Pettersson practiced with the Canucks at 8-Rinks in Burnaby yesterday and indicated there was a 'good chance' he would play today. More proof of that was the fact he spent practice skating on a line with Brock Boeser and Josh Leivo and took part in first unit power play drills as well. The Canucks were 2-2-1 during Pettersson's most recent injury and have gone 5-4-2 in the 11-games he has been out of action all season.
In order to activate Pettersson from the injured list, the Canucks will have to re-assign centre Tanner Kero to Utica. When Pettersson is placed on the active roster, the Canucks will be completely healthy for just the second time this season. They had no injuries to report heading into an October 13 game in Florida.
The Canucks get back to work after a 4-3 win over the Buffalo Sabres on Friday night. Alex Edler, Sven Baertschi, Boeser, and Loui Eriksson had the Canucks' goals while Thatcher Demko made 36 saves in his season debut in goal. Demko is likely to watch from the bench today as Jacob Markstrom returns to the net. Markstrom is 10-3-2 in his past 15 starts with a 2.11 GAA and 92.6% save percentage during that stretch.
As a team, the Canucks are 2-0-2 through the first four games of a six-game homestand that wraps up Wednesday against Carolina. They are 5-3-2 in 10 games since Christmas and have picked up at least one point in 14 of 19 games (11-5-3) since early December.
Edler's goal on Friday was his fifth of the season and matches Ben Hutton for the team lead for goals by a defenceman. Eriksson has now scored in two of his past three games after opening the scoring against the Florida Panthers last Sunday. Baertschi has three goals in his past four games and has a team-high four goals in the club's past eight games.
Bo Horvat had a pair of assists against Buffalo giving him 200 points for his NHL career, but has gone 11 games without a goal while Jake Virtanen has gone 11 games without a point.
The return of Pettersson should help the Canucks power play, which is 1/17 (5.9%) in the past six games.
The Red Wings return to action following a 6-4 loss in Calgary on Friday night. Special teams were a struggle for Detroit as the Flames went 3-for-3 on the power play and also scored a short-handed goal in the victory. Dylan Larkin scored twice to reach the 20-goal mark for the second time in his NHL career while Anthony Mantha and Mike Green also scored for Detroit. Jimmy Howard stopped 30 shots in the loss.
The Red Wings had four separate one-goal leads in the game, including a 4-3 lead with six minutes to play, before the Flames scored the final three goals of the night. Detroit was actually on the power play with six minutes remaining when Calgary scored short-handed to start their comeback.
The loss snapped a two-game win streak leaving the Wings 3-6-1 in their past 10 games and 4-11-3 in their past 18 outings. Only the Chicago Blackhawks have fewer wins on the season and only four teams in the league have given up more goals than Detroit.
Larkin sits fifth in the league with 185 shots on goal this season. He enters play today with two goals and four assists in a three-game point streak. He leads the Wings with 20 goals and 47 points while Gustav Nyquist is the Wings' top set-up man with 31 assists and is second on the team in scoring with 42 points.
Langley native Dennis Cholowski will play at Rogers Arena for the first time in his NHL career this afternoon. The 20-year-old defenseman leads Detroit with four power play goals and has seven goals and nine assists in 47 games in his first season in the league. Surrey's Michael Rasmussen will have to wait to play an NHL game in his hometown. He practised with the team Saturday and is nearing a return, but will miss a seventh straight game with a hamstring injury.
Former Canuck Thomas Vanek, who turned 35 yesterday, has nine goals and 12 assists in 41 games in his second stint in Motown. He is sixth on the Wings in scoring this season. Vanek appeared in his 1,000th NHL game on January 4 in Nashville and also scored that night.
The Red Wings overcame a 2-0 deficit to defeat the Canucks 3-2 in a shootout on November 6 at Little Caesars Arena. The Canucks posted 42 shots in that game – one of two occasions this season the team has crested the 40-shot mark.
Probable lines vs. Red Wings
Leivo-Pettersson-Boeser
Baertschi-Horvat-Granlund​
Roussel-Sutter-Virtanen
Eriksson-Beagle-Motte
Edler-Tanev
Hutton-Stecher
Pouliot-Gudbranson
Markstrom
Red Wings' probable lines vs. Canucks
Bertuzzi-Larkin-Nyquist
Vanek-Nielsen-Mantha
Helm-Glendenning-Athanasiou
Abdelkader-Ehn-Frk
Kronwall-Green
DeKeyser-Jensen
Ericsson-Cholowski
Howard/Bernier