Phillips: Pillar paying the price for his mistake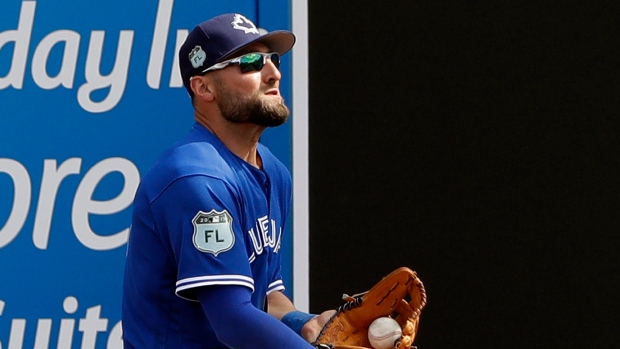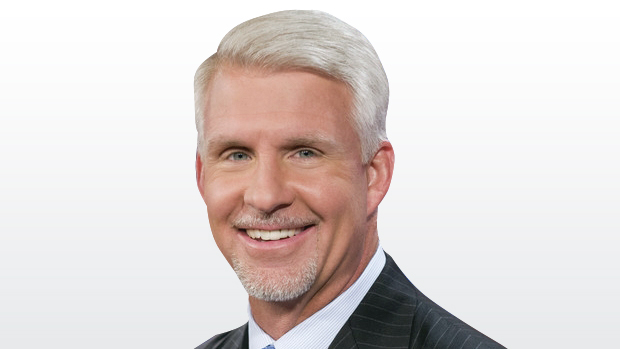 Kevin Pillar is eligible to return to the Blue Jays' lineup Saturday, but the after-effects of the homophobic slur he hurled at Atlanta Braves pitcher Jason Motte will linger far longer than his two-game suspension.
Pillar was punished for yelling the slur at Motte after he struck Pillar out on a quick-pitch in the seventh inning Wednesday night, which sent the Toronto centre fielder off the deep end.
The suspension was made in consultation with both the commissioner's office and the players' association. There will be no additional penalties handed down for his behaviour and no appeal.
The penalty seems reasonable in comparison to a precedent set a few years ago, when former Blue Jays infielder Yunel Escobar was suspended three games in 2012 for wearing eye black patches with a homophobic slur written on them.
Escobar's offensive actions were premeditated. He took time to write something on the patches. Pillar's offence was more spur of the moment, blurted out in a fit of frustration and anger. It seems reasonable that if Escobar received a three-game penalty, Pilar's would be a day less.
Pillar made a mistake. He admitted it after the game even when the writers interviewing him weren't aware of the nature of what he had uttered. Once people read his lips on the replay, social media took off like wildfire.
He responded Thursday with a well-crafted written apology that admitted fault and showed humility. He acknowledged that there's no place for what he said in baseball or society. He can't take back what he said. He has to face the consequences now.
The suspension probably won't impact him as much as the shame and humiliation of what he did will. Some will be more willing to forgive him than others. Pillar must accept the booing and heckling he will get. He needs to keep his head up and behave with acceptance and compassion. If he does, he'll move past this without long-term damage and regain fan support.
On brawls and beanballs
I don't want to hear that MLB doesn't want beanballs and brawls anymore. It's clear the league actually has no problem with them.
When Atlanta starter Julio Teheran hit Toronto slugger Jose Bautista on Wednesday night, absolutely no one was surprised. There was no ejection, only a warning. Effectively what MLB is saying is that it's okay to hit a batter when you don't like a bat flip. MLB tacitly condoned it. It was clear that Teheran meant to do it. He missed the first time he tried to hit Bautista and got him the second time. If there was ever a beaning that deserved ejection, this was it.
The Braves lost all plausible deniability when a veteran player told a friend, who then told Hall of Fame analyst Peter Gammons, that there would be a fight on Thursday in retaliation for Braves first baseman Freddie Freeman suffering a broken his wrist on a hit-by-pitch Wednesday. The Braves announced and then executed their plan – and MLB acted surprised.
Going back to Wednesday's game, Blue Jays reliever Aaron Loup hit Freeman with a pitch. There was no intent or malice. It was simply a pitch that got away. The Braves retaliated anyway, drilling Devon Travis. The Toronto second baseman just took his base, though everyone knew it was intentional. The umps issued a warning after that.
When the cameras showed Toronto manager John Gibbons in the dugout you could see the anger in his eyes. His team was mad too. So, when Bautista did his bat flip, some part of his emotion was the venom from his teammate unfairly getting plunked. Yes, it was an inappropriate time for a bat flip, especially since the Jays were losing 8-4.
There is going to be a brawl like we've never seen before if the game keeps going this way. It doesn't have to happen. MLB needs to empower and encourage umpires to eject the first-strike offenders. The offended parties need protection and justice. Otherwise, they'll seek revenge. It shouldn't be part of the game.
A look at Smoak's splits
Justin Smoak has been one of the most pleasant surprises in baseball so far this season.
The Toronto first baseman is hitting .280/.342/.545. He has nine homers and 27 RBI, leading the team in both categories. His splits are significant and very telling: Smoak is crushing left-handed pitching (.400/.472/.833).
He is not hitting nearly as well from the other side of the plate, which makes me worry about his ability to maintain the hot start. Most of his at-bats come from the left side of the plate where he is hitting .245/.300/.461. Twenty-seven of his 28 strikeouts have come against right-handers.
Smoak's overall numbers are boosted by his 12 hits in 30 at-bats, including four of his nine homers, against lefties. When those numbers flatten, his production will be average at best. It has been a good month and a half, but the numbers inside the numbers show there is more to the story.
Hot in Houston
The Houston Astros have gotten off to a great start this year with a 29-12 record. Three of the last four teams that started off this well ended up going to the playoffs.
Houston is not a perfect team but they are well-balanced and deep. They have a high-powered offence that is second in the American League in runs scored, batting average, on-base percentage and slugging percentage. Only the Yankees' offence has performed better.
The Astros also lead the AL in ERA. Their pitching staff has earned the most strikeouts and has the best groundout rate. That's an amazing combination. They get swings and misses and induce weak contact on the ground. It's a good way to avoid big innings for the opposition. Houston's bullpen is a collection of power arms. Eight of their 10 relievers have struck out more than their innings pitched.
The only major concern I have for this team is the depth of their starting pitching. Dallas Keuchel is a true ace and he has returned to his 2015 Cy Young form. Lance McCullers Jr. is young but he has the stuff to handle the best hitters in the game. After those two studs they have veterans Charlie Morton and Mike Fiers, and rookie Joe Musgrove. They are adequate starters, all with certain strengths and obvious weaknesses.
They're going to have to add one more impact starter in order to be a World Series contender. It would make them a tougher matchup in a short series. Jose Quintana seems to be the likely target from the White Sox. The Astros have enough depth in their farm system to land him.
The Astros look like the team to beat so far.
Spitting Seeds
- The disabled list has been changed from 15 days to 10 days this season because general managers wanted more flexibility when it comes to players' health. The GMs are certainly using their new toy. In the past, when a doctor diagnosed a muscle strain the prognosis would be that the player would be out seven to 10 days. That time frame put GMs in limbo over whether or not they should place the player on the DL. Now it is easy: Put the player on the shelf for 10 days to make sure he is absolutely healthy when he returns.
Like any rule change in MLB, the first thing people do is look for ways around or through it. There has been concern expressed by some GMs that the list is being used as a way to manipulate rosters and allow teams to almost carry a taxi squad. Most fingers point at the Dodgers as they seem to keep flip-flopping starters on and off the DL to make starts. It may all be legitimate but it has provided them flexibility to manage a staff of veteran pitchers that can't be moved to the minors.
Any trip to the DL has to be verified and defended by a team physician. The doctor must be willing to stake their reputation on their diagnosis. Challenging a DL move is challenging a doctor.
- Jose Berrios is a young starting pitcher for the Minnesota Twins. He is 2-0 with a 0.59 ERA with 15 strikeouts and only two walks in his 15.1 IP. That's a far cry from the guy who was 3-7 with an 8.08 ERA in 2016. He couldn't throw strikes last year, walking 35 batters in 58.1 IP. The Twins deserve a lot of credit for their patience and belief in the young man. He persevered and worked hard and now the results are there. It has been a long time since the Twins have developed a quality starter. They're in first place now and their young talent is the reason why. They won't be there at the end of the season, but Berrios is giving Twins fans a reason to hope.
- Blue Jays fans in need of hope should look to the Texas Rangers. Yes, the team with Rougned Odor. They have won nine straight games. Their offence has become more patient and they aren't striking out nearly as much as they were earlier in the season. Their pitchers are throwing more strikes and the bullpen has dramatically improved. They're doing it all without their leader Adrian Beltre in the lineup. He will back soon. In fact, he may be back in time for the Rangers trip to Toronto starting next Friday. The good news is the Jays may just be getting their horses back then as well. Josh Donaldson, Troy Tulowitzki and Russell Martin are getting close to being ready. It should be a fun series.
--
Steve Phillips was general manager of the New York Mets from 1997 through 2003, helping lead the club to a National League championship in 2000 and its first World Series appearance since 1986. His analysis appears each week on TSN.ca, TSN Radio and SportsCentre.