Pillar's football mentality makes him perennial Gold Glove threat
In high school, Kevin Pillar moved from the infield to the outfield. It was experience in another sport - football - that makes the Toronto Blue Jays daredevil centre fielder one of baseball's elite defensive players. Scott Mitchell explains.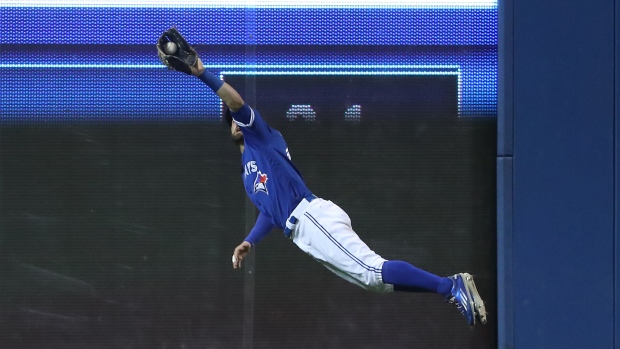 For three full seasons now, Kevin Pillar has been one of the best defensive centre fielders in baseball.
It's not even a question.
Both anecdotally and statistically, it's proven.
The highlights are everywhere to act as exclamation points.
Whether it's burn-inducing, full-extension dives or crashing into walls at full speed, Pillar's disregard for his body is on display just about every night he's in the lineup and that style of play has endeared him to fans and teammates alike.
"You want him behind you," Jays starter Marco Estrada said. "It gives pitchers a lot more confidence. I know when I'm out there, I want him in centre field every time I'm pitching."
Each example of top-notch work with the leather seems to one up the last, making it just about impossible to decide which catch is the best.
Pillar put yet another one in the conversation Saturday evening, ranging deep to straightaway centre to rob Detroit Tigers' Dixon Machado of extra bases, leaping to make the catch and contorting his body to shield the blow against the blue padded wall he's met on so many occasions.
The solo homer the very next inning that broke a 2-2 deadlock and his 4-for-4 day was just icing on the cake.
GOLD GLOVE?
Despite the reputation and the mountain of evidence, Pillar does not have a Gold Glove on his mantle.
Blame Tampa Bay Rays outfield artist Kevin Kiermaier for that, as he's taken home the last two.
But with Kiermaier missing more than two months this year with a hip injury, the door looked like it was creaking open for Pillar, except for the fact Minnesota Twins' Byron Buxton is making his own convincing case at the age of 23.
Heading into Sunday, Buxton led all major league centre fielders with 25 Defensive Runs Saved (DRS) in 993 innings played.
Kiermaier's next with 16 in 692.2 innings, while Pillar slides in with 15 DRS in an American League-leading 1,194.2 innings played.
Ultimate Zone Rating has them ordered a bit differently, with Pillar's 7.0 second to Buxton's 10.3, and Kiermaier oddly buried way down the list.
In one teammate's eyes, Pillar deserves to be the favourite when coaches and managers around baseball file their votes.
"I think Kiermaier's out of it just because of all the games he's missed," Jays third baseman Josh Donaldson said. "Last year, I think he won it and he missed a ton of games, too. Buxton, I don't get to see him enough, but the couple games that he was up here, he was nice. Pillar, overall and consistently, day in and day out, I think has has as good a chance as anybody and probably deserves to be the favourite."
Estrada shares a similar opinion.
"I thought he deserved one last year and he didn't win it," Estrada said. "They gave it to Kiermaier, I believe, and he might've played 100 games, whereas Pillar played almost every single game. I don't know how that stuff works. I was wrong last year and I'm sure if I said his chances are good this year, I'd probably be wrong.
"I just think someone who's out there 150 games deserves it a little more than someone who misses a third of a season or whatever. I don't know, but I like his chances because he's been great all year."
CHANGING MOTIVATION
In the past, winning a Gold Glove has motivated Pillar.
Coming into this season, however, that changed, especially after Kiermaier won it playing only 105 games last year, compared to Pillar's 146.
"I think it's something, selfishly, that I'd like to achieve for myself and for my family and for my friends and for a lot of people that helped me get here," Pillar said. "I think it would be a nice award to share with them. That being said, I don't think I go out there and use that as my motivation to go out there and do what I do.
"This was the first year I promised myself I wouldn't chase any hardware; I'd just go out there and do whatever's necessary to help us win games."
When Pillar goes home, usually with a bag of ice attached to some part of his body, he watches MLB Network highlights, in part to see what other players at his position are doing on a nightly basis.
So who's the best centre fielder in the game?
"I don't know if that's a fair question," Pillar said. "I would say myself. I would put myself up against anyone at the position in this game in any league. I think what I bring to the table is just as valuable as any other centre fielder, defensively, across both leagues."
HOW HE DOES IT
When he moved from the infield to the outfield in his junior year of high school at Chaminade College Prep in the West Hills area of Los Angeles, Pillar started figuring out he was pretty good at tracking balls.
Pillar, who also played football and basketball, was told to "be a receiver out there."
He took that to heart and it's still a big part of his mindset today.
"When you play football, you're taught to run your route," Pillar said. "You don't know when the guy is going to throw you the ball, you're just on a route and the quarterback throws it to a spot and you make your adjustments accordingly. That's what I've learned how to do defensively as an outfielder. When you're running your route, you try to beat the ball to a spot and you do whatever it takes to catch the ball."
The football mentality doesn't stop there.
The 6-foot, 205-pounder's ability to stay in the lineup through all the crashing and banging has been impressive.
Pillar has missed just 24 games over three seasons, despite playing through a torn thumb ligament that required surgery at the end of last season and a broken hand in 2015.
"I don't fear the wall, I don't fear the contact," Pillar said. "I don't ever really think about the effects that it'll have on my body, whether it's tomorrow or long term. For a guy who didn't think he was going to get to the big leagues or no one thought was going to get to the big leagues, I don't take playing big league games for granted. I play for today."