Pitlick scores winner, Oilers top Hurricanes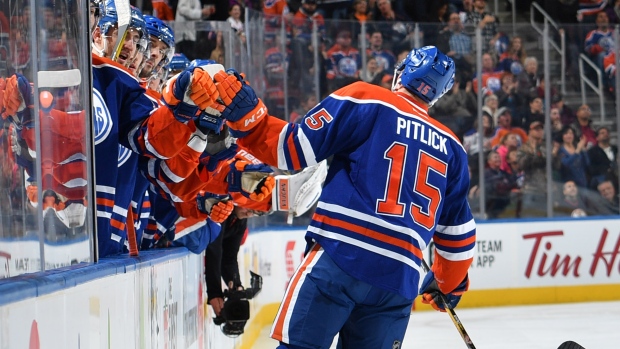 EDMONTON — Cam Talbot had a big night in net for the Edmonton Oilers before an even bigger morning.
After allowing six goals on 23 shots in a disappointing 6-2 loss to the Buffalo Sabres on Sunday, Talbot stopped 31 shots on Tuesday as the Oilers came away with a 3-2 victory over the winless Carolina Hurricanes — this despite his wife being scheduled to give birth to twins early on Wednesday morning.
"I knew I had a job to do tonight and that I would feel a lot better tomorrow morning going in there (the hospital) with two points," Talbot said. "Personally, I needed a big bounce-back game after the last game I had.
"It was also big as a team, as we have let those kind of losses snowball in the past and tonight we showed we were more of a resilient group."
Oilers alternate captain Jordan Eberle said he was impressed with just how calm and collected Talbot was in the game, including some huge saves in the dying seconds, despite the upcoming additions to his family.
"I know Cam is very excited, it is a big day for him tomorrow," he said. "A lot of the guys have been talking about it. For him to dial it in and play well and make some huge saves and keep us in that game with so much going on in his life, that was impressive."
Tyler Pitlick, Anton Slepyshev and Eberle scored for the Oilers, who improved to 3-1-0.
Lee Stempniak responded with a pair of goals for the Hurricanes (0-1-2).
"We were right there, we had some chances, good chances through out the game and just never really finished up with them," Stempniak said.
Slepyshev unleashed a wicked wrist shot that beat Carolina goalie Cam Ward glove-side for his first career NHL goal. 1:51 into the game.
Edmonton made it 2-0 midway through the first as Eberle's backhanded pass attempt bounced off of Hurricanes defender Ron Hainsey and in to the net for his third of the season.
Pitlick added to the Oilers lead, picking the corner off a face-off win in the Canes' zone.
Talbot was sharp in making 20 saves through 40 minutes, including outright robbing Jeff Skinner in tight midway through the second period.
Carolina finally got on the board three minutes into the third period as a big rebound from a Victor Rask shot gave Stempniak an empty net to score into, and then made it 3-2 just 56 seconds later as Skinner fed it in front for Stempniak's third of the season.
The Hurricanes had some strong pressure late, but Talbot made several big stops and Edmonton was able to hang on for the win.
"We had too many easy goals against, too many easy chances against, we have to tighten up," said Carolina head coach Bill Peters. "Usually when we're on top of our game and playing to our foundation we're a little tighter than that."
Both teams return to action on Thursday as the Oilers remain home to welcome the St. Louis Blues and Carolina plays the fourth of a six-game road trip to start the season in Calgary.
Notes: The teams both made changes to their lineups for the game, as Carolina defenceman Jakub Nakladal and LW Phillip Di Giuseppe played their first games of the season, while RW Martin Frk made his NHL debut. Edmonton inserted LW Slepyshev and D Mark Fayne, who later left the game with an injury, into the lineup, and called up Laurent Brossoit to serve as backup goalie after Jonas Gustavsson suffered an injury in Sunday's 6-2 loss to Buffalo.