Plan to distribute $15.2 million Humboldt GoFundMe donations approved
After more than six months of deliberation, a Saskatchewan judge has approved a plan to distribute the $15.2 million raised on GoFundMe after the Humboldt Broncos bus crash.
Frank Seravalli, TSN Senior Hockey Reporter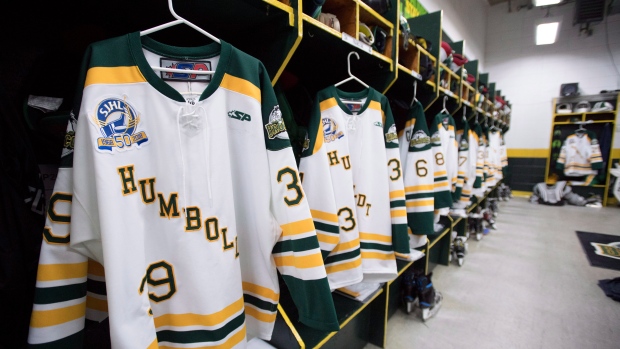 After more than six months of deliberation, a Saskatchewan judge has approved a plan to distribute the $15.2 million raised on GoFundMe after the Humboldt Broncos bus crash.
Families of the 16 people who died in the crash will each receive a total of $525,000. Each of the 13 surviving players will receive a total of $475,000.
Those figures include the $50,000 that was already distributed to all 29 families in mid-August.
Justice Neil Gabrielson announced Wednesday he accepted the recommendation of the five-member committee formed to allocate the funds on behalf of the Humboldt Broncos Memorial Fund Inc.
That five-member advisory committee – which included Winnipeg Jets executive chairman Mark Chipman, Olympic gold medalist Hayley Wickenheiser, retired Saskatchewan judge Dennis Ball, Dr. Peter Spafford of the Univ. of Sask. College of Medicine and Kevin Cameron, executive director of the Canadian Centre For Threat Assessment And Trauma Response – based its recommendation on recent conversations with family members.
"Everyone has proven that together, we can face adversity and move on … Humboldt Strong," Gabrielson said in court.
The process, which was monitored by Saskatchewan's Informal Public Appeals Act, unfolded with its fair share of criticism. Some in the Humboldt community thought the funds should have been distributed equally and in a more timely manner.
A decision was made over the summer to limit the fund exclusively to the 29 families with a loved one on the bus. That meant that assistant coach Chris Beaudry, who was 20 minutes behind the bus, and team chaplain Sean Brandow, who also arrived at the scene, wouldn't receive a payment. Beaudry and Brandow assisted the emergency services personnel and coroner in the minutes, hours and days after the accident.
As then-president of the Humboldt Broncos Memorial Fund Inc. Darrin Duell said in September, "There is no easy way to do this."
"We have players who are deceased, players surviving and playing, players with severe injuries, some less severe, then team employees, some of whom were the breadwinners of their family," Duell said. "We feel they each deserve their own category."
The five-member committee ultimately recommended that those who lost a family member were entitled to $50,000 more.
Layne Matechuk, Morgan Gobeil, Jacob Wasserman and Ryan Straschnitzki – four Broncos survivors who sustained life-altering injuries including paralysis – will be entitled to a financial distribution for long-term care from a separate fund which has raised more than $3.5 million.
That account, called the Humboldt Broncos Memorial Fund, may be used for a more broad dispersal, such as home renovations or a permanent memorial at the crash site.
Gobeil, 19, remains in hospital after the April 6 crash but receives day and weekend passes to visit with his family at home. Matechuk, 18, was in hospital when the Broncos returned to the ice on Sept. 12, but has since been released and is continuing his rehabilitation.
"With the age of these young men, living with a disability, they may not need just one home renovation over the course of their lives," Duell said in September. "We want to make sure those dollars go to something like that."
Dispersing that money is the next step in the Broncos' off-ice process.
With the distribution plan approved Wednesday, the GoFundMe account could be completely dissolved by year-end, if there is no appeal of the plan. The fundraising effort, established by local resident Sylvie Kellington, stopped accepting donations 12 days after the accident. In those 12 days, $15,172,200 was raised from 141,985 donors, the largest crowdfunding drive ever in Canada.
After $495,000 in credit card processing and GoFundMe fees, $14,676,373 remained to distribute. It was truly a global effort, with donations arriving from 80 countries, including all 13 Canadian provinces and territories, as well as far-flung places like Australia, India, Peru, Japan, Ireland and Sweden.
Contact Frank Seravalli on Twitter: @frank_seravalli​