Poker legend Negreanu brings 'hockey pedigree' to NHL in Vegas
Poker legend Daniel Negreanu has six World Series of Poker titles, two World Poker Tour titles, a beautiful Las Vegas-area home, over $30 million in prize winnings, global recognition, and now his own documentary.
Mitch Sanderson, TSN.ca Staff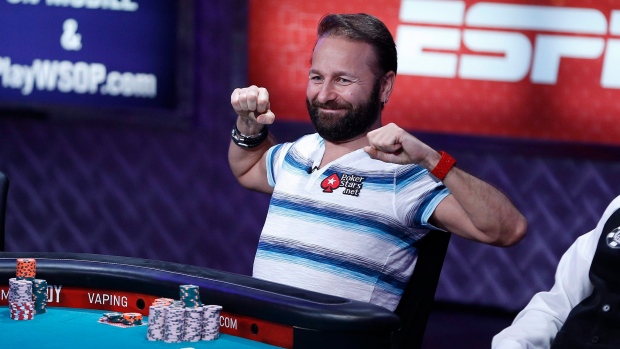 Poker legend Daniel Negreanu has six World Series of Poker titles, two World Poker Tour titles, a beautiful Las Vegas-area home, over $30 million in prize winnings, global recognition, and now his own documentary.
Produced by PokerStars, Negreanu's nickname-titled biographical documentary "KidPoker" premieres nationwide December 1st at 8:30 PM ET on TSN4.
Despite all that, there's still something missing in the 41-year-old native of Toronto's life. There's no hockey team.
Negreanu grew up as a Maple Leafs fan, and now resides in the Las Vegas area where he has joined lead investors Bill Foley and the Maloof family in an effort to bring an NHL franchise to the strip. While some NHL teams have struggled to make in-roads in some markets in the American South, this group has confidence this market will love hockey.
"It will be the first major sports team (in Las Vegas) and if you look historically, any city that's had just one team, like San Jose for example, they do amazing," said Negreanu. "There was no hockey culture in San Jose before the Sharks came and now it's a Shark's town.
"We have the 2.2 million residents, we have a great arena built, we have the money to back it, we've already got commitments from over 13,000 people with season ticket deposits having been put down."
Negreanu sees one more advantage that no other team can offer.
"People will go to games in Vegas as visitors as a destination game," said Negreanu. "Nobody says 'let's get the buddies together and we'll go to Columbus and watch the Blue Jackets.' No one's going to do that.
"But if Calgary is playing Vegas in Vegas on a Sunday afternoon, people will take a weekend and make a trip out of it."
While Negreanu will not likely have much of an influence on personnel decisions, he trusts Foley's team and hopes his life experience as a Leafs' fan can help with building a winner.
"As far as overall strategy, I would love to have some say in terms of how things are being done because I think, Toronto for example, is a perfect example of a city that, for 20 years, has been doing it wrong," said Negreanu.
"(The Leafs) have always made the same mistake of bailing on the rebuild too quickly."
As a high school dropout who won his first World Series of Poker bracelet at the age of 23 and is currently poker's career leader in prize winnings, Negreanu knows a thing or two about achieving greatness.
"Mediocrity means you just stay mediocre forever," said Negreanu. "If you look at the great teams today, Chicago, the Kings, they were awful and then they got four or five key draft picks, just like Pittsburgh did before, and they built a team around that.
Negreanu has no problem voicing his opinions. He recalls sharing his thoughts on a particularly lopsided Leafs' move with the Leaf himself.
"Phil Kessel is a buddy of mine but I told him 'that trade for you (from Boston) was awful'," said Negreanu. "Two first round picks and a second from a team that wasn't very good. And they ended up being Tyler Seguin and Dougie Hamilton. So that really doesn't look so good."
While Negreanu may soon have a new favourite team, he's pleased with the latest direction of his hometown club.
"Toronto is the one city where you could lose every single year and still sell out the arena," said Negreanu. "So why not dedicate three to four years to developing young talent, build through that, and then you add the parts to an already existing base."
The son of Romanian immigrants describes himself as having a "hockey pedigree" and a team in Las Vegas isn't the only NHL innovation that Negreanu is a fan of as he is eagerly anticipating the 3-on-3 tournament format of the upcoming NHL All-Star game in Nashville.
"It's just super exciting, faster paced, what's not to like?" said Negreanu. "I think the format is really neat that they're creating for the all-star game. It's the first time I'm actually curious to tune in in many years."
Some fans and players have complained about the NHL's new three-on-three hockey format, but Negreanu has a message for that crowd.
"They're wrong."
Negreanu realizes that the NHL has a lot of room to grow in non-traditional markets and thinks the new open-ice format will bring in the "casual fan".
"Hockey fans are already going to watch hockey," said Negreanu. "For people who don't watch hockey, this is what will excite them. We're showcasing the most exciting talent in the most exciting format that random people, who don't necessarily watch hockey, will watch."
Negreanu has been credited with transcending televised poker's popularity with his outgoing personality, trademark table chatter, and ability to guess opponents' cards. As he prepares for his life story to be told on screen, one of the most recognizable man in Vegas hopes to help transcend a new market of fans to a new NHL.