Pompey mentally prepared for make-or-break spring
Blue Jays outfielder tells TSN's Scott Mitchell that changes in his approach off the field have him in a good place for a spring that will determine his future with the franchise.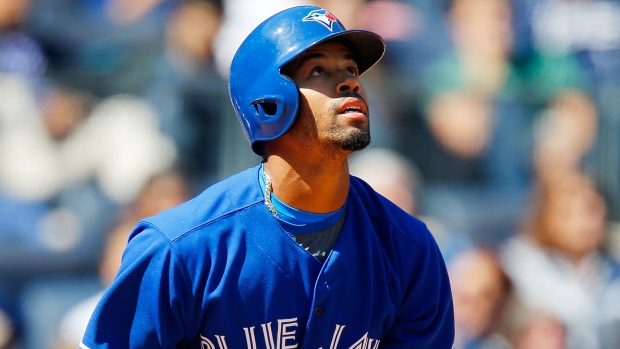 DUNEDIN, Fla. — Dalton Pompey knew something had to change.
It had been more than three years since he'd been handed the starting centre field job with his hometown Toronto Blue Jays, and not much had gone right.
Injuries, poor performance, disappointment over the lack of opportunity, as well as personal struggles followed.
A late September conversation with general manager Ross Atkins kick-started the process of change and brought performance and confidence coach Amy Twiggs into the 26-year-old's life.
"He said, 'You know, it can be a lot, so just to have somebody you can talk to,' and it kind of just fell into my lap," Pompey recalled of the talk with Atkins. "Somebody I knew was using her and then I called her up and she's been nothing but beneficial for me."
Pompey doesn't want to get into what was ailing him, but the litany of injuries over the years — everything from a concussion to a torn thumb ligament to a couple of different knee issues left him with just 13 big-league games on his resume since 2015 — had left him in a bad place.
"I probably shouldn't [talk about it], for my own sake," Pompey said. "These are just things that I bottled up for so long, whether it was in baseball or life in general, and it was really eating at me. I had an opportunity to talk to her and she gave me different ways of thinking and techniques to use and I feel a lot better now for it.
"Just in terms of getting through life. I felt like there was a lot of stuff that was happening off the field that affected me on the field. So I was able to talk to her about that, and when you talk to some people, you really don't always trust them from the start. I was able to put my full trust in her and she helped me with some techniques to get past some things and look forward to the future."
The future is absolutely now for Pompey in a Blue Jays uniform.
Out of options, the organization will have a decision to make at the end of March – one that could end up benefitting the player in the long run if he's exposed to waivers and another team takes a chance.
After crushing his first Grapefruit League home run on Sunday, Pompey knows this is a league-wide showcase.
Despite that, he believes new manager Charlie Montoyo is giving him a legit chance to make the only club the 2010 16th-round draft pick has ever known.
"Just talking to Charlie, he's seen me play a little bit and he really believes in me," Pompey said. "He says his door is always open. At the end of the day, it's a business. They're going to do what's best for the organization and team and whether I'm a part of that plan or not is totally their decision. I think I've been here long enough — I've been here for 10 years now — that a lot of people know what I can do. Either I fit or I don't. It's black or white, just like that."
Pompey has already survived numerous 40-man roster deadlines and crunches over the off-season, so it wouldn't make much sense for the Jays not to give him one final opportunity.
"What we've tried to focus on with Dalton is his routines and work ethic and focusing on very small things that he can control, and see if it turns into doubles and home runs," Atkins said.
"We have some time. We'll see. A lot could happen in the way of performance, in the way alternatives. I wish he certainly did have an option, but in some ways it's good for him to now find out, 'Okay, is this going to work at the major-league level, or am I going to be doing it with somebody else?'"
Pompey's goals are simple: Each day, each game he wants to go out and do something that's "attainable."
Steal a base. Move a runner over. Make a nice catch. Take a walk.
He's not going out with the goal of collecting multi-hit games every single day.
A lesson learned from 2015 helps remind him of that.
"Once I made the team [in 2015] it was kind of like, 'Now what?'" Pompey said. "I had reached my goal of getting to the big leagues, being the starting centre fielder, but I really didn't know what to do after that. So that's why this year and in the future, I use spring training to showcase myself, but I just need to be ready for the season because that's what's most important. I can come out here and ball out, but what good does that do if I don't do it in the season, right?"
When healthy, Pompey hasn't been all that productive in Triple-A over the past two years, finishing with a .255/.325/.393 slash line, four home runs, and eight stolen bases in 41 games with the Buffalo Bisons last summer.
There was also an early August team-issued suspension after an altercation with manager Bobby Meacham.
Bisons position coach Devon White, a man who knows a thing or two about succeeding as a centre fielder in Toronto, is keeping the faith in the Mississauga, Ont., product.
"He needs good guidance to get him where he needs to be, and over the years he's been talking to so many people, I think, and it's a confusion," White said. "But it's a matter of being able to trust someone and do what you're supposed to do.
"I think he has a good opportunity to play in the big leagues for a long time because he can hit and his instincts on the basepaths are definitely at the major-league level. He's just gotta stay healthy and make the team this year. It's an opportunity for the brass upstairs to really look and see what they have and what they need to do, and that's their job."
Pompey has faith, too.
"I believe in my abilities and I know people see my ability, too," he said. "It's not a matter of if; it's a matter of when for me."