Pondering a Jets postseason deployment plan
Winnipeg will need maximum results from a very talented roster to get past Nashville and deliver on its Stanley Cup aspirations, Travis Yost writes.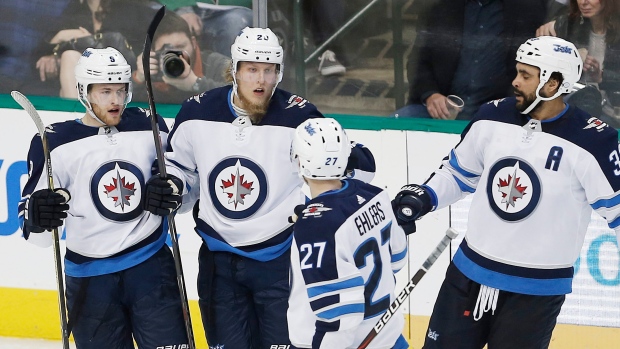 The Winnipeg Jets are cruising into the postseason and have legitimate Stanley Cup aspirations. The only problem? An increasingly probable second-round date with the juggernaut Nashville Predators.
I wrote about Nashville last week and, specifically, how they are obliterating teams at even strength. Over the last couple of months they have hugely advantageous shot, scoring chance, and goal differentials there – in large part because they have assembled what looks more and more like the NHL's deepest 23-man roster. Add a surprisingly fantastic season from goaltender Pekka Rinne, and you have a really tough matchup for any team.
These two Central Division foes appear to be on a collision course, assuming both take care of business in the first round. That raises an interesting question for Winnipeg. The Jets have attributes that can make the Predators awfully uncomfortable – an elite power-play unit comes to mind, and their penalty kill has disrupted opposition attackers all year long. But, they just don't stack up as well at even strength. (If you need supporting data, the Jets have about 47 per cent of the scoring chances and goals, score-adjusted, in the four games they have played against the Predators this year.)
To that end, the Jets front office and coaching staff have a big job ahead. Any executive team worth their salt is regularly analyzing individual and on-ice results and trying to 'best fit' the roster they have assembled. It becomes critical for situations like this, where even a super-talented Winnipeg team that could and should give Nashville fits in a long series needs to ensure that they have optimized deployment at every level.
One of the things I like doing to get a feel for on-ice performance and linemate/pairmate chemistry is to analyze player results at the group level. Hockey players aren't automatons and some guys simply play better when paired up with the right teammates. Even for a team as deep as Winnipeg, you can at least start asking the appropriate questions about who should play with whom, who shouldn't play with whom, and more generally how to maximize results from a very talented roster.
The below grid shows the percentage of shots a Winnipeg forward gets with a Winnipeg defenceman on the ice, all other things remaining constant. The groups are bucketed by common lines and common pairings as you'll notice, and results are conditionally formatted so that we can quickly drill down on which defenders prefer which forwards in front of them.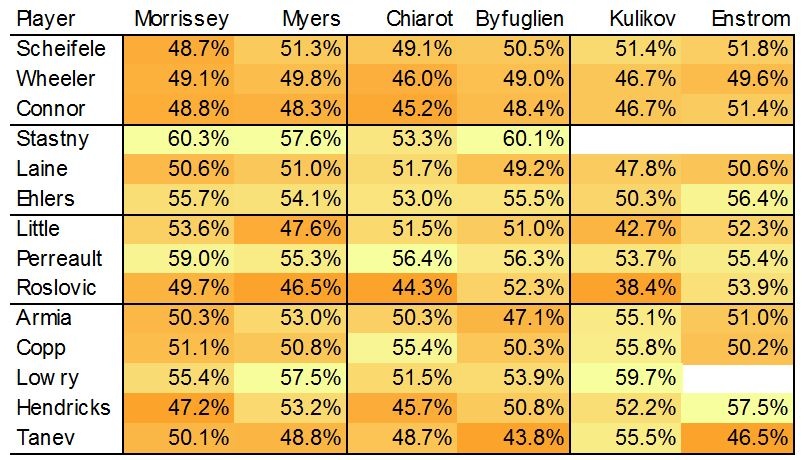 Let's start with the Josh Morrissey and Tyler Myers duo. This group is newly assembled, with only about 300 minutes of ice-time together. (Morrissey, to start the year, was spending more time with Trouba.) What's noticeable to me is that they create a deadly five-man unit with what's become Winnipeg's second line – an elite playmaker in Nikolaj Ehlers, a gifted distributor in Paul Stastny, and maybe the world's best sniper in Patrik Laine. But the pairing also has success further down the lineup with Winnipeg's third and fourth-line forwards.
The one area where they haven't fared as well is with Winnipeg's other top-six line – the one featuring Mark Scheifele, Blake Wheeler and Kyle Connor. Shots are right around break-even there, and in some cases marginally below break-even. This is actually a common theme across all of Winnipeg's top-four defenders and I attribute at least some of it to two things: (1) Scheifele's line is generally going to see some of the toughest competition; and (2) an upper-body injury that sidelined the centre for nearly two months.
Ben Chiarot and Dustin Byfuglien have seen strong results with most Winnipeg forwards, but haven't nearly had the same level of success – relatively speaking, anyway – with the aforementioned Laine-Ehlers-Stastny line. One would stand to reason that this might be the type of situation where Paul Maurice looks to get the Morrissey pairing more frequently with the Stastny line, then, and the Byfuglien pairing more frequently with the Scheifele line.
I would be remiss to not mention Mathieu Perreault at some point here. Follow his results across the page and notice that, regardless of what defender he plays with, the results are off of the charts. Perreault is undoubtedly Winnipeg's secret weapon and probably has been that for years now. He's the type of skater you can deploy in any situation, irrespective of teammates and competition, and expect to yield fantastic results. Even with his worst combination (that'd be Dmitry Kulikov and Tobias Enstrom, by the way) he sees about 54 per cent of the shots.
As for Winnipeg's depth skaters (see the lower right quadrant), the results get less surprising. When depth forwards play with depth defenders, they are generally playing against some of the weaker competition the opposition has to offer. The reality is Winnipeg's depth is better than average depth around the league, so in many instances the Jets clean up here. It's subtle in the grand scheme of things but don't discount the importance of it as it pertains to Winnipeg's big rebound season. Not being a top-heavy team has helped them really push the pace in the Western Conference and lock in a playoff spot well in advance of expectations.
This is the sort of stuff I expect will become a hot topic of discussion in Winnipeg's offices over the next couple of weeks. The Jets have recognized that they have a great hockey team. The next – and hardest – step is creating one that can take down the titans of the NHL. They have the firepower to do it. Now, it's about assembly and execution.