By The Numbers: Laine's hot streak
As the Winnipeg Jets await an update on their star forward, TSN.ca takes a look at how good Patrik Laine has been of late to help lead the Jets to one of the best records in the Western Conference.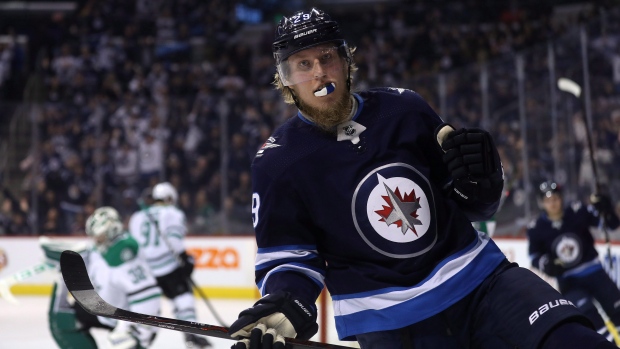 The Winnipeg Jets edged out a 2-1 home win Tuesday night against the Los Angeles Kings, but it came at a cost. Exactly how much of one we don't know for sure.
Patrik Laine was injured in the second period after blocking a shot from Kings defenceman Alec Martinez and needed help getting off the ice. He did not return with what the team called a lower-body injury, but head coach Paul Maurice said he expects Laine to be fine.
TSN Hockey Insider Darren Dreger reports the sense is he might miss a few games, but the injury isn't believed to be anything long-term. He will be re-evaluated Wednesday.
Still, any sort of absence could take Laine out of the Rocket Richard Tropy race and derail his hot streak. Coming into play Wednesday, Laine's 43 goals are just one behind Alex Ovechkin – his boyhood hero – for the NHL lead. With nine games left in the season for both players, Laine can't afford to miss much time to have a shot at the goal-scoring title.
Laine was enjoying a solid sophomore season as of Jan. 7, but nothing like now. He sat 12th in the league in goals with 18, well behind Nikita Kucherov and Ovechkin's 27. Since the Jets rolled into Buffalo to take on the Sabres two days later, he's been on a tear.
Laine has 25 goals in 30 games since, the most in the NHL over that span. Prior to leaving Tuesday's game early, he was working on a 15-game point streak with eight assists and 18 goals. No other Jets player had more than seven. Needless to say, he has carried the Jets of late. When he scores, Winnipeg is 24-8-4.
Goal Leaders since Jan. 9
| Player | Team | Games Played | Goals |
| --- | --- | --- | --- |
| Patrik Laine | Winnipeg Jets | 30 | 25 |
| Evgeni Malkin | Pittsburgh Penguins | 29 | 23 |
| Nathan MacKinnon | Colorado Avalanche | 24 | 20 |
| Connor McDavid | Edmonton Oilers | 30 | 20 |
| Eric Staal | Minnesota Wild | 31 | 20 |
Since the Jets took Laine with the No. 2 overall pick in 2016, he has 79 goals and 132 points in 146 games played. Teammate Mathieu Perreault – who played in Washington from 2009 to 2013 – says he sees similarities in the way Laine and Ovechkin impacted their teams early in their careers.
"The organization wasn't having a whole lot of success, and then they get Ovie as a young kid and he starts scoring goals, and all of a sudden the team starts winning. They became a very dominant team for many years," Perreault said prior to a March 12 game against the Capitals.
"So you kind of sense that here, where the team's been struggling for many years, not making the playoffs. And then you get this young kid coming in and scoring goals for your team and helps your team win games. I think coming up in Winnipeg we'll have a dominant team for many years."
Perreault doesn't just see similarities in their impact on the team, but in their playing style as well.
"Two great shooters, who you can give them one chance and they can put it in the back of the net," said Perreault.
"[With Laine], you give him one opportunity and it's in the back of the net. Right now every shot it seems goes in. It helps us win games when he scores like that. It's been fun to see."
The Jets sit third in the Western Conference behind the Nashville Predators and Vegas Golden Knights with 98 points and have already set a single-season franchise wins record at 44.
Another thing to consider: Laine is still just 19 years old.
"He's mature," teammate Bryan Little said Monday. "You forget how old he is.
"When he's on the ice, he plays mature and he handles himself like a veteran. He doesn't seem to care about all the outside noise and all the pressure and stuff. He just plays."