Pop: 'You'll have to ask Kawhi' about return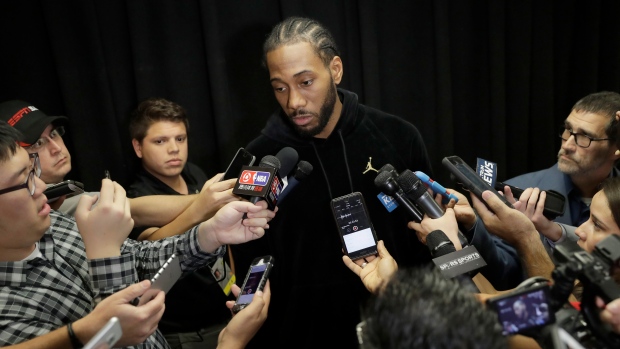 San Antonio Spurs head coach Gregg Popovich says that a return to the lineup for Kawhi Leonard in the team's first-round series with the Golden State Warriors isn't up to him. It's up to Leonard himself.
"You'll have to ask Kawhi and his group that question," Popovich said of whether or not the small forward will appear. "So far they say that he's not ready to go. So we can't do anything until that happens. Then we would have to decide what's going on from there. That's the first thing that has to happen… He's rehabbing right now in New York."
Leonard, 26, appeared in just nine games this season for the team and is currently away from the club, despite receiving medical clearance from the Spurs to return to the lineup following a season-long quad issue.
A two-time Defensive Player of the Year, Leonard's absence has been an ongoing source of concern for the Spurs with growing fears of irreparable damage between the player and his team.
"Kawhi is rehabbing at his own pace with his own people," centre Pau Gasol told Marc Spears of The Undefeated. "He hasn't been around us. I'm sure he is trying to get healthy. I'm sure he is trying to get back. But that's all I know. Really, as a teammate, as a player, that is all I know."
According to ESPN's Chris Haynes, Leonard has not been cleared by his medical team, but is improving. The former All-Star is going to continue to rehab in New York and there is no timetable for his return, but he is being examined routinely.
The Warriors took Game 1 of the best-of-seven series on Saturday by a score of 113-92.