Problem isn't with NHL DoPS, it's the rulebook
As TSN Hockey Insider Bob McKenzie writes, the NHL Department of Player Safety's decision to not hand Nazem Kadri supplemental discipline lies in the very wording of Rule 48 in the NHL rulebook.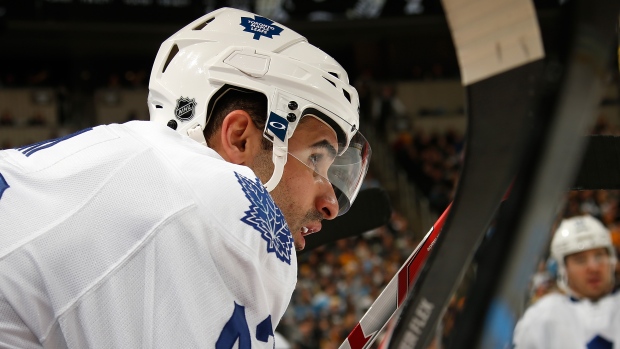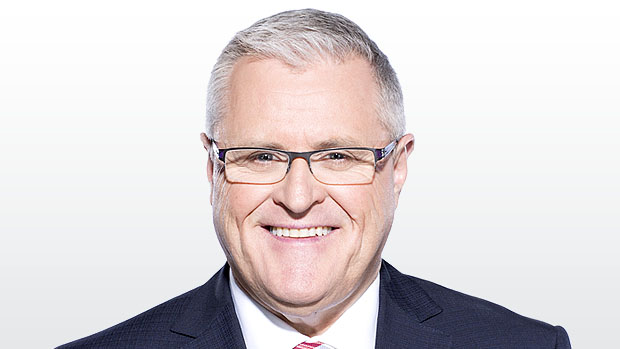 The tin foil hats are on in Vancouver, chin straps done up nice and tight.
Canuck fans are thoroughly convinced the NHL Department of Player Safety has it in for Daniel Sedin and the Canucks; that Nazem Kadri and the Toronto Maple Leafs are, as usual, benefitting from the league's Eastern bias and this is just another example of the self-proclaimed Centre of the Hockey Universe getting a free pass.
Well, they're wrong.
The NHL DoPS likes Kadri so much that it has suspended him three times in the past three years - four games for cross-checking Luke Glendening last April; four games for a head hit on Matt Fraser in March, 2015; and three games for plowing over goalie Nicklas Backstrom in November, 2013.
The NHL DoPS isn't going to do favours for Kadri.
No, the problem isn't with DoPS playing favourites; the problem is with the rulebook.
Speaking of which, it's always instructive to read it from time to time, especially as it pertains to Rule 48 for illegal checks to the head: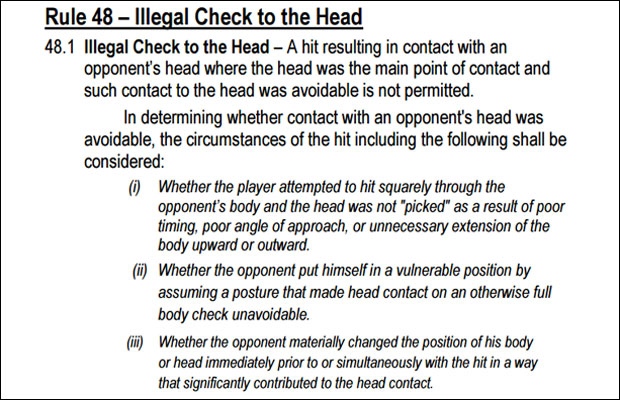 The critical elements of the rule are determining whether "the head was the main point of contact" and "whether the player (Kadri) attempted to hit squarely through the opponent's body and the head was not 'picked.'"
There is one video angle of the hit in particular -- from behind Kadri and Sedin -- that clearly shows Kadri's shoulder forcefully hitting the side of Sedin's head and popping off the Canuck's helmet as he fell face first towards the ice.
That's the screen grab that Canuck fans used as evidence of a head shot.
But pretty much every other camera angle showed that Kadri, blindside as the hit may have been, took a line through Sedin's body before striking the head.
Which is to suggest, if you haven't been paying attention these last number of years, it's perfectly legal in the NHL to forcefully hit another player in the head if in doing so there was significant body-on-body contact or a direct line taken through the body of the player being hit.
And blindside never enters into the equation, as Damian Echevarietta of the DoPS plainly tweeted on Sunday morning:
We went through this debate last January when Carolina's Brad Malone hit Columbus's Nick Foligno, a play on which there was no supplementary discipline. Here was DoPS rationale on that play.
That wasn't good enough for Columbus GM Jarmo Kekalainen, who at the NHL general managers' meeting in Boca Raton, Fla., last March attempted to get the Rule 48 re-written to include "blindside" hits.
In a sub-group of 10 NHL GMs, Kekalainen's efforts never got off the ground to the larger group of 30 GMs.
"Basically, I got crushed," Kekalainen told TSN's Pierre Lebrun after the meeting.
"I always try to be where we discuss things and people can agree to disagree," Kekalainen said. "When we leave the room, we all agree. The rule is good. The only thing I wanted to see changing is that I wanted to see the player always be able to protect themselves.
"And when you're in an act of shooting like Nick Foligno was, I think he was unable to protect himself. Those are the type of hits I'd like to see come out of the game. But of course we need physicality, we need hits in the game. Sometimes you're going to see someone hit clean and the head is going to snap back or there's going to be head contact on a good hit. I'm fine with that."
Kekalainen is by no means alone in his quest to get Rule 48 re-written. There are a handful of NHL GMs -- including Pittsburgh's Jim Rutherford, Chicago's Stan Bowman, New Jersey's Ray Shero and Florida's Dale Tallon (before he was replaced as the Panthers' GM by Tom Rowe) -- who were and are passionate about affording players, especially while shooting the puck, more protection.
Shero raised it at the NHL GMs meeting last June, prefacing his remarks that he knew the timing of a deep discussion on such a heated topic wasn't appropriate at that one-day session, but that it remains an issue he's committed to.
The reality is that there are more GMs in favour of the status quo on Rule 48 – the Hawks, if you will - than there are those – the Doves - lobbying for change. But the Kadri hit on Sedin may be the catalyst to bring about some converts to the anti-blindside bandwagon.
I know now of at least 10 NHL GMs who think Rule 48 should be re-worded to make Kadri on Sedin and/or Malone on Foligno an illegal hit. Ten of 30, or soon to be 31, isn't nearly enough to effect any change. But it's probably a few more than six months ago.
And as passionate as the doves are, many hawks are equally entrenched.
Many of them believe the league is already on a slippery slope to hitting being out of the game. This, for them, is part of their core beliefs of what hockey should be and they view any attempt to re-write Rule 48 as a threat to the game.
Mind you, at least one NHL GM (other than Vancouver's Jim Benning) believes DoPS got it wrong, that even with the current wording of Rule 48, Kadri should have been suspended for launching or "elevation" in his hit.
Suffice to say there exists a wide chasm between the GMs on this issue.
One GM said he'd rather do away with Rule 48 entirely -- basically, keep your head up, fellas -- than modify it in any way. At the other end of the spectrum, one GM said it's "silly" to think taking the Kadri hit on Sedin out of the game would lead to no hitting and that there's too much frame-by-frame breakdowns to justify hits that should be illegal.
Still, another GM noted the National Football League has "blindside" terminology as part of a lengthy rule on hitting "vulnerable players" and it's absurd the NHL doesn't. That is NFL Rule 12 (Section 2, Article 7): it enumerates 11 different "defenceless postures" that result in penalties if a player is hit."
Number 9 is: "A player who receives a 'blindside' block when the path of the blocker is toward or parallel to his own end line."
One suspects the Kadri hit on Sedin, if nothing else, will re-ignite debate on the blindside topic. While it's bound to be mentioned at the GMs meeting in Toronto the day after the Hockey Hall of Fame induction, on Nov. 15, the one-day meeting usually isn't a forum for such weighty matters.
Mind you, the three-day GM meeting in Boca last March, where Kekalainen's initiative was "crushed," obviously wasn't either. There's no telling, not with any certainty anyway, if it will be any different in March, 2017. By then, Kadri's hit on Sedin may be forgotten. Or perhaps there are more hits to come that will stoke the blindside fire.
Anecdotally, though, I would suggest the number of advocates who want to modify Rule 48 is slowly but surely growing. It's now into double digits but not by any means a majority.
If Canucks fans knew how strongly many NHL GMs feel about not changing Rule 48, and how those GMs have effectively instructed DoPS to administer it, they might be more inclined to let DoPS off the hook for the Kadri ruling.
Or maybe not.
If the rule isn't changed, and that would require a lot more GMs changing their view, then what you saw this weekend is pretty much what you can expect to get, regardless of which team you cheer for.