Projecting Team North America's roster for the World Cup of Hockey
With half of the NHL season in the books, TSN Director of Scouting Craig Button makes his selections for Team North America at this fall's World Cup of Hockey.
Craig Button, TSN Director of Scouting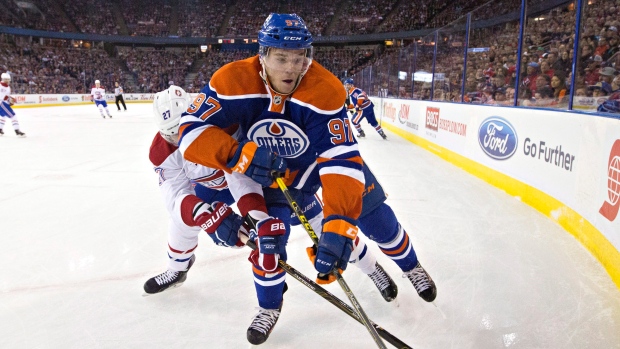 Peter Chiarelli and Stan Bowman have a unique challenge on their hands ahead of this September's World Cup of Hockey.
The management duo at the helm of Team North America will assemble the first-ever team comprised of the best players 23 years old and younger from Canada and the United States to compete against the most powerful hockey nations in the world.
Head coach Todd McLellan is sure to have plenty of speed and firepower at his disposal, but there will be questions elsewhere on the roster. Can the defence and goaltending be good enough to make a spirited run against the very best the world has to offer?

Five storylines to watch for Team North America:
1. Will the speed and skill of the forwards challenge opponents?
2. Is the goaltending good enough to win despite inexperience?
3. Can a very mobile blueline close defensively and create offensively?
4. Do they pick Auston Matthews before he has played an NHL game?
5. How does Todd McLellan get the most out of such a young team?
Craig Button's Projected Team North America Roster
Projected defence pairings
LD RD
Jones (USA) Ekblad (CAN)
Jones plays a very strong two-way game. A right-handed shot, he can play the left side here to pair with Ekblad, who is the complete package of skill and poise.
--
Rielly (CAN) Hamilton (CAN)
This complimentary pairing allows both players to be better. Rielly is a great skater with excellent IQ, while Hamilton is the perfect guy to round out the top four.
--
Gostisbehere (USA) Parayko (CAN)
Neither of these players was on the radar when plans for the World Cup were announced, but this would be a formidable third pairing.
--
Trouba (USA)
The team's seventh defenceman competes hard and has the versatility and ability to move throughout the top six.
--

Projected forward lines
LW C RW
Huberdeau (CAN) McDavid (CAN) MacKinnon (CAN)
Speed kills and there would be no faster pair in tournament than McDavid and MacKinnon.
--
Gaudreau (USA) Eichel (USA) Saad (USA)
All-American trio has flashy skill on the left, a prototypical centre in the middle and a high-motor guy on the right. The elements of a very good line are here.
--
Larkin (USA) Monahan (CAN) Scheifele (CAN)
Monahan can hold his own against top centers. Larkin adds speed and determination, while Scheifele adds versatility, size and skill.
--
Domi (CAN) Nugent-Hopkins (CAN) Lazar (CAN)
Nugent-Hopkins can make plays with the speedy Domi, while Lazar has the ability to play multiple roles.
--

Extra forward
Matthews (USA)
Just like Eric Lindros at the 1991 Canada Cup, he gets the nod for a major international tournament before his NHL debut.