Prust open to Europe return if Kings PTO fails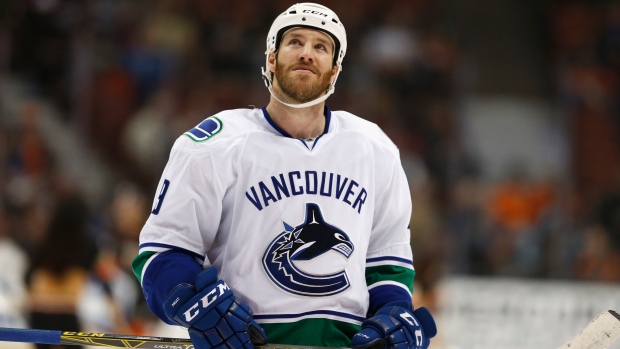 Brandon Prust is hoping to make it back into the NHL after a year and a half spent outside the league.
Prust will spend training camp with the Los Angeles Kings next month, hoping to land his first contract since spending the 2015-16 season with the Vancouver Canucks.
Prust's last NHL campaign came to an end in January 2016, when the Canucks placed him on waivers and sent him to the AHL. He spent last September in training camp with the Toronto Maple Leafs and though he didn't earn a contract, he spent three months as a practice player with the team.
Eventually, Prust signed with the Nürmberg Thomas Sabo Ice Tigers of Germany's Deutsche Eishockey League in November. He scored three goals and added five assists in 29 games with the team, adding two goals and six points in 11 playoff contests.
Prust told NHL.com he was confident he'd earn an NHL tryout this off-season and was happy to sign when he got an offer from the Kings earlier this month.
"I was planning on sticking around home (in London, Ontario) all summer, pretty sure I could get a tryout somewhere," Prust said last week. "That was going to be my goal, to get to another NHL camp that needs a guy like me. The PTO happened pretty quickly with L.A., which was good."
Prust told the league's website he was told by the Kings he'll have a chance to make their roster this season. He's appeared in 486 games over nine seasons in the NHL.
"(Kings assistant director) Brantt (Myhres) asked what I'd think of coming out on a PTO and I told him I thought it would be pretty sweet," Prust said. "He said there were some changes in L.A. and they see me fitting in the lineup if I come to camp and put on a good show."
The 33-year-old then said if things don't work out in L.A., he's open to continuing his playing career in Europe, but making the Kings is his top priority.
"But my main focus is making the Kings," he said. "I'll take the same approach to L.A. that I had in Toronto. It just didn't end up working out last fall, even though I thought I'd played pretty well. I'll try to do that again."
Prust owns 40 goals, 115 assists and 1,036 penalty minutes in his NHL career since being drafted in the third round of the 2004 draft.