QB Durant cut by Alouettes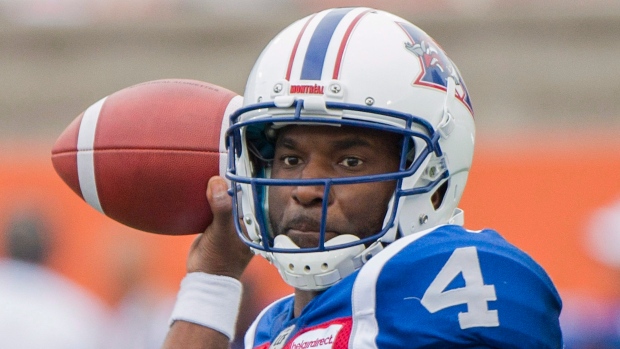 MONTREAL — The Montreal Alouettes released veteran quarterback Darian Durant on Monday, the day before he was scheduled to receive a significant bonus.
Durant, 35, was due a $150,000 roster bonus Tuesday.
Durant signed a three-year, $1.25-million deal with Montreal after being acquired from the Saskatchewan Roughriders.
Althought The quarterback was cut, TSN's John Lu says talks will continue with Durant's camp about potentially returning to compete for a job at training camp.
Montreal posted a CFL-worst 3-15 record last season, missing the playoffs for a third straight season.
Durant threw for 3,233 yards with 15 TDs but also had 16 interceptions.
On Saturday, Montreal signed former NFL starter Josh Freeman to a two-year deal.
When Mike Sherman was hired as Montreal's head coach Dec. 20 he wouldn't commit to Durant, adding the starting job was "up for grabs."