One Bad Boy ready to run for second jewel of Canadian Triple Crown
Queen's Plate champion One Bad Boy drew the No. 1 post for the $400,000 Prince of Wales Stakes on Friday. The 1 3/16-mile dirt race is the second jewel of the OLG Canadian Triple Crown. It's scheduled to go tonight at Fort Erie Racetrack. Watch the race LIVE across the TSN Network and on TSN Direct at 7pm et/4pm pt.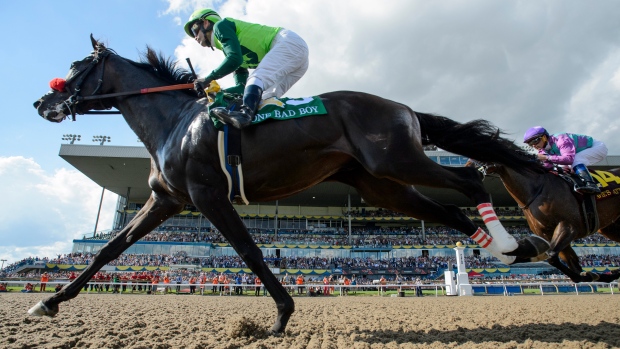 FORT ERIE, Ont. — Flavien Prat won't have any trouble keeping his eye on the field in the $400,000 Prince of Wales Stakes.
Prat will ride Queen's Plate champion One Bad Boy on Tuesday in the second jewel of the OLG Canadian Triple Crown at Fort Erie Racetrack. One Bad Boy will headline a small five-horse field for the 1 3/16-mile dirt race.
Watch the race LIVE across the TSN Network and on TSN Direct at 7pm et/4pm pt.
"I was really surprised," Richard Baltas, trainer for One Bad Boy, said following the race draw Friday. "But it's a pretty decent field, though."
The top four finishers in last month's Plate will be at Fort Erie Racetrack on Tuesday night. Runner-up Avie's Flatter, third-place finisher Tone Broke and No. 4 He's a Macho Man will also be running as well as Skywire, the 2-1 Plate favourite who finished 11th in the 14-horse field after being involved in an incident with Tone Broke at the start.
There was a stewards inquiry following the Plate but the result remained unchanged.
One Bad Boy (early 7-5 favourite) will break from the No. 1 post Tuesday. Avie's Flatter (5-2 second pick) goes from the No. 2 post while Tone Broke (5-1 odds) is at No. 3.
He's a Macho Man (8-1, No. 4) and Skywire (3-1, No. 5 ) complete the field. Skywire will attempt to earn trainer Mark Casse — 11 times Canada's top conditioner — a fifth Prince of Wales victory. That would tie Casse with fellow Hall of Famer Roger Attfield for second-most overall, two behind George (Pete) McCann.
Casse won last year's running with filly Wonder Gadot. He cautioned against downplaying the quality of the race because of the field.
"It may only be five but it will be a very competitive race," he said. "Most of the time in these races there isn't a whole lot of dirt form but in this case there is some.
"It's a small field but it's a strong field . . . this isn't going to be a walkover, this is a tough race. Any of the five could win."
The dirt surface doesn't concern Avie's Flatter trainer Josie Carroll, who won the 2016 Prince of Wales with Amis Gizmo.
"Avie's Flatter skipped over the (Fort Erie) track and seemed very comfortable," said Carroll. "He's a very consistent horse across every surface.''
Carroll also conditions He's a Macho Man, who trained last week at Fort Erie. He's a Macho Man will again be ridden by Patrick Husbands, who won the last Canadian Triple Crown in 2003 aboard Wando.
"I'm glad we brought him down," Carroll said. "Patrick worked him and said he was a little lost on the track because he likes to take a look at everything.
"So his time wasn't very fast but Patrick loved the way he got across the track."
Baltas said a small field still presents plenty of challenges.
"It's a very strategical race that you have to run," he said. "In a small five-horse field you could get boxed in, you could get stuck on the rail."
Traditionally, horsemen try to avoid inside and/or outside post positions like the plague. An inside start creates the potential of being boxed in while going from the far outside means having to cover much more ground, which can tax a horse.
But with such a small field, a clean, fast start could give Prat plenty of room — and options — in the race.
"Yeah, that's the key," Baltas said.
And having Skywire in the No. 5 post doesn't concern Casse at all. If Skywire struggles at the start Tuesday night, he'll still be in good position to recover.
"That's the good news (because) he has broke slow before," Casse said. "The five hole in this position, it means nothing because if we break a little slow, I don't think it's a big deal.
"That's a good post."
One Bad Boy went wire-to-wire for a solid 3 1/2-length Plate win over Avie's Flatter on June 29 at Woodbine Racetrack in Toronto. Avie's Flatter broke from the No. 14 post but jockey Javier Castellano quickly settled the 5-2 second favourite into second behind One Bad Boy.
The two duelled until One Bad Boy took off down the stretch for the victory on Woodbine's Tapeta course.
"I think that horse (Avie's Flatter) is a very good horse," Baltas said.
In May, Prat guided 65-1 long-shot Country House to second in the Kentucky Derby behind Maximum Security. But Country House was elevated to the winner's circle when Maximum Security was disqualified for interference, a stunning first in the race's illustrious 145-year history.
Prat became the first jockey since Kent Desormeaux to do the Derby-Plate double in the same year. Desormeaux did it in the 1998 Derby with Real Quiet and the Plate with Archers Bay while Bill Hartack also accomplished the feat in 1964 with the legendary Northern Dancer.
If One Bad Boy emerges victorious Tuesday, the plan is for Prat and his mount to challenge for Canada's Triple Crown in the $400,000 Breeders Stakes. The 1 1/2-mile turf race is scheduled for Aug. 17 at Woodbine.
Should One Bad Boy complete the sweep, he'd not only become Canada's first Triple Crown winner since Wando but also earn his connections a cool $500,000 bonus.
One Bad Boy has remained at Woodbine since winning the Plate. Baltas said the decision has worked out well for the horse.
"He has been training good over there and getting over the track without any physical issues," he said. "He came out of (the Plate) very well.
"He's been happy and very sound."